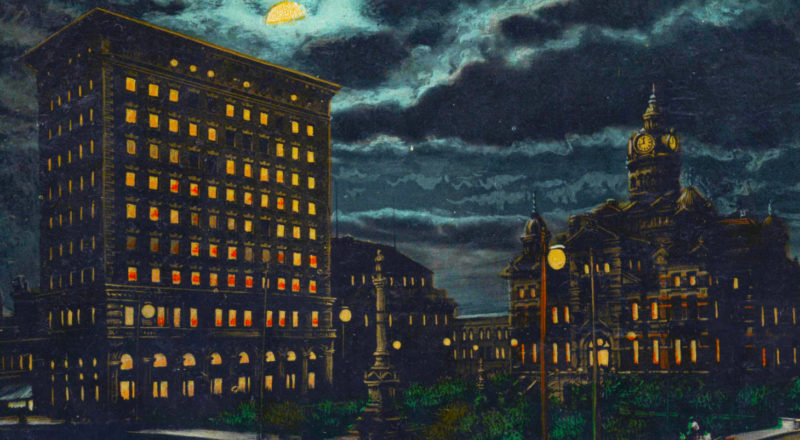 / Blog

October 28, 2020
The Haunting of Winnipeg's Heritage
Living in an older (and slightly creepier) building does not always mean its haunted, but its not entirely out of the question either… Winnipeg has plenty of haunted structures with equally haunting stories to go along with them, so it would not be surprising if the buildings you pass on the street or happen to live in had a tale or two to tell. Some of these structures were even featured in popular TV shows and movies! So how can you tell if a building in your life is haunted? Read on for some spooky stories but beware, you've been warned!
Has the building at any time in its history been abandoned?
The Masonic Temple located at 335 Donald Street has been vacant for a number of years. Being 125 years old, its no wonder this building is apparently haunted. Yet there seems to be no firm foundation as to why the building is haunted. When it was Mother Tucker's Restaurant in the late 1900s, employees heard foot steps and objects would move when the restaurant was closed. But before the restaurant, when the building belonged to the Masons', there were no reports in the Winnipeg Free Press or the Winnipeg Tribune that would be lead to an haunting. The Masons' are definitely one of those groups that are shrouded in mystery and superstition. Who knows what they truly did in that building? Or maybe as the building has been vacant for many years, it has attracted more spirits adding to a ghostly atmosphere. When this spooky old building is finally re-occupied by the living, maybe the reason for the hauntings will be solved.  Click here to watch a video produced by CBC in 1979 about the apparent haunting of the building.
Is the building tied with an historic event that maybe did not go as planned?
The Riel House at 330 River Road in St. Vital is a lesser known haunted building in Winnipeg. Although the direct ties with Louis Riel are small, this house did belong to his Mother, Julie Riel. Louis Riel's history is a decisive one across Canada. He was the only person hung in Canadian history for treason, as everyone else was hung due to charges of murder. Riel's body was laid in state for two days in this house. Who haunts this home now is unknown, but every member of the Riel family would have good reason to come back. Louis Riel's life is a tragic one that could have been avoided if things with the Canadian Government went differently.
Is there a tie with Dr. Thomas Glendenning Hamilton and his psychic research?
Hamilton House at 185 Henderson Highway may not be haunted but it for sure has its place in Winnipeg's dark history! Dr. Thomas Glendenning Hamilton was a psychic researcher of the early 20th century that conducted his experiments in the house. Looking at his psychic research photographs today, they still look spooky but rather explainable. Regardless, Dr. Hamilton always claimed innocence when confronted by doubters. Today his house is privately owned and there is no news of any further hauntings. However, there is still a totally eerie feeling when looking at some of his photographs. One would be hard pressed to say that his former house has nothing supernatural lingering around!
Does it have a dark or twisted history?
There is no doubt that the Vaughan Street Jail (Eastern Judicial District Gaol) standing at the corner of Memorial Boulevard and York Avenue is haunted. If any building in Winnipeg would be haunted, it would 100% be this one! The reasons for hauntings should be pretty obvious, it is an old and now defunct jail. Jails in the late 19th century and early 20th century were a terrible place to end up. Men, women, and children all ended up at the Vaughan Street Jail, where serious criminals and petty criminals were often kept together, along with those who were suffering from metal health problems and poverty. The reasons for ending up in the miserable jail were vague and likely not justifiable. Thirteen people were executed by hanging at the Vaughan Street Jail, but many more people would have died there. The building has stood mostly vacant for many years, although the provincial government has some offices on the main floor. But down in the basement, time has stood still with the original jail cells still intact. Access to the building is highly restricted so who knows how many souls of the victims of the jail still linger in the building?
Was it home to a famous deceased Manitoban?
The former home of Hugh John Macdonald at 61 Carlton Street (now known as Dalnavert Museum and Vistors' Centre) gives off those creepy vibes. Hugh Macdonald is the son of John Alexander Macdonald, Canada's first Prime Minister. Built in 1895, it is one of Winnipeg's oldest surviving homes. It also looks extra creepy as it is one of the few remaining homes from that time period that has not been demolished, so it does not fit into the landscape anymore. The Victorian Era was the golden age of supernatural beliefs, so it is very likely when the house was first occupied by the Macdonald's that they partook in some of the supernatural. The Macdonald's son also died in that house at a young age, and it is apparently it was him who has never left the home. Many people state that Dalnavert is not haunted but that does not mean it is not spine chilling… Just wandering through the building in full daylight, the heavy furnishing and dark rooms give the house a haunted feeling. Just imagine it at night during a thunderstorm!
Has it been featured in a film that falls into the realm of horror?
The Cult of Chucky was largely filmed in Winnipeg. Two prominent Winnipeg buildings are featured in the film. The Millennium Centre's banking hall was transformed into a hospital that can be seen early in the film. This building also is apparently truly haunted; a secretary still "lives" in the building and maybe a few other staff members. The other building that was predominantly featured in the film is the now demolished Public Safety Building. With the help of CGI the exterior of the vacant and condemned building was transformed into a mental health facility, a rather good match for the building's imposing brutalist architecture. It is too soon to say if whatever future building that will stand in its place will be home to some spirits, but due to the controversial nature of the demolition, one can assume there will be bad karma associated with the property for a long time…
Did it appear in "Haunted Winnipeg: Ghost Stories from the Heart of the Continent" or any other publication focusing on ghost stories?
Seven Oaks House is the oldest house in Winnipeg. Built in the early 1850s, it was exclusively the home to Inkster family until it was given to the city in 1952. The house is tied with the infamous Battle of Seven Oaks and maybe that is the reason behind the haunting. Other than being the oldest standing home in Winnipeg, there is little evidence to point towards why the house is haunted. But any house that has been around for over 165 years is bound to have some spiritual baggage! If you are brave enough, the Seven Oaks House Museum offers haunted tours of the building and the surrounding area.
Has it been featured on TV in shows such as Creepy Canada?
The Walker Theatre, now known as the Burton Cummings Theatre, is located at 364 Smith Street. There is something unsettling about the exterior, with the mostly unadorned facade contrasting sharply with the out of place ornate entrance. Once inside the old building, you cannot help but get a strange feeling. The lavishly decorated theatre is almost right out of a old movie, and with that comes the idea of the supernatural and bygone eras. Even for the bravest of souls, the highest seats, known as "The Gods" are unnerving.  Maybe it is just the height of those seats and the steep rise and run of the aisles, but it is also where the staff of the theatre most often hear clapping and other noises when the theatre is empty. The most well known haunting is from that of vaudeville performer Mabel Hackney and her husband Laurence Irving, who died in the sinking of the RMS Empress Ireland just ten short days after performing at the Walker Theatre. Why did their spirits come back to Winnipeg? Maybe, it the last place they did what they loved and those wonderful memories were strong enough to bring their souls back.
Creepy Canada – Season 2, Episode 3
Source: NewjerseyFan – Youtube
Do people come to the building to experience the supernatural?
The Fort Garry Hotel at 222 Broadway is one of Winnipeg's oldest and most luxurious hotels. Some claim that the Fort Garry is the most haunted building in Winnipeg but old hotels in general seem to be famous for being "extra haunted". Room 202 is likely the most well known haunting in Winnipeg. People come from across Canada and the world to stay in this room in hopes of meeting a ghost. As rumor has it a woman met her death in the room after her husband was killed in a traffic accident. Considering how famous this story now is, one would think that the papers of the time would have reported it. However, this is no evidence that this event actually happened, but regardless people still flock to the room.  The rest of the hotel is also haunted as people have reported seeing figures in clothing of days-gone-by around the hotel, especially in the ballrooms.  There are also some staff members who have decided that they want to work for eternity in the hotel as their spirits have been seen wandering around. It seems that some vacations were so fabulous that the people never wanted to go home…
Do any of the historic buildings in your life fall into one of these categorizes? If so, you had better look out this Halloween because that building might be haunted! But do not worry, ghosts are probably just as afraid you you as you are of them! Approach them with an open heart and an open mind and you might just make a friend, a wispy little companion to keep you company all through the long, dark night. If you do not have a haunted building of your own, check out some of the ones featured in this blog! Many of these buildings can be visited and most are within walking distance, if you are up for an adventure. And if you are serious about investing if there are spirits lurking in your building, you can reach out to the Winnipeg Paranormal Group for some real ghost hunting. Happy Halloween Winnipeg!
I think there's something moving
Over by that chair
But when I take a closer look
There's really nothing there
Oh look! What shot across the room
That gave me such a fright
I hate being at home alone
Especially at night
Now there's something creaking
It's the bedroom door
Oh I really hate this house
I'm not staying any more
I know I'm really nervous
But the thing I hate the most
I shouldn't be so frightened
'Cos I'm the flipping GHOST!
Source: Thisfiftysomethinglife
THANK YOU TO THE SPONSOR OF THIS BLOG POST:

Written by Heritage Winnipeg
SOURCES:
Advertisement | Manitoba Free Press - May 18, 1914, Page 8.
"Creepy.Canada.S02E03" | NewjerseyFan
"Cult of Chucky (2017) KILL COUNT" | Dead Meat
"Cult of Chucky Trailer #1" | Movieclips Trailers
Dalnavert House | Clarence Abrams
"Dalnavert National Historic Site of Canada" | Canada's Historic Places
Hamilton Family Fonds | University of Manitoba Libraries - Archives and Special Collections
"Hamilton, Thomas Glendenning" | Occult World
"Haunted Winnipeg - Theatres" | Matthew Sinclair
"Haunting and Haunted: Inside Dalnavert House" | PDR-Kellie - September 27, 2018
"Louis Riel" | The Canadian Encyclopedia
"Memorable Manitobans: Hugh John Macdonald" | Manitoba Historical Society
"Public Safety Building" | Winnipeg Architecture Foundation
Résidence de la famille de Louis Riel | PA-139069 - Bibliothèque et Archives Canada/Libraries and Archives Canada
"Room 202 Fort Garry" | Global Urban Legends
"Seven Oaks massacre a rare, local battle" | Winnipeg Free Press - June 5, 1988, Page 64
"Smoke at the Vaughan Street Jail" | Tripadvisor
"VAUGHAN STREET JAIL (1881), Doors Open Winnipeg, May 30 2015" | Leif Norman
"Winnipeg Comedy Festival, The Debaters, April 15 2012" | Leif Norman