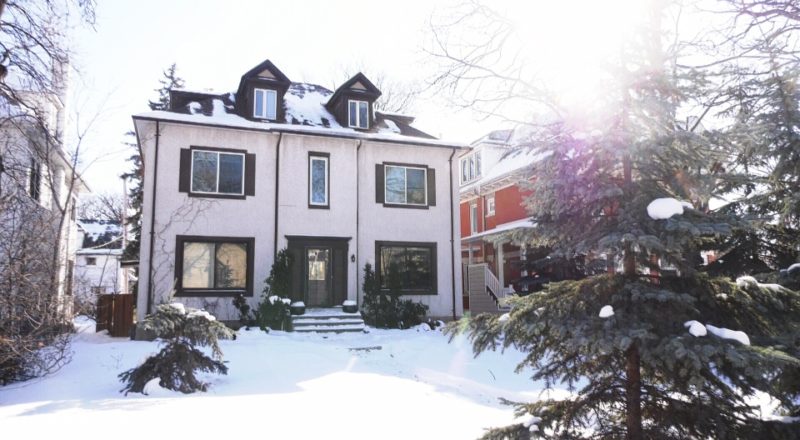 / Blog

July 30, 2020
Just Hinton, This Home Deserves Mutch Recognition, You Bracken? 604 Stradbrook Avenue
This blog will be one in a series that describes the imminent demolition of historic homes at 602, 604, and 606 on Stradbrook Avenue. These now multi-family homes are full of history, and sadly they will be replaced with condos in the near future. Read more to learn about how we should be creative with adaptive reuse, and learn from our built heritage.

In an area of Winnipeg that is becoming notorious for losing more of its priceless built heritage every year, stands Bracken House at 604 Stradbrook Avenue. Built on a street once filled with opulent homes where many wealthy Winnipeggers lived, modern condos and apartments are becoming the norm. It is a sad story that is becoming all too common in Winnipeg, historic buildings being torn down to make way for "progress". Historic buildings and homes are a sustainable, irreplaceable resource, rich with history, perfect for adaptive reuse, and have created desirable neighbourhoods for over a century. Yet despite public outcry, Bracken House and its two historic neighbours are set to be torn down, another part of our history lost forever.
The history of the Stradbrook Street name is a little complicated. Earlier records show Stradbrook Avenue was originally Maria Street. In 1891 it changed its name to 13 Avenue South but returned to Maria Street in 1893. It then was split into two streets, Stradbrook Place and Spadina Avenue, likely named after Spadina Avenue in Toronto. Stradbrook Place was between Wellington Crescent and Pembina Road (now Osborne Street) and Spadina Avenue the remainder. The streets were then amalgamated and the name changed again to Stradbrook Avenue (also spelt as Stradbrooke) in 1914, with houses on the street also renumbered at this time. The name Stradbrook came from Stradbrook Hall, a grand house in Ireland from the early 19th century, with its residents having ties to Winnipeg.
Bracken House was likely built in 1907, at a time when Winnipeg was experiencing unprecedented growth and prosperity. Its original address was 138 Stradbrook Place. It was a time when Winnipeg's elite were eager to leave the bustling downtown, which had gone from dirt roads and small wooden buildings to electric streetcars and skyscrapers in about 30 years. The land just south of the Assiniboine River became a popular location for such wealthy families to relocate to, offering quiet streets and spacious lots that were just a stone's throw from downtown.
It is likely that Bracken House was built by such a family, but nothing except the names are known. Mr. and Mrs. Robert MacKay (possibly McKay) were the first residents of the home and lived there from 1907 to 1911. Perfect for raising a family, Bracken House was the first place the newly married MacKay's called home. Designed by an unknown architect in the classical revival style, Bracken House stood two and a half storeys tall and encompassed 3175 square feet. The house featured generous ten-foot ceilings in the common areas and large bedrooms with nine-foot ceilings. Openings were graced with gentle plaster arches, and a motif echoed throughout the home. Coffered ceilings with oak beams, hardwood flooring, tall oak trim and solid oak pocket doors were also used to finish the home's beautiful interior.
The next residents of Bracken House were William Pittman Hinton (stylized as W.P. Hinton) and his family. Evidence appears to point to them moving into the house in 1911-1912, although they moved to Winnipeg in 1909. Their original residence was either 31 Roslyn Avenue and/or 171 River Avenue, both of which are no longer standing.
William Hinton was born in Hintonburg, Ontario (part of modern-day Ottawa). It is no coincidence that his last name is similar to the town, as he was a descendant of Joseph Hinton, whom the town was named for. William Hinton was married to Olive Delano Parr Hinton and together they had two children, Kathlyn and Arthur (although some sources state three). The family moved west from Ottawa so that he could take on the role as General Passenger Agent of Grand Trunk Pacific Railway and Steamship Lines. Obviously Hinton focused more on the railways as Manitoba is not hospitable to steamship transportation. The railway town of Hinton, Alberta, was established and named after Hinton in the early 20th century. Not much is known about the family's time in Winnipeg, outside of Hinton's career, except that they did not stay long. In 1922, Mrs. Hinton passed away and shortly after that in 1924 the family packed up and moved to Toronto. Hinton died in 1955 and is buried right here in Winnipeg, in St. John Anglican Cemetery next to his wife.
The Hinton family rented out the home for two years in the middle of their ownership when Mr. Hinton took a temporary job in Montreal for the Grand Trunk Pacific Railway, and brought his family with him. This allowed Dr. M. Stuart Fraser and his family to rent the house from 1915-1916. Dr. Stuart Fraser was a provincial epidemiologist and served many different roles in the Provincial Health Board.
From 1925-1926, Mr. Frank L. Graham and his wife lived in Bracken House. Mr. Graham was the manager of the Bank of Nova Scotia at 254 Portage Avenue. Otherwise the only other information available is that Mrs. Graham hosted a luncheon on December 15, 1925 in the home.
The next known family to move into 604 Stradbrook Avenue in 1927 is arguably the most famous one and the namesake of the house. John Bracken was born on June 22, 1883, in Ellisville, Ontario. In June 1909, he married Alice Wylie Bruce, of Guelph, Ontario, and together they had four sons. The Brackens' took up residence in the home prior to 1934. At this time Bracken was in the middle of what would be the longest run of a Manitoba Premier in history. He was Manitoba premier for 20 years, from August 8, 1922, to January 14, 1943, guiding the province through the Great Depression and over half of the Second World War. The second-longest Premier, Rodmond Roblin, only served 15 years (October 29, 1900 – May 12, 1915)! Bracken's long reign is credited to the fact that he focused on improving the prairies, especially in agriculture and the fact that he did not play politics. In June 1934, the Bracken couple celebrated their silver (25th) anniversary, Bracken's 51st Birthday and their son's 20th birthday, with a small reception that was lavishly decorated with a variety of flowers at the house.
Mrs. Bracken was well known for her charm. People noted her taste and judgement in the "comfortable hominess of the scene, the cheerful sense of colour and design in the pictures on the walls, the evidence of ties of family affection in the pictures of their sons and grandchildren". Although it appears that she never mentioned politics publicly, she often appeared alongside her husband with a "dazzling smile". Mrs. Bracken enjoyed hosting teas in the home, and these were often charitable events.
Unfortunately, during the Brackens' time at the house, it was the victim of a burglary. On January 18, 1941, a thief broke in and stole furs and clothing valued at $464, all while the Bracken's were away in Ottawa. The thief was later caught and identified as Robert Freeman. He confessed and was sentenced to three years at Stony Mountain Penitentiary.
Like the Hinton family, the Bracken's time in the house was also short. Bracken accepted the leadership of the Progressive Conservative Party in 1942 and left provincial politics in 1943. The family left shortly after this and moved to Ottawa, Ontario. Bracken retired from politics in 1948 but is remembered for his contributions to his prairie home. The Henderson Directory in 1945 lists the Bracken's as still being the resident of the home. This could have been because the information was collected well in advance of publishing while the Bracken's were still living there, or it is also possible that it was the Bracken's that converted it to a duplex and maintained a residence there for a brief period.
It is unclear when or who converted Bracken House into a duplex, but it happened sometime in the early 1940s. After this, in April 1944, another Member of Parliament, Leslie A. Mutch and his wife, Corra M. (nee. Travis) moved in. Mutch served as the MP for Winnipeg South from 1935-1953. Like everyone before them, their time at the house was brief as they moved out in 1950.
Stanley J. Cox,  his wife and their children lived alongside the Mutch's in the second unit of the house, which was labelled 604 1/2 Stradbrook Avenue. Apart from residing in Bracken House from 1946 till 1955, not much is known about the Cox's outside of their many children getting married. The Cox's moved in at 281 Elm Street in 1956.
When the Mutch's moved out in 1950, friends of the Cox's moved into the vacant unit. They were William S. Morrisey and his wife, who lived in the house from 1951 until 1956. Their daughter, Shirley Louise was married in 1953.
There is also one mystery resident listed as living in Bracken House in 1950, a G. McKillop. McKillop who won third place in the Hudson Bay Company Dinnerware Design Contest. The most likely explanation for this mysterious residence is that they were one of the Cox's married children or in-laws.
In 1956, the grand old house was further divided into multiple units. Converting large old homes into multiple units was a common trend in Winnipeg at this time. After the Second World War people were moving to the suburbs in droves, vacating large homes like Bracken House, which were located near the core of the city. Dividing up these homes gently increased the density of the neighbourhoods without disrupting their character, all the while allowing for affordable rentals, and being within a reasonable distance of employment. It appears that Bracken House had three units, as there are never more than three people/families listed as living there in the Henderson Directories. It is likely that the second floor was divided into two units, each with 1000 square feet of living space, and the lower level being one unit with 1175 square feet. The house remained a multiplex during the 1950s and 1960s, with many people calling 604 Stradbrook Avenue home. It can be assumed that no one lived there exceptionally long as there are non-stop "For Rent" advertisements in the Winnipeg Free Press.
One young man, Leonard Bilton, who lived there from roughly 1956 to 1959 with his elderly parents, received first-degree burns when a furnace exploded while he was at work.  The story made the front page in the Winnipeg Free Press on March 10, 1958.
Other residences of the home include:
Thos Campbell (1957)
Mrs. Judy Greagsbey (1960-post 1965)
Mrs. Maude Knight (1960-1961)
Mrs. Elsie Knight (1962-post 1965)
Other residences of 604 1/2 Stradbrook Avenue:
Mrs. Maude Junkin (1956-1957) – a highly accomplished singer
Miss Webber (1958-1959)
J.M. Mander (1960-1961)
Mrs. Bertha McLean (1962-post 1965)
The house changed hands once again in 1972 when it was bought by Hillel with funding by B'nai Brith International. Hillel is a Jewish organization focusing on building Jewish connections and leadership skills for university and college students. Opening in 1973, it became a place of intimate concerts and warm conversations for Winnipeg's young Jewish population. Once again, their time in the house short. B'nai Brith International chose to de-fund Hillel and the student program. The funding was taken over by the Winnipeg Jewish Community Council, who decided to sell in the house in 1979/1980, as it was becoming too expensive to own.
Sometime between then and the present day, the exterior of the house underwent dramatic renovations. The once lavish front entrance with a grand staircase leading up to a picturesque portico was stripped off, leaving a barren front door exposed to the elements. The exterior door on the second floor that led out onto the deck above the portico was replaced with a plain window, oddly disproportionate to the other openings on the facade. It did not help that the other windows were also replaced with new ones, different in size and division than the originals, destroying the pleasing balance that once existed. This may also account for why the fine pediment detailing above the windows on the first floor was also stripped off. Nothing on the facade of the house was safe! All the wood siding was stripped off and even the dentil ornamentation below the eaves was removed. The house's facade became a vast expanse of uninspired white stucco, devoid of charm and character. As sad as it is to see a house defaced in this manner, it was likely a cost-saving measure that made it more affordable to maintain the house long term and saved it from neglect. And behind this sombre and bland facade, all its history remained, standing tall, waiting of the right person to come along and reawaken it.
In the mid-1990s, the house, or at least part of it, became a business, when Opus Computer Systems ran their company from this location for several years. This appears to be the only time in Bracken House's history that it was used as a business. There is no date when Opus left the home but they have moved a number of times since, and are still in business today. This is yet another example of how large heritage homes such as Bracken House are primed for adaptive reuse, as a house does not always have to be a home. The Ashdown House at 529 Wellington Crescent is another great example of a historic home that has been adaptively reused multiple times, and they are beautiful and functional to this day.
Bracken House went up for sale in November 2009 for $469,900 and it had a tough time on the market. It was featured in the Winnipeg Free Press, which boasted about the historic home with modern renovated features. However, it appears it was not sold until late 2011. It was sold as a duplex and remained as one. The main floor and basement became one unit, and the second floor became the second. These units were independent as they each had their own entrances. The staircases were simply blocked off, including a smaller narrower one that was originally likely for servant use. This allowed the grand old historic home to retain its character, while remaining affordable.
Despite its rich history and providing shelter for countless Winnipeggers, in October 2019 Bracken House and its neighbours at 602 and 606 Stradbrook Avenue were slated for demolition, to be replaced with a condo building. The circumstances around the demolition are questionable, to say the least. The plaque on the side of the 604 that noted its ties to John Bracken, mysteriously disappeared only two days before notice was given to the tenants that the house was being demolished. The date the plaque disappeared (along with the mailbox it was attached to) was the same date listed on the notice. There were also reports that 604 needed structural repairs, which further justified the planned demolition but the resident who lived in the lower unit never saw anyone or received notice of someone entering the house. How could it have been known that the house needed these repairs if no one ever entered it to make an assessment? Finally, the corner of Stradbrook and Wellington is an incredibly busy one with almost daily near accidents. Adding a condo unit with parking will see an obvious increase in traffic, is this safe? There was a call for a traffic report to be done to see if the streets could handle the increase, but none was ever done.
Many appealed the decision to demolish these historic houses, and asked for Bracken House to be designated, protecting it from the wrecking ball. Sadly, the City of Winnipeg chose to ignore the historic merit of Bracken House, and the many important Manitobans who called it home.  With the Appeal committee deciding to proceed with the demolition in a 2-1 vote. With no regard for the streetscape, community, environment or history, Bracken House and its two neighbours are set to be reduced to rubble, making way for another soulless condo complex. These changes are more than just physical alterations, the built environment, the amount of green space and sense of place and community, have shown to have profound effects on an individual's physical and mental well being.
It is not known how much longer 604 Stradbrook Avenue will be part of Winnipeg, but it will forever live in peoples' memories as "Bracken House". But memories should not be the only way to remember Winnipeg's built heritage, the buildings should be protected by the city and celebrated by the community! Winnipeg has already lost too many buildings, casting aside their history in favour of unsustainable practices that benefit developers at the cost of the community. Winnipeggers need to make it clear to their political leaders that built heritage is important and should be saved! Built heritage is a community asset with owners being entrusted as the stewards of this valuable resource. The historic merit of a building should not be pitted against the potential profit that can be made by redeveloping the property, with no regard for the environmental impact of demolition and new construction. Creative solutions must be found to make use of the buildings that are already standing, ensuring we conserve the features that make our neighbourhoods wonderful to live in. Unfortunately it is too late for the three houses on Stradbrook Avenue. The three houses that share a common rich history will now share a common doomed fate, foolishly to be demolished in the name of progress.
Special thanks to Jane Hilder and Jon Watts for their wonderful insights and help in the research of this blog!
THANK YOU TO THE SPONSOR OF THIS BLOG POST:

Written by Rheanna Costen on behalf of Heritage Winnipeg.
SOURCES:
"113-year-old house of former Premier slated for demolition" | CTV News Winnipeg - February 19, 2020
"113-year-old Winnipeg house will be demolished following committee vote" | CTV News Winnipeg, June 16, 2020.
"131 Letters Received From Hong Kong" | Winnipeg Free Press - August 31, 1942, Page 4.
Advertisement | Winnipeg Free Press - July 11, 1908, Page 3.
Advertisement | Winnipeg Free Press - February 15, 1950, Page 22.
Advertisement | Winnipeg Free Press - March 2, 1995, Page 4.
"Arrange for Nurses' Dance To Be Held Friday Evening" | Winnipeg Tribune - November 25, 1916, Page 9.
Chadborne Antiques and Collectibles
Classifieds | Winnipeg Free Press, December 31, 2011, Page 85
College Street at Spadina Avenue Toronto, Ontario ON Canada Original Vintage Postcard | Amazon
"Death at Edmonton of Kelly Matthews" | Winnipeg Free Press - September 21, 1931, Page 7.
"Drop-In Center" | The Jewish Post - January 7, 1973, Page 7.
"Engagement Notices" | Winnipeg Free Press - October 24, 1953, Page 17.
Hinton | The Canadian Encyclopedia
"Hinton Welcomed" | Winnipeg Free Press - December 1, 1915, Page 4.
History in Winnipeg Streets | Manitoba Historical Society
"Hudson's Bay Company" | Winnipeg Free Press - October 17, 1936, Page 8.
In Society | Winnipeg Tribune - November 5, 1909, Page 5.
Interview | Jane Hilder & Jon Watts
"It has Stood the Test of Time" | Winnipeg Free Press - January 2, 2010. Page 84.
Lost and Found | Winnipeg Tribune - March 18, 1924, Page 15.
"Miss Anderson of Winnipeg, Slightly Hurt in Accident: | Winnipeg Free Press - March 31, 1924, Page 7.
"Mrs. W.P. Hinton Dead" | Winnipeg Free Press - August 12, 1922, Page 8.
"Newsmen Won By Mrs. Bracken" | Winnipeg Free Press - December 12, 1942, Page 13.
"Nine Winnipeggers Promoted" | Winnipeg Tribune - May 28, 1942, Page 15.
Page 15 | Winnipeg Tribune - March 13, 1956.
"Premier and Mrs. Bracken Honored on Anniversary" | Winnipeg Tribune - June 23, 1934, Page 4.
Personal Correspondence | Community Planning and Allocations Director, Jewish Federation of Winnipeg.
Personal Correspondence | Greg Agnew
Personal Correspondence | Randy Rostencki
Personal and Social | Winnipeg Free Press - March 24, 1909, Page 8.
Real Estate Picture Listings | Winnipeg Free Press - November 6, 2009, Page 37.
Society | Winnipeg Tribune - February 24, 1937, Page 7.
Society | Winnipeg Tribune - April 11, 1944, Page 6.
"Soloist in 'Bohemian Girl'" | Winnipeg Free Press - November 26, 1921, Page 40.
Stradbrook Hall | National Inventory of Architectural Heritage
"Supporter Cheer Winnipeg Election Victors" | Winnipeg Tribune - June 28, 1949, Page 19.
"This is Bracken" | Maclean's - February 1, 1943
The Trail of the Swinging Lanterns | John M. Copeland
"Two Burned by Blast of Furnace" | Winnipeg Free Press - March 10, 1958, Page 1.
Waghorn's Guide Map of Winnipeg, 1908 | Manitoba Historical Society
"Who's Who in Western Canada : A Biographical Dictionary of Notable Living Men and Women in Western Canada Volume I." | Charles Wallace Parker | University of British Columbia
"William Bilton" | Winnipeg Free Press - August 8, 1957, Page 4.
Women's News Section | Winnipeg Tribune - July 27, 1940, Page 9.
"Youth Pleads Guilty to Theft of of Furs From Bracken Home" | Winnipeg Free Press - February 6, 1941, Page 3.