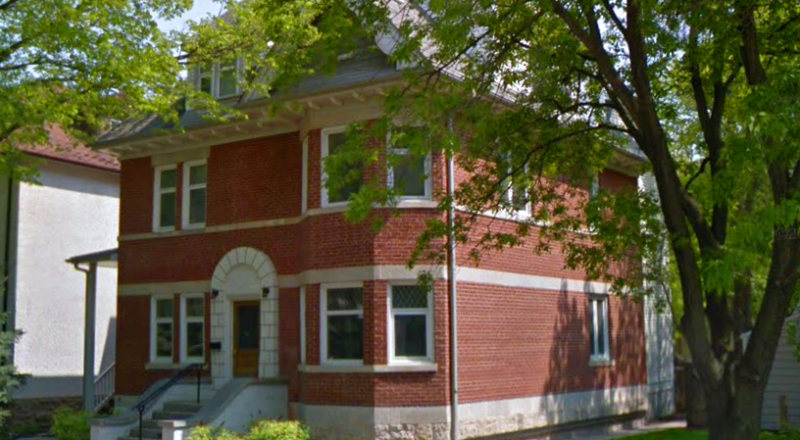 / Blog

August 5, 2020
606 Stradbrook Avenue: Population Density vs. Historic Heritage
This blog is two out of three in a series that describes the imminent demolition of historic homes at 602, 604, and 606 on Stradbrook Avenue. These now multi-family homes are full of history, and sadly they will be replaced with condos in the near future. Read more to learn about how we should be creative with residential infill, and learn from our built heritage.
At the intersection of Stradbrook Avenue and Wellington Crescent modern condos and apartments dominated the landscape. But on the southwestern corner of Stradbrook Avenue, there is a holdout, one last vestige of historical homes that were built there over a century ago. From the wrought iron fence to the red brick facade, it is easy to see that this house was special, built to stand the test of time, home to a parade of Winnipeggers who left their mark on the city. Afforded on special treatment for its contributions to history and the community, the house is now set to be torn down, replaced with another soulless condo building that will completely erase all remnants of the past from this intersection.
Originally known as 142 Stradbrook Place, 606 Stradbrook Avenue was built in 1908 by Bell and Galloway. A grainy image from the newspaper in 1908 hints at a facade much grander than the one we see today, complete with a charming front porch and second storey balcony. The house was designed in the Edwardian style, at a time when architecture was transitioning from the over the top ornate Queen Anne style to the much simpler, streamlined modern styles seen in the middle of the 20th century.  At two and a half storeys tall, its straight lines, smooth brick facades, pale stone lintels, one over one sash windows, front porch and hip roof were indicative of the Edwardian style. Simple horizontal bands of pale stone were the main ornamentation on the front of the house aside from the front porch, which would have likely been a wooden structure with plain balustrades and columns, all painted white. When compared to Dalnavert, built 13 years prior with all the flourishes one would expect from a Queen Anne house, 606 Stradbrook Avenue appears rather muted. But a closer inspection reveals 606 Stradbrook Avenue was designed with several quiet nods to the previously popular style, including a two-storey bay window and decorative bargeboard on the front-facing gable.
While the interior of Queen Anne homes were dark, formal and just as cluttered with ornamentation as the exterior, Edwardian homes ushered in a new era of light, comfort and cheerfulness. Often built in the suburbs where larger lots could accommodate spacious floor plans, large windows stripped of heavy drapes allowed for ample light and were complimented by new electrical lighting. A combination of quiet neighbourhoods, modern conveniences such as indoor plumbing, and space for three or four bedrooms upstairs made Edwardian homes an ideal place to raise a family. 606 Stradbrook Avenue was all of this and more, advertised as having a "large hall, double drawing room, large dining room, library (all with mantels and grates), and eight bedrooms. Billiard room in the basement. Elaborately finished and hand-decorated throughout" (Winnipeg Free Press – July 11, 1908, page 3). Set on a 50 foot treed lot, 606 Stradbrook Avenue would have been an ideal place to call home in 1908.
Other Edwardian houses built in Winnipeg in the early 20th century are very similar to 606 Stradbrook Avenue, apparently a result of the "colonial mentality" of the time and the "desire for conformity" (Regionalism Redux, page 13). Just across the Assiniboine River in Armstrong's Point, Harvey House at 112 West Gate (1906) and Chevrier House at 22 Middle Gate (1909) were two beautiful Edwardian homes built around the same time as 606 Stradbrook Avenue. Both feature smooth red brick facades, with windows trimmed in horizontal bands of pale stone, hipped roofs and Queen Anne accents. The two-storey bow windows flanking the front door of Harvey House are very similar to the bay windows of 606 Stradbrook Avenue, while the porch and second storey balcony of Chevrier House provide good insight as to what the front of 606 Stradbrook would have looked like. Built slightly later in the Edwardian period, McBeth House at 31 McBeth Avenue (1913) is another example of this type of architecture in Winnipeg, being further removed from the popularity of the Queen Anne style, it has almost no ornamentation.
606 Stradbrook Avenue seems to have been a speculative building, which was common of Edwardian houses in the suburbs. After construction in 1908, it was almost immediately sold to William Augustus Anderson by John Littler for $18000 (~$420000 today). This would be the start of many different people owning and living in the house, sheltering Winnipeggers for over 110 years.
W.A. Anderson was married to Mrs. W.A. Anderson and together they had six children: Mildred, Lloyd, Gordon, William Anderson, Eleanor (Mrs. Leslie Moffat), and an unknown daughter. The other two daughters' married names are Mrs. C. Harstone and Mrs. Thomas Waitt and no other information was found. Just prior to moving into the house at 606 Stradbrook Avenue, the family was stricken with smallpox and were placed under quarantine.
Mr. Anderson was a wealthy grain merchant and a prominent member of society. He served on the Winnipeg Grain Exchange, amongst other things. Further details about Mr. Anderson are hard to track down as his name was a common one and there were multiple William Anderson's living in Winnipeg during the same time. Mrs. Anderson was a typical woman of her standing. She hosted parties, teas, and charitable events in the home. It is incredibly frustrating to see a woman who would have been so active in her community at that time, only to be known to history as a "typical housewife", but that is history, unfortunately. The family moved out of the house in 1925 for reasons unknown and the couple eventuality made their way down to Florida. Mr. Anderson passed on February 28, 1955, with Mrs. Anderson passing "a few years before."
While living at the home in 1922, the Anderson's son, Lloyd, hit a 77-year-old man with his car. Thankfully neither were seriously injured. It appears that nothing became of this accident, if anything the matter was settled privately out of the public eye.
The house went up for sale in the summer of 1925 and the first advertisement was listed on August 25, 1925. It appears that the house possibly did not sell until late 1926 or early 1927. It is listed as  "vacant" in the 1926 Henderson Directory.
After the Andersons, William Aaron Kingsland and his family lived in 606 Stradbrook Avenue for a brief two years (1927-1929). Mr. Kingsland was married to Mary Loretta O'Reilly Regand and together they had eleven children, three sons and eight daughters. Even with eight bedrooms, 606 Stradbrook Avenue must have been a little crowded with that many people living there! Mr. Kingsland held many jobs with Canadian National Railway (CNR) before eventually moving to Winnipeg. While in Winnipeg, he served in the position of General Manager Western Division. Not much is known about his life in general, it appears that he and his family were extremely private people. Mrs. Kingsland died in early 1929, this is what likely prompted the family to move out of 606 Stradbrook in July 1929. The family relocated to Toronto as that is where they had lived previously. Mr. Kingsland retired on December 31, 1938, after reaching the position of Vice-President of the Central Region. He passed away in 1945 with an ever-growing family of 24 grandchildren and 5 great-grandchildren.
Alex E. Warren was the next owner of 606 Stradbrook Avenue, buying it in 1930. He, like Kingsland, worked for CNR. It is very likely the two knew each other through work and was the reason for the house being sold to Warren. Warren served as Vice-President for an unknown department. Interestingly, all evidence points to Warren never living in the home, as it appears that he rented it out. There are many advertisements stating the house for rent but either people did not stay long or he had a difficult time renting the place. This was during the Great Depression, so it is very possible that 606 Stradbrook Avenue was left vacant for much of the time, as no one could afford either rent or to purchase such a large house.
The Zeta Psi (ΖΨ) Fraternity of the University of Manitoba was next to own the house, possibly starting in 1935. The University of Manitoba Pi Epsilon chapter was founded in 1921, dedicated to "forging academic excellence and life-long bonds of brotherhood" (Zeta Psi Fraternity). They hosted many events in the house and had many guests who were connected with Zeta Psi. They were famous for the "Mother's Day Teas" they hosted. The fraternity moved out of the house sometime in the early 1940s and by 1946 their address was 329 Wellington Crescent.
Members of the fraternity went to fight in World War II. Lieutenant William Frederick Bawlf was a casualty of war. While serving in the Queen's Own Cameron Highlanders of Canada, he lost his life on August 4, 1944, at the age of 21.  Two other young men from the fraternity were fortunate to survive the war, Lieutenant Fred O. Burgess and Lieutenant WMW Shaw. Lieutenant James F. McCarthy another WWII veteran, also had a connection to the house, as his father was reported to be living there in 1942.
I.M. Graham and Harry Stiles are both reported as living in 606 Stradbrook Avenue in 1936, the same year as the fraternity. It is possible that Stiles had a connection with Zeta Psi and lived there in a supervisory capacity, as he was retired. Nothing is known about I.M. Graham, he might have been a member of the fraternity? It is the same situation for J.W. Gardner who lived in the house in 1939. It is unclear when Zeta Psi moved out as the owner of 606 Stradbrook Avenue between 1940-1943 is murky. Perhaps the fraternity rented it out or sold it to someone they knew? Or the house could have simply sat empty during this time.
What is certain is that John J. Lynch owned 606 Stradbrook Avenue from 1943-1944. By all accounts, he was an Assistant General Manager for Metropolitan Life Insurance Company. He and his wife ran in the same general social circle as John Bracken and his wife, who lived next door at 604 Stradbrook Avenue.
The home was next bought by Harold and Vera Korman in 1944, though they had possibly lived in it since 1941. It was this family that converted 606 Stradbrook Avenue into a triplex. The family lived in the triplex for at least five generations, with the most recent descendant living there listed as Illana Steele. Illana is the granddaughter of Harold and Vera. It is very possible that this descendant still owns the house, as it has never been publicly listed for sale since.
As a triplex, 606 Stradbrook Avenue had a number of residences, many of which were long term. The house was divided into three units, labelled as one, two, and three.
Unit 1:
Korman Family lived there from 1944-1955, and again starting in 1957, but when they left is unclear.
Chas Young lived there in 1956. It appears that he worked in the automotive industry and later invested in gold mining. If this is indeed the man who lived there, he would have been roughly 80 years old when he moved in for the single year.
Unit 2:
Only WLC Greer is officially listed as living in the unit in 1946, but had siblings that lived in Unit 3.  At some point he received a Ph.D. in Geology and likely moved to Toronto in later years.
Mrs. G.F. Chipman lived in unit two from 1947 till her death in 1952 and was the wife of editor G.F. Chipman. According to research, she was a very social and an altruistic person right until her death.
John Fletcher lived there from 1953-1954.
Dr. Herbert White lived there for a single year in 1955. He is possibly one of the most famous people who lived at 606 Stradbrook Avenue. He had a degree in architecture and worked for the renowned firm of Moody and Moore. He is known across Canada not as an architect but as an accomplished organist. In Winnipeg his legacy still lives on through the organ in the Parish Church of St. Luke. He designed the organ and its facade that was finished in 1953.
An Isaac Lucas took up residence in 1956 and stayed till 1961. The papers of the time only ever reference one Isaac Lucas in Winnipeg. He was married to Edith Lucas and worked for Canadian National. He served in the Second World War and was wounded in the fight for Vimy Ridge.
David W. MacCutcheon and his wife (nee. Hewitt) lived at 606 Stradbrook Avenue from 1956 to sometime after 1965. They have at least two daughters, one which was born while living there. Not much else is known about the family, but they all appear to still be living.
Unit 3:
P.T. Bainsmead lived there for a since year in 1946.
The Greer sisters lived there for many years starting in 1947 till after 1965. The Greers were two sisters, Edna and Irene. They are all independently listed in the Henderson Directories over the years, but records indicate they often lived together. Edna was a University of Manitoba librarian and that Irene was a writer. Both never married, always going by Miss. Their brother was W.L.C. Greer, who lived in Unit 2 of the house.
After the Henderson Directories stopped being published in 1965, there is only one known resident outside of the Kormans. Jonathan Cote lived there in 1988 and won an amateur photography contest.
Along with the residents and the arrangement of the interior, the exterior of 606 Stradbrook Avenue has also changed over time. The front porch and second-story balcony were removed, while the arch detail over the front door may have been added. The front steps would also have been altered after the removal of the front porch. An examination of the back of the house suggests there have been two additions, a two-story brick addition on the one side, that was later extended across the rest of the back of the house with a much more recent addition. These additions make the house extend about five meters further back in the lot than the two neighbours to the east. It is likely that these renovations were made to better accommodate the house operating as a triplex. Fortunately the renovations have done little damage to the front facade beyond removing the porch and balcony.
Unfortunately, despite no obvious indication that 606 Stradbrook Avenue has reached the end of its functional life, the house is now set to be demolished along with its two neighbours, 602 and 604 Stradbrook Avenue. It is the last historic home at the intersection, on a block where only three such homes will remain. It is a sad ending to a beautiful house that served its community for over a century, adapting to suit the needs of a changing world. How disappointing that the current developer could not appreciate the stately red-brick facade, flexible interior spaces and generously treed lot that have stood as a landmark at the corner of Stradbrook Avenue and Wellington Crescent. Although Winnipeg is desperately in need of more affordable housing and infill is certainly preferable to building on greenfields or agricultural land, this is not the answer. Demolishing functional buildings is an environmentally unsustainable practice, creating waste while destroying embodied energy and requiring more energy and scarce resources to replace them. Additionally, condos in no way address Winnipeg's need for affordable housing and will greatly increase the density at an already very busy location. When will Winnipeg realize that newer is not always better, that built heritage should not be sacrificed in the name of profits? Not soon enough to save 606 Stradbrook Avenue.
THANK YOU TO THE SPONSOR OF THIS BLOG POST:

Written by Cheryl Mann and Rheanna Costen on behalf of Heritage Winnipeg.
SOURCES:
Advertisement | Winnipeg Free Press - March 23, 1906, Page 2.
Architectural Styles | Heritage Manitoba
Armstrong's Point Heritage Conservation District Study: Appendix | HFTC Planning + Design - May 2016
Births | Winnipeg Free Press - April 12, 1962, Page 18.
Building Traditions and Types | Heritage Manitoba
"Cases of Smallpox" | Winnipeg Tribune - January 15, 1908, Page 1.
"Capture the Moment" | Winnipeg Free Press - June 05, 1988, Page 8.
Edwardian (1890 - 1916) | Ontario Architecture
"Fair Quartet in Week's Society News" | Winnipeg Free Press - January 09, 1932, Page 13.
"Handsome Residence Sold" | Winnipeg Free Press - October 24, 1908, Page 7.
Housing | Winnipeg Free Press - August 29, 1925, Page 32.
"Irene Eunice Greer" | Winnipeg Free Press - December 10, 1981. Page 78.
"Isaac Lucas" | Winnipeg Free Press - March 12, 1988, Page 65.
"Kingsland and Black Retire from C.N. Posts" | Winnipeg Tribune -December 17, 1938, Page 32.
"Knocked Down by Auto: | Winnipeg Free Press - December 28, 1922, Page 3.
McBeth House | Canada's Historic Places
"Miss Edna Greer" | Winnipeg Free Press - April 17, 1946, Page 10.
"Missing" | Winnipeg Tribune - August 15, 1944, Page 20.
"Mrs. G. F. Chipman Dies at Hospital" | Winnipeg Tribune - July 22, 1952, Page 3.
"Mrs. W. A. Kingsland Dies in Montreal" | Winnipeg Free Press - April 1, 1929, Page 7.
"New Ass't Gen'l Manager of Metropolitan Life Here" | Winnipeg Tribune - June 3, 1933, Page 25.
"Novel Gesture" | Winnipeg Free Press - August 11, 2005, Page 16.
Ontario Architectural Style Guide | HPI Nomination Team, University of Waterloo - January 2009
The Organ | The Parish Church of St. Luke
Personal Correspondence | Greg Agnew
Personal Correspondence | Randy Rostencki
"Popular Winnipeg Accessory Dealer" | Winnipeg Tribune - August 12, 1916, Page 12.
Regionalism Redux: Originality and Architecture in Western Canada | George Melnyk - June 27, 2017
"Re: William Aaron Kingsland" | Judy Kingsland - Genealogy.com
Rheanna C.
Society | Winnipeg Tribune - September 14, 1935, Page 16.
"Society Maid Weds" | Winnipeg Free Press - December 20, 1924, Page 18.
Vera Korman | Passages - Winnipeg Free Press
"W.A. Anderson Ex-Grain Firm President Dies" | Winnipeg Free Press - March 1, 1955, Page 19.
"Wabigoon Area Sees Revival in Gold Mining" | Winnipeg Tribune - February 20, 1937, Page 23.
W.A. Kingsland Dies in Toronto | Winnipeg Free Press - February 26, 1945, Page 4.
"William Fredrick Bawlf" | Library and Archives Canada
"Worthwhile Prizes Await You Here" | Winnipeg Tribune - May 25, 1939, Page 11.
Zeta Psi- University of Manitoba
One response to "606 Stradbrook Avenue: Population Density vs. Historic Heritage"