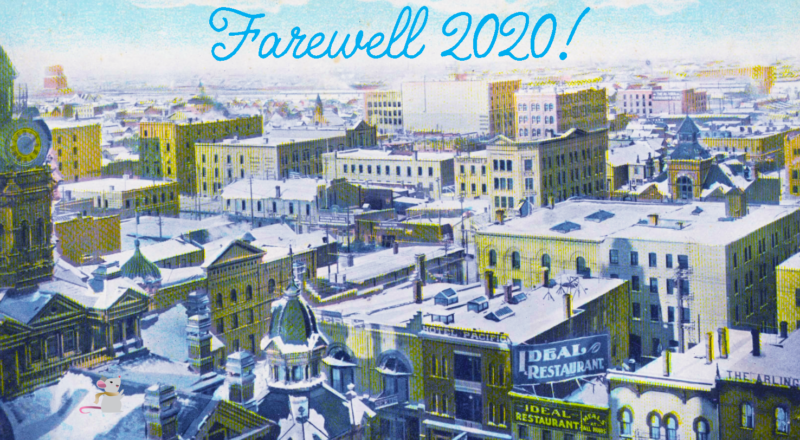 / Blog

December 18, 2020
Heritage Winnipeg: Farewell 2020!
According to the Chinese Zodiac, 2020 was the Year of the Metal Rat. A symbol of fertility and abundance, rats are also the first animal in the Chinese Zodiac, the start of a new cycle. As 2020 arrived inconspicuously on a cold winter's night, excited party goers in Winnipeg had no idea what was starting anew, enjoying a flurry of celebrations that would not be seen again any time soon. A few months into the year life as we knew it would end, with the entire world ravaged by the deadly virus, COVID-19. Like so many other non profit organizations, after starting the year filled with great aspirations and grand plans, Heritage Winnipeg has struggled to face many unforeseen challenges. But not all was lost, for people born in the Year of the Rat are known for being intelligent and resourceful, quick thinkers that rise to the challenge and find success. Metal is also a symbol of stability and endurance, with people born this year having the ability to turn misfortune into good fortune. Heritage Winnipeg chose to embrace these positive characteristics, being adaptable, resilient and embracing change. Like a timeless heritage building that has stood for a century or more, not even a pandemic could topple Heritage Winnipeg!

The theme of 2020 was celebrating the 150th anniversary of Manitoba's entry into confederation, with it becoming Canada's fifth province in 1870. Heritage Winnipeg partnered with local artist Robert Sweeney to produce a special commemorative print for the occasion, Celebrating Manitoba 150, capturing the past (the historic Hudson's Bay Company downtown store), the future (the modernist Winnipeg Art Gallery) and our province (the Manitoba Legislative Building). The view down Memorial Boulevard is crowned with an enduring symbol of our province, the Golden Boy. Art and history enthusiasts had the chance to meet the artist at the Millennium Centre during Doors Open Winnipeg 2020 and pick up a signed print in exchange for a donation of just $5 to Heritage Winnipeg. If you missed your chance, the print is still available in our store and makes a great Christmas gift!
Heritage Winnipeg's 35th Annual Preservation Awards were handed out on February 18th, 2020. The event was held in the 1907 James Avenue Pumping Station, once an important part of Winnipeg's fire fighting infrastructure, now adaptively reused as office space. Think Shift, the building's current tenant, was kind enough to allow Heritage Winnipeg to use their space and get a sneak peak at the creative redevelopment project which highlights the old machinery still housed in the designated building. Presented during Canada's Heritage week, the awards celebrate the people and projects that go above and beyond to champion and conserve Winnipeg's built heritage. An astounding 14 awards were bestowed upon four deserving individuals and four fantastic projects. It was a wonderful evening honouring heritage champions and the hard work they put in everyday, with Alston Properties generously sponsoring the event. For a full recap of all the award winners and award winning projects, be sure to read our blog on the event. Even though the year is almost over, there is still time to nominate people and projects for the 36th Annual Preservation Awards! Awards are handed out in three categories, heritage conservation, distinguished service and youth. More information can be found on the Awards page of the Heritage Winnipeg website.
Heritage Winnipeg was able to introduce a new event this year, hosting our first ever lunch and learn on March 12th, 2020. Called Heritage @ Lunch, the inaugural event featured our own accomplished tour guide, Sabrina Janke and City of Winnipeg Historical Buildings Officer Murray Peterson speaking on "150 Years of Change: The Exchange District". Held at the Millennium Centre, this free event was a great success with all walks of life attending.  Allowing Heritage Winnipeg to appease the public's hunger for history and share the stories behind the Exchange District's stunning built heritage. It was hoped that this event would be the beginning of a series of Heritage @ Lunch talks, but due to COVID-19 these plans had to be put on hold. Thanks to everyone who came out an enjoyed some Heritage @ Lunch!
As the pandemic reached Winnipeg, Heritage Winnipeg closed up its office and staff began working from home. We crossed our fingers and hoped that if everyone stayed home and did their part, the virus would soon pass and normal life would resume. Not knowing what the future would hold, planning continued for Doors Open Winnipeg so that the event could take place if at all possible. But as the weeks passed, any hope of holding the event on May 30th and 31st, 2020 faded. So many of the museums, churches and organizations that are the backbone of Doors Open Winnipeg were closed with no idea when they would be able to open again, all while public health officials were advising against gatherings. After thoughtful consideration and consultation with the Heritage Winnipeg Board and stakeholders, on April 17th, 2020, the difficult decision was made to reschedule Doors Open Winnipeg to the weekend of September 12th and 13th, 2020. The safety of all our hosts, volunteers and guests is of the utmost importance and always takes top priority when planning Doors Open Winnipeg, making this postponement in the best interest of everyone.
And so planning for Doors Open Winnipeg 2020 started again, this time implementing a new preregistration system to ensure the limited capacity of buildings would not be breached and public health protocols could be followed. Museums and organizations that had been struggling since reopening after quarantine rejoiced at the opportunity to have visitors once again, while the public was thrilled to have an entertaining event to attend during a year when everything was cancelled. At a time when funding for was hard to come by, many of our sponsors stuck by our side and made sure this free community was still possible!  With masks on and hands sanitized, Doors Open Winnipeg 2020 was a wonderful, fun and safe weekend, and the only Doors Open event in Canada that managed to have a physical event take place during this challenging year! And to top it all off, hosts and the public raved about the new preregistration system. Doors Open Winnipeg 2020 has taught us that it is possible for such events to take place even with restrictions in place, as long as we are willing to adapt to the situation and adjust our expectations. With these lessons in mind, Heritage Winnipeg is moving forward with planning Doors Open Winnipeg 2021 for May 29th and 30th, 2021.  Steadfast in the belief that with the arrival of the vaccine the world will slowly start to open up again and we will all need something to celebrate come spring time. Be sure to check out the Doors Open Winnipeg website and follow the Facebook page this spring for all the latest updates and to plan your Doors Open Winnipeg 2021 weekend experience!
In the midst of planning Doors Open Winnipeg 2020, Heritage Winnipeg was also planning its annual spring fundraising luncheon. It was to be a celebration of Manitoba 150 at the historic Fort Garry Hotel with wonderful food and camaraderie, an event that those in the heritage community look forward to. But it simply was not safe for groups to gather at that time, and so Heritage Winnipeg again was forced to make the tough decision to cancel the event. This was a really hard choice for Heritage Winnipeg, as we are a non profit organization that depends on fundraising events to help cover our costs. Even though the office was closed, rent was still due and staff still had to be paid. Feeling optimistic, Heritage Winnipeg felt that the annual fall fundraiser would surely be able to take place and our generous supporters would help make up for the losses in the spring. New dates and online solutions were proposed, but after many months and long deliberations by the Heritage Winnipeg Board, it was determined that a fundraising event would simply not be safe or financially advantageous in 2020. Heritage Winnipeg is by no means alone in this predicament, with the work being done by non profits still crucial despite the ongoing pandemic and the inability to raise funds. During these trying times The Winnipeg Foundation has played an invaluable role in ensuring Heritage Winnipeg and other non profit organizations have the funds necessary to continue to operate.  Also thank you to the Province of Manitoba for their financial support, along with all our amazing members, donors and other COVID-19 funding programs. We could not have made it through the year without you! THANK YOU! In an effort to offset the losses Heritage Winnipeg has experienced this year due to not being able to hold any fundraisers, we are holding a donation drive throughout the month of December. Please consider gifting Heritage Winnipeg a tax deductible donation to help us continue our dedicated work and commitment to Winnipeg's built heritage conservation!
Amidst the challenges of working from home, rescheduling events online and lack of funding, Heritage Winnipeg was also been hard at work on heritage projects and heritage advocacy. Much of this work was discussed at Heritage Winnipeg Annual General Meeting, which took place online on September 30th, 2020. Board member Greg Agnew was still able to give an enjoyable historical presentation, while Heritage Winnipeg's progress and challenges were discussed. For a full recap of the year past for Heritage Winnipeg, be sure to read our 2019-2020 Annual Report. Some highlights and ongoing stories include the Rubin Block, the Hudson's Bay Company Building, the Crescentwood Heritage Conservation District nomination and the proposed launching of the DiscoverIT architecture website. The Rubin Block and the Hudson's Bay Company Building have both been an area of concern for some time. Heritage Winnipeg is working with the community and the city to find a resolution for the Rubin Block which has been vacant for far to long – be sure to sign the petition to show your support for it being converted into affordable housing. Heritage Winnipeg helped to successfully advocate for the Hudson's Bay Company Building to become designated, protecting it from demolition. But its sudden closure on November 30th, 2020 puts the building at risk – vacant buildings in many cases are on the path to being demolished buildings – so more work must be done. Heritage Winnipeg continues to support Crescentwood in it bid to become the city's second Heritage Conservation District.  We are also excited about our new architecture website so be sure to keep an eye out for its launch in 2021!
Another event that successfully moved online this fall was the Manitoba Heritage Summit. Originally planned to take place at the Millennium Centre, organizers felt the event was too important to postpone and potentially more out of town people could participate in an online format. The goal of the free event was to identify opportunities and challenges, foster collaboration and communication and produce a white paper on the state of heritage in Manitoba, with a long term vision for the province. This inaugural event took place on October 1, 2020, with over 340 heritage enthusiasts and organizations connecting over zoom to learn and share about everything related to heritage in Manitoba. Eight provincial heritage associations, including Heritage Winnipeg, collaborated to make the event possible, with the keynote speaker Natalie Bull, Executive Director of the National Trust for Canada, to Glen Murray, the former Mayor of Winnipeg. The four panel discussions were focused on economics, financial sustainability and partnerships; decolonizing heritage in Manitoba (by far the most popular); challenges and opportunities for heritage in rural Manitoba; and youth, technology and green sustainability. The 2020 Manitoba Heritage Summit was a huge success, and it is hoped that it will become an annual event. Participants were thrilled to have the opportunity to learn from the experiences of others, share in their challenges and work on realizing their collective strengths. A big thank you to the event sponsors, The Winnipeg Foundation and the Province of Manitoba, as without their funding support this event would not have been possible.  Be sure to read our blog on the 2020 Manitoba Heritage Summit for a full recap of the groundbreaking event!
Behind the scenes at Heritage Winnipeg, our dedicated staff has been hard at work, whether at home or at the office, making sure events run smoothly and built heritage conservation is advocated for. This year Heritage Winnipeg was fortunate enough to have three students join us, Sabrina Janke, Georgia Wiebe and Rheanna Costen, which was all made possible by the Young Canada Works and Canada Summer Jobs programs. Young Canada Works provides funding for summer jobs and internships that provide meaningful employment for students in the built heritage sector while Canada Summer Jobs provides wage subsidies for small organizations to provide quality work experiences for youth. From designing posters, running social media, writing blogs to organizing events, there is no task too big or too small for Heritage Winnipeg's students to tackle. Heritage Winnipeg is extremely appreciative of the funding programs that make employing students possible and for all the fantastic students that have worked so hard for us throughout this trying year!
As 2020 draws to a close, Heritage Winnipeg is happy to say farewell to this challenging year and looks forward to the opportunities the new year will bring. We hope that COVID-19 will soon be history, life will return to normal, the office will reopen and the lights in the Millennium Centre will go on again. Despite all the obstacles we have faced, we feel that we made the most of 2020 and are exceedingly proud that we were able to safely host Doors Open Winnipeg 2020, setting a precedent for the rest of the country. Funding remains a challenge and it is impossible to say when we will be able to host a fundraising event again, so we are hopeful that our supporters will continue to see the value in our work and give generously. We wish everyone in our heritage community and beyond, a safe and happy holiday season, filled with good times and good friends, even if we can only connect through a computer screen or telephone! Thanks so much to everyone who has stood by us and supported us throughout the year!  We so look forward to working with community leaders, building owners, developers and all levels of government, as we continue to advocate for our community's heritage. Stay safe and please take good care of yourself and others, making time for mental and physical health, as we cannot wait to see you again when it is safe to gather to celebrate Winnipeg's priceless built heritage once more!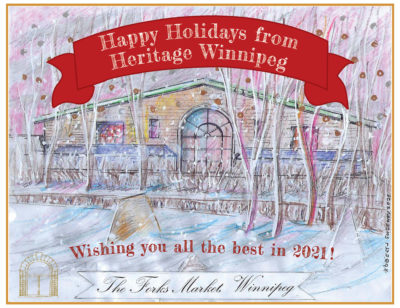 THANK YOU TO THE SPONSOR OF THIS BLOG POST:

Written by Cheryl Mann on behalf of Heritage Winnipeg.
SOURCES:
National Geographic Kids | 10 Facts About Rats!
Refinery29 | What The Year Of The Rat Means & How To Celebrate It