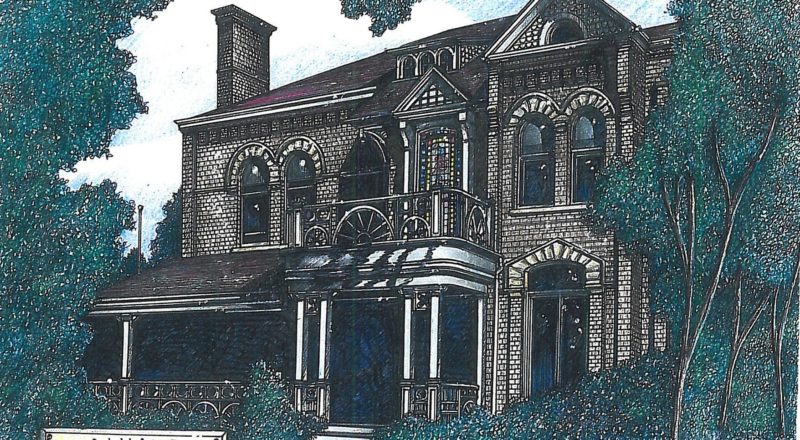 / Blog

May 21, 2020
Robert J. Sweeney: At the Intersection of Art and Architecture
You do not have to look far to catch a glimpse of Winnipeg's rich architectural history. Buildings of all shapes and sizes decorate the city— each with a story to share with us. These stories and designs can help us truly appreciate the different buildings whether modernist like the Winnipeg Art Gallery, Queen Anne Revival style like the Dalnavert Museum, or Neoclassical like the Manitoba Legislative Building — each building plays a significant role in creating the beautiful city we know and love today.
Our city has a wide variety of architectural styles which many of us enjoy. Artist Robert J. Sweeney is one of these Winnipeggers, with a deep appreciation for the city and its buildings. Sweeney's career has led him to work in the fields of architecture and design. He has made a name for himself as a talented artist with a specialization in historical buildings. Sweeney's work, which skillfully merges art and architecture, has been published in numerous books and admired throughout the city.
"There are so many interesting historical things, historical subjects around the area. And what I wanted to do was to package that and bring it to people. It [art and architecture] is available, but you have to look through many places to find it and I thought bringing it together in all these kinds of books makes it accessible to people," says Sweeney.
Sweeney went to the University of Manitoba for a degree in fine arts, after which he went on to work as a building and industrial designer. His incredible work won him awards in Europe and Japan. Now retired, Sweeney dedicates most of his time to his art. Despite working as a designer, Sweeney's art is drawn completely by hand instead of digitally. Every pencil line, every meticulous splash of colour adds personality to the buildings he draws. Presenting these buildings on paper through traditional mediums instead of through a computer reflects the authenticity of our heritage sites. Hand drawing these structures not only adds a welcoming tone to the art but it also best reflects the character of our heritage sites that cannot simply be replicated through digital renderings. These sketches consist of pencil markings followed by ink pens and coloured pencil crayons. This style adds texture and natural tones that compliment the real buildings. These elaborate works can take him anywhere between 20-25 hours to create depending on how complicated the landscape is.
"I used to do acrylics, but I do a lot of my work in coffee shops and it's just convenient to use coloured pencils," says Sweeney.
He has a friend that he likes to draw with at the coffee shops. It can be a relaxing environment for Sweeney to catch up with a friend while drawing to his heart's content.
Sweeney's art has been featured in local galleries like the Wayne Arthur Gallery at 186 Provencher Boulevard and in coffee table books such as his book titled Portraits of Winnipeg which includes nearly 50 images of some of his best art. Structures featured in the book included sites such as the MTS Centre, the Manitoba Legislative Building, and the Ukrainian Labour Temple, to name a few. His detailed illustrations have also been featured in two other published books titled Winnipeg Landmarks, Volumes I and II.  Text for these books was provided by historian Murray Peterson.
Sweeney started drawing back in 1978 after he received his first book of drawings for Christmas. The book, called Winnipeg An Illustrated History (The History of Canadian Cities) by Alan Artibise, which followed the development of Winnipeg up to the time of publication. Heritage Winnipeg's Resource Centre has a copy of Artibise's book, and it is available to the public when the office is open. It was through Artibise's work that Sweeney gained the inspiration to create architecture art of his own.
"I was fascinated with this book and some of the images in it, and I thought this is something that I would like to do," says Sweeney.
His art is a form of expression while also celebrating Winnipeg's history and buildings. Sweeney wanted to help share his appreciation for architecture and make his work more accessible through detailed and coloured imagery. In his book, Portraits of Winnipeg, he includes descriptions, much like a mini-history lesson on structures like the Richardson Building. In this image, he includes a purple hazy sky that overlooks the hustle and bustle of the streets in Winnipeg.
Like many Winnipeggers, Sweeney loves to go for walks around the city to look at the architecture. When he comes across a building that he finds interesting, he will take pictures with his phone to use as a reference for his drawings. The rest, as they say, is history.
"Urban landscapes have always interested me," says Sweeney. "Things in nature don't interest me as much as built environments."
Even as a kid, certain images always left an impression on Sweeney, whether they were bridges, factories, or other structures. All of these man-made landscapes interested him. The juxtaposed structures make him think about why they were built a certain way. He is also a big fan of documentaries and learning about history and the way people did things throughout the ages.
"I'm not interested in history in the way that they teach it in school," says Sweeney.
He mentions his dislike of classes that teach history through memorizing dates and specific facts because they are "dry and uninteresting". Instead, Sweeney says he likes to read about what life was like in the past to compare it to how things are done today. One of the things that he appreciates about creating his art is inspiring other people and seeing them become interested in learning about art and architecture through his drawings.
"Everybody is going to get something different out of [my art]," says Sweeney.
He recalls a discussion he had with a teacher during his book signing. The teacher was so interested in his art that they used one of his books in a classroom to teach students about art and architecture history in Winnipeg. Sweeney enjoys seeing people of all ages becoming fascinated with art and architecture through his drawings, but he has noticed younger people are interested in his work. It is a reassuring reminder that his work is being recognized and people are appreciating Winnipeg's heritage!
"When young people see these books, I think that's bringing history to these people that might otherwise not see it," says Sweeney referring to teaching styles that involve memorizing facts instead of making history lessons more fun and relatable to the reader.
Sweeney likes to help create descriptions that give answers to questions like what the building was for, how it changed the city, and how people interacted with the buildings. His descriptions are to help put the reader in the moment, to connect to the building through the text and the bright imagery.
The description of Portage Avenue (shown below) briefly describes the buildings and their history. It reads:
This stretch of Portage Avenue yields a glimpse of the famous windy corner immortalized by its inclusion on the Canadian Monopoly board. Once filled with some of the most exclusive retail shops in the city, the older storefronts continue to co-exist with skyscrapers full of law and government offices, new media and information technology (IT) firms. Small entrepreneurs, restaurants, and cafés breathe vitality into the ornately carved stone structures.
"What these books do is they bring this [interest in art and architecture] to people," says Sweeney. "It's all there in archives and places but you have to dig to see it. Whereas, in the book it's there and accessible. By adding the colour to it, it adds another dimension to it as well."
Sweeney mentions that though he is not an activist and prefers to be in the background, he is upset about the demolition of the Public Safety Building. He says the building could have been used by government city departments and that it was a poor choice for it to be demolished.
"They don't understand the significance of what they're doing. And that's why it's important for groups like Heritage Winnipeg to fight for the preservation of buildings," says Sweeney. "When you destroy a piece of history and a piece of architecture like that without fully understanding the significance of what you're doing, that is… serious."
He mentions many of the people making these decisions to demolish these buildings do not understand the historic significance of them. The Exchange District is an example of an important landscape that was almost taken for granted. Sweeney says the only reason the Exchange District survived and was not torn down was because of the economic slope of the Second World War, so the city could not afford to demolish it even though it was planning to do that.
"Models exist, plans exist of what it [the Exchange District] would look like. And the only reason it survived is because the money wasn't there to demolish it. Now look at how significant it is and what an asset it is," says Sweeney.
Some of Sweeney's work is of buildings that sadly no longer exist, making his art a form of documentation of our historic landscapes. His drawings not only captured the forms but the energy that these now lost buildings radiated. Sweeney's detailed renditions are a significant reminder that the connection between art and heritage should continue to be appreciated.
Heritage Winnipeg is honoured to have had the opportunity to work with Sweeney on numerous projects from books to original prints. We believe it is important to value our heritage and ensure that it is never forgotten. Sweeney's incredible art is available for purchase through Heritage Winnipeg's store and his digitized prints are also available to view through the Heritage Winnipeg's Flickr page. In addition you can purchase by donation, the original colouring book entitled, Winnipeg: Public Transit Through the Years, that was created by Robert Sweeney and printed by Heritage Winnipeg from funding by Commemorate Canada.  It was originally launched during Doors Open Winnipeg 2019 to celebrate the 100th anniversary of the 1919 Winnipeg General Strike, and to help raise awareness and funds for the rehabilitation of Heritage Winnipeg's Streetcar 356.
Note: Special thank you to Robert J. Sweeney for sharing a discussion about his art with us.
THANK YOU TO THE SPONSOR OF THIS BLOG POST:

Written by Georgia Wiebe on behalf of Heritage Winnipeg.
Edited by Cheryl Mann.
SOURCES:
Heritage Winnipeg Blog, The Last One Standing: The Ukrainian Labour Temple
Winnipeg Free Press, Right up our alley: Robert Sweeney's meticulous sketches of Winnipeg's streets and buildings reveal the city's charms (2011)