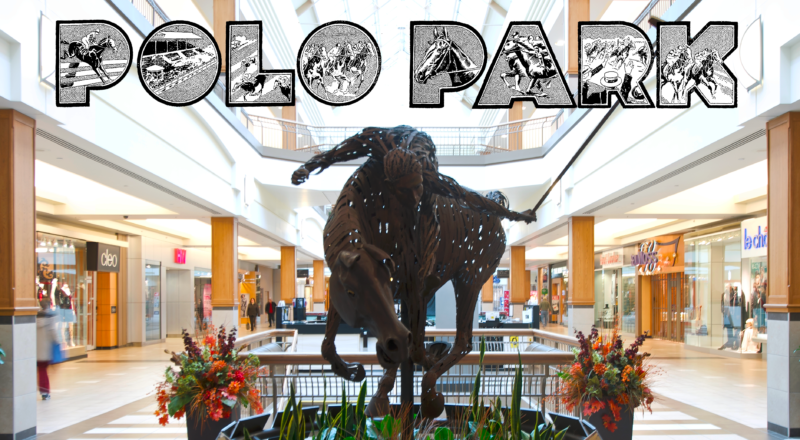 / Blog

September 15, 2021
Racing Through the History of Polo Park
In 2021, you see people racing around CF Polo Park, shopping bags in hand. But dating back to 1925, you would have seen horses instead of people, racing around the former Polo Park Racetrack. It was Winnipeg's largest horse racing track, opening on June 12, 1925. The facility, a six-furlong track, was built by Canadian Horse Racing Hall of Fame inductee, R. James Speers. It opened under the charter of the Winnipeg Jockey Club and the St. Vital Agricultural Society.

Speers was responsible for making Western Canada a thoroughbred horse racing hot spot. He was a leading thoroughbred breeder and led the racing scene for more than 50 years. He was known as the "Father of Thoroughbred Horse Racing" in the prairies. In 1922, Speers, Thomas Sumner, and William Halpenny partnered for a three-year lease at River Park (demolished) in Winnipeg and held their first horse race on June 17 of that same year. With the growing success and popularity of horse racing, construction began at Whittier Park in early 1924 and had its first horse race later that summer. By 1925, he opened Polo Park racetrack and all three were running horse races, but River Park shut down by June 10, 1925. He pioneered the racing scene – he was behind the creation of many stake races, founded the Prairie Thoroughbred Breeder's Association, and introduced pari-mutuel betting in Manitoba.
Built in record time, Polo Park Racetrack sat on nearly 60 acres of land with a "pretentious grand stand" (Winnipeg Tribune – March 10, 1925, page 1) and designed by Ralph Pratt, a prolific architect who's work can still found in Winnipeg. Facilities included stables, a clubhouse for the Manitoba Jockey Club and two toboggan slides for winter fun. Polo Park was named for the polo field that was to be located in the infield of the racetrack, which was also designed to host soccer, baseball, and football games. A special streetcar line on Portage Avenue was run to serve the Racetrack, and there was also ample parking available on site. With admission fees of $1.50 ($22.76 in today's dollars) and a lawn that could accommodate thousands, it was the perfect destination for family recreation.
"Polo Park will be a splendid plant. It will be the largest of the three [racetracks in Winnipeg], the track measuring three quarters of a mile instead of half a mile. It will be constructed with three chutes for the furlong races, instead of two. The park will cost in the neighbourhood of $150,000and the grandstand will seat about 3,000 persons. Every seat will be well raised so that there is a clear view from any position. The lawn between the stand and the outside rail is laid on a greater slope than at Whittier. There are six stables with stalls laid out for 288 horses."
-Spring Race Meet Will Open June 3 | Winnipeg Tribune – May 23, 1925, page 8
On November 4th, 1937, defective wiring resulted in the magnificent grandstand burning to the ground in a spectacular fashion. Firefighters narrowly escaped the burning structure as it collapsed, with flames shooting high up into the night sky. A second fire on August 30th, 1946 saw only the "B" barn burn down, but resulted in the loss of two beloved Canadian racehorses, High Bluff and Nell Strome. Two other tragedies at Polo Park were the deaths of jockeys Earl "Sandy" Graham on September 10th, 1927, and Rex Young on June 27th, 1941 in racing accidents. But it was neither flames nor fatality that brought the race track to a close, instead, it was the relentless march of urban sprawl.
Starting in the 1950s, new development in the area including the airport, arena and football stadium, caused the value of the Polo Park Racetrack's land to vastly increase. Speers found new property at Portage Avenue and the Perimeter Highway; the site that would eventually become Assiniboia Downs. The racetrack was sold in 1954 for a rumoured $1 million ($9.9 million in today's value), with the final races being run on July 4th, 1956.
In the 1950s, shopping meant going downtown to individual stores like Eaton's or The Bay, not visiting a shopping mall in the suburbs. In 1958 that changed for Winnipeg with the beginning of construction of the Polo Park Shopping Mall, designed by the esteemed local architectural firm of Green, Blankstein, Russell (GBR). GBR was established in 1932 and was widely involved in the look and history of Winnipeg's 20th-century architecture. It was behind buildings like Assiniboia Downs, Cinema Centre Building, Shaarey Zedek Synagogue, Winnipeg Stadium, and many, many, more. GBR was also behind buildings in Alberta, Saskatchewan, and Ontario – including winning a competition for a new design for the National Gallery of Canada in Ottawa.
As the Racetrack with its giant "POLO PARK" sign on the roof had stood on the same property for 25 years before the Mall was built there, it seems the developer felt it was easiest to stick with the same name. Simpson-Sears (later known as Sears) was the first anchor tenant of the Mall when it bought 15 acres for its multi-level department store. The mall added a modern touch to the city – the original design was separate structures on two parallel lines of connected stores. It has characteristics of ancient structures like Roman markets, Mediterranean and Middle Eastern bazaars, and 19th and early-20th century arcades.
The Mall was originally built to accommodate 40 stores connected by outdoor courtyards. It was home to some big-name retailers like Zellers, Reitmans, Birks, and of course, Sears. Sears was the first to open to customers, on May 20th, 1959, while the rest of the mall did not open until later that summer.
The official grand opening of Polo Park Shopping Mall was August 20th, 1959. On opening day, 2,000 people came to shop and watch Manitoba Premier Duff Roblin and Winnipeg Mayor Stephen Juba cut the ribbon. The Mall had space for 3,500 cars but far more people showed up, jamming the parking lot and the streets surrounding the mall.
The Mall was filled with art, water fountains, and the metal sculpture of a polo player on their pony that we still see today. Four local artists were commissioned to fill the building with all kinds of original works. One artist being George Swinton, a professor at Winnipeg School of Art, whose concrete sculpture was featured in the centre of the Mall in the main pool. You can now find this piece at Kennedy Street and Webb Place. He also created a 45-metre mosaic piece across the south façade of the Simpson-Sears building – it was later demolished. Duane Eicholz, also from the Winnipeg School of Art, created a bronze reclining figure, known as Bronze Lady. In collaboration with Jim Willer, a local artist, they also created a large sculptural sundial in the Portage Avenue entrance. Willer also created a few other sculptural pieces for the Mall – these were all demolished as the mall went through renovations.
Not only did people do their shopping at the Mall, it also became a hub for hanging out and meeting up with friends. In a Winnipeg Free Press article dated 2009 (celebrating the Mall's 50thanniversary), the general manager talked about the many regular visitors seen at the Mall. Mall walkers would stride around the Mall before the stores opened, listening to music or chatting with their friends – exactly how we still see it today (pre-pandemic, at least). The manager also mentioned how you would see teenagers using it as a hangout spot – the mall was often a place young people were allowed to go to by themselves for the first time. These are trends that still happen in 2021 – you meet your friends, you hang out, get a coffee, and do some shopping.
Since the Mall's opening, it has gone through many changes and upgrades.
Starting in 1963, Polo Park was one of Canada's first covered shopping centres when a roof was added – it was also the first to go from unenclosed to enclosed. In 1968, a $7.5 million expansion was completed when Eaton's brought a three-story department store to the mall. This expansion made Polo Park the second largest shopping mall in Canada at that time.
In mid-August of 1986, the second level was added to the shopping mall to complete the $75 million renovation. In 2007, 20,000 square feet of space was added as a $30 million expansion. The most recent expansion happened in 2014, when the Zellers space was turned into an addition of 17 new stores. This expansion cost $49 million.
The St. James area used to be a sports hotspot – we had the Winnipeg Arena which was the city's hockey venue from 1955 to 2004. There was also the Canada Inns Stadium where the Blue Bombers used to play from 1953 to 2013. And the Winnipeg Velodrome, which was a cycling facility built for the 1967 Pan-American Games and was later demolished in 1998. All have been lost to make way for new retail and office space – making this area a shopper's goldmine. The Canad Inns Stadium was replaced by the Target building (now home to Winners HomeSense), the Winnipeg Velodrome was replaced by The Home Depot and Chapters strip malls.
Today, Polo Park Shopping Mall has over 200 stores, three floors, and five anchor tenants. The most recent redevelopment was to the original anchor tenant, Sears. The location closed in December of 2017 and replacing it will be office space and retailers – EQ3 furniture store being a large one. Polo Park is still the largest shopping mall in Winnipeg and has parking space for nearly 6,000 cars. Locals and tourists come to the area for shopping, dining, and entertainment. It remains a place to shop, a place to hang out, a place to get some light walking, and a place to grab a coffee or a meal. It's a place of comfort for many people.
For the last 96 years, the name "Polo Park" has been attached to the land it sits on – from a racetrack to a shopping mall. As Winnipeg grew and developed, so did the mall. It adjusted to the innovation of the times to accommodate new shopping trends, habits, and a growing demographic. We are looking forward to racing around shopping the mall again after staying home for so long during the pandemic and to see what the future has in store for shopping at Polo Park!
THANK YOU TO THE SPONSOR OF THIS BLOG POST:

Written by Heritage Winnipeg.
SOURCES:
Ald. Shore refuses to pick car line street | Winnipeg Free Press - May 20, 1925, page 4
Contract let for new polo racing track | Winnipeg Tribune - March 14, 1926, page 1
Field of Dreams brought it all in 1977 Polo Park Handicap | Bob Gates for Assiniboia Downs
Fire razes stable, mill | Winnipeg Free Press, August 31, 1946, page 1
Lindor Reynolds - Winnipeg Free Press
Martin Cash - Winnipeg Free Press
Polo Park, "America's finest racing plant" | Bob Gates for Assiniboia Downs - May 24, 2012
Polo Park grandstand razed | Winnipeg Free Press, November 5, 1934, page 1
"Polo Park Opens to Fanfare" blog, Christian Cassidy
"Polo Park Racetrack" Route You
Spring Race Meet Will Open June 3 | Winnipeg Tribune - May 23, 1925, page 8
Tenders close for race track | Winnipeg Tribune - March 10, 1925, page 1
"Polo Park Racetrack" Wikiwand