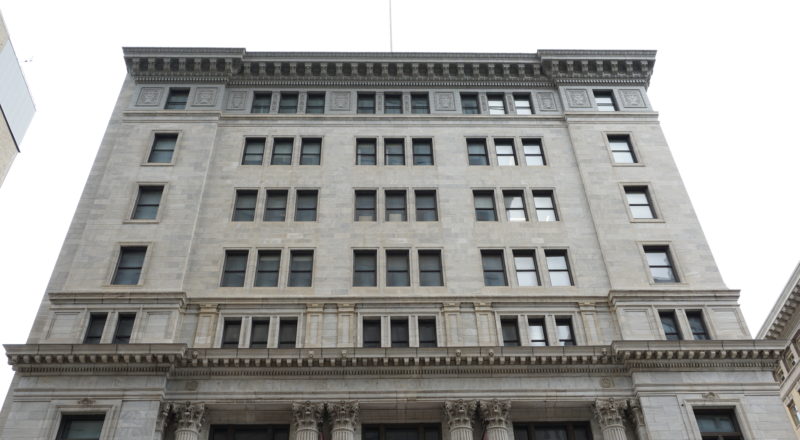 / Blog

March 21, 2023
One Company, Four Historic Buildings: The Great-West Life Assurance Company
Insurance helps protect you and your loved ones in many different ways. Can you imagine a time before insurance? Probably not considering it has been around since the late 1800s! As Winnipeg has grown, the Great-West Life Assurance Company has grown with it. It has occupied three heritage buildings in Winnipeg: 177 Lombard Avenue, 60-80 Osborne Street and 100 Osborne Street, while it also owns Milner House at 51 Balmoral Street – an excellent example of adaptive reuse.
The Great-West Life Assurance Company, now known as the Canada Life Assurance Company, was founded in 1891 by Jeffry Hall Brock. It was a western-based alternative to its competitors on the east coast. One of Winnipeg's top businessmen, George Frederick Carruthers, was behind the name – The Great West Life Assurance Company. The hyphen between "Great" and "West" was later added by the person printing the application for the charter when the company was incorporated by an Act of Parliament and not inspired by Carruthers. In 1893, the first death claim was submitted to the company by a wife whose husband died in a bicycle accident – she received $1,000, which would be roughly $30,000 today. By 1897, Great-West Life was in every Canadian province.
Great-West Life started by renting a small office space for $30 a month and would relocate to several rented spaces in the city. Its first headquarters in Winnipeg were built at 177 Lombard Avenue – what has been known as the Chamber of Commerce Building since 1960. It was first constructed as a four-storey building between 1909 and 1911, with the structure designed to support another ten stories. In 1922, four more storeys were added to complete the eight storey building made of brick, steel, and concrete.
With its advanced steel frame and fireproof construction, the building is reminiscent of some of Winnipeg's Beaux-Arts style banking halls such as the 1906 Imperial Bank of Commerce building at 441 Main Street by famed architects Darling and Pearson. Six Corinthian columns supported the facade of the first four stories, which was sheathed in white marble from the Kootenay Quarries in British Columbia – far more luxurious than other buildings which used terra cotta to imitate stone. Along with the facade, the company made an effort to ensure whenever possible, all materials and furnishing in their new building were Canadian made. John Danley Atchison, a prolific architect in Manitoba and proponent of the Chicago style, was behind this incredible structure. He was also the one who designed Grosvenor Court at 161-165 Stafford Street, the Bank of Hamilton at 395 Main Street, Manitoba School for the Deaf at 500 Shaftesbury Boulevard and many more landmark buildings in our city.
When 177 Lombard Avenue first opened, Great-West Life's offices were only on the second and third floors of the building. The remaining space was rented out to other insurance companies (on the first floor) and offices for the Western Canadian Flour Mills (fourth floor). By 1920, Great-West Life had grown so much that it took over all four floors. In 1922, after the company's continued growth, four more stories were added to the building along with a terra cotta facade, making 177 Lombard Avenue an eight storey building. By 1958 the building was no longer large enough to accommodate the growing company and so it was sold.
Now the Chamber of Commerce Building, 177 Lombard Avenue has been home to another famous Winnipeg institution since 2018 – Salisbury House. This is a significant location for Sal's – the very first Sal's restaurant was located near Portage Avenue and Main Street in 1931. The building is also home to the University of Manitoba's Asper School of Business' Executive Education Centre. Great-West Life donated $500,000 to the new campus and the donation was matched by Power Corporation of Canada for a total of $1 million. A protected municipal heritage resource since 1983, it has also been celebrated twice at Heritage Winnipeg's Annual Preservation Awards: in 1986 and 2013 for conservation work.
After selling the building at 177 Lombard Avenue, it was time for Great-West Life to move to a bigger office space. Built between 1957 and 1959, Great-West Life's new head office building opened with more than 630 employees at its new location, 60-80 Osborne Street. The land itself has a great deal of history – it is the former site of the Winnipeg Amphitheatre, an indoor skating facility, the Osborne Stadium, and the grounds used to be the site of the annual Red River Exhibition.
The building's design was a collaboration between the Toronto firm of Marani and Morris and the local firm, Moody Moore and Partners. Both firms brought something to the table: Marani and Morris specialized in designing and planning insurance firms and Moody Moore knew what it took to build in Winnipeg. The building was designed in the modern International Style with five storeys in a T-shape. It contained 219,000 square feet and had provisions for future expansions.
The building's exterior is made up of limestone and granite – which pays respect to its neighbour, the Manitoba Legislative Building. There are three wings in the building: north, south, and west. The main floor is home to public departments like mortgages, group claims, and medical examining offices. One notable feature about the interior of the building is the plaques in the lobby. It is a list of Great-West Life employees who were killed during their service in the First and Second World Wars. The Bank of Montreal used to have space in the north wing of the building but closed in the mid-1990s.
In 1983, Great West-Life Building II was constructed by architects Smith Carter and Skidmore, Owings, and Merrill of New York City. Located at 100 Osborne Street, it is right next door to the other Great West-Life building. It is a perfect example of late modern architecture in Winnipeg – built as a large square, five storey building. It is connected to the other building by an underground system where the employee cafeteria is also located.
Not far from the Great-West Life buildings on Osborne Street sits Milner House at 51 Balmoral Street. It was built in 1909 by George Ford, who was the architect and contractor. He never lived in the house, instead it was immediately sold to William Edwin Milner, a prominent businessman. The home remained in the Milner family until 1991 – when it was sold to Great-West Life. All surrounding houses were eventually demolished to make way for parking lots, making Milner House the only house left on the east side of Balmoral Street. On August 9, 1995, the City of Winnipeg officially designated the home as a heritage resource – protecting it from demolition.
In 2004, there was an attempt to possibly move Milner House to a new location to have it preserved, but it was not a feasible solution. The home remained vacant for many years, but in 2015 after ongoing pressure from the community and Heritage Winnipeg, Great-West Life decided to turn the home into a much-needed day care unit. Prairie Architects Inc. was hired to design and build the new facility. The objective was to create a space for 100 children (both of Great-West Life's employees and the community) while incorporating the heritage structure with a sustainable approach.
After an engineering assessment, it was clear a new foundation was needed to support the Milner House. To do this, the home had to be cut from its foundation, lifted, and then moved. Once the new foundation was complete and the house placed upon it, additions were built on both sides to provide more space. Great West-Life also took the time to restore many of the interior finishes of Milner House, like the staircase, windows and sliding pocket doors. Other original materials were removed, inventoried, and documented for re-installation and restoration.
The new childcare facility at Milner House is innovative and sustainable with its features like CO2, occupancy and daylight sensors, all adhesives, carpet, sealants, and paints have little to no VOCs, 100 percent fresh air ventilation, and more. These features will help reduce environmental illnesses and help those who suffer from asthma which will, in turn, improve retention and attention rates.
In 2018, Great-West Life, along with Prairie Architects Inc., won a Commercial Conservation Award at Heritage Winnipeg's 33rd Annual Preservation Awards, for their incredible work preserving and restoring this beautiful historic home so it can continue to serve its community! After Great-West Life has been a part of Winnipeg's history for over a century, Canada Life will continue to be a vital part of Winnipeg story for future generations. Starting July 1, 2021, Winnipeg's downtown arena was renamed the Canada Life Centre with a new 10 year sponsorship deal. Someday it too will be yet another historic building connected to the legacy of one insurance company!
THANK YOU TO THE SPONSOR OF THIS BLOG POST:

Written by Heritage Winnipeg.
SOURCES:
City of Winnipeg - 60 Osborne Street
Government of Manitoba - Great-West Life Building
Great West Life - University of Manitoba Expands Downtown Business Presence
Historic Places - Chamber of Commerce Building
Prairie Architects Inc. - Building Blocks on Balmoral
Winnipeg Architecture Foundation - 177 Lombard Avenue