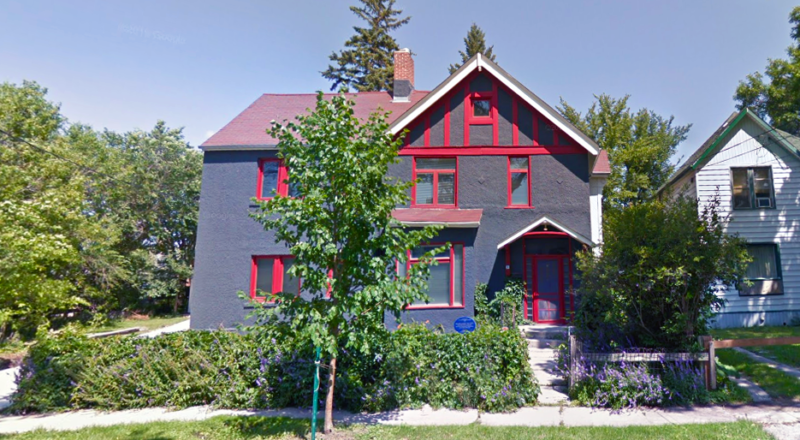 / Blog

August 18, 2021
Making a Mission: 99 George Street
There is a small blue plaque in the front of 99 George Street, a house in Winnipeg's South Point Douglas neighbourhood. It proclaims the unassuming building was once the home of Margaret Scott, the founder, and matron of the Margaret Scott Nursing Mission.  This sums up succinctly, the long history of community service that took place within the walls of this home.
The home was built in 1893 for James Burridge, the president, and manager of the Gurney Stove and Range Company. Burridge had previously served as a city alderman and was for a time the chairman of public works and finance. A true testament to Burridge's wealth was who he hired to design his family home: Charles Wheeler.
Wheeler had been a practicing architect in Winnipeg for around a decade by the time Burridge hired him and would design several prominent downtown buildings including the Galt Building (103 Princess Street) and the Sanford Building (291 Bannatyne Avenue). Many of Wheeler's buildings, including 99 George Street, were designed in a very pleasing version of Queen Anne Revival architecture, with broad arches, repeated patterns, and highly decorative facades. Unfortunately, exterior renovations have almost entirely obliterated these original architectural elements at 99 George Street. Burridge and his family resided in the home until 1899, at which point they moved to 203 Kennedy Street. There were several other owners before Margaret Scott purchased the home in 1906 and transformed it into something new.
Margaret Scott was born Margaret Ruttan Boucher in Peterborough, Canada West (now Ontario) in 1855. There, she married lawyer William Hepburn Scott in 1878; it was a short-lived marriage, as her husband died in 1881. Scott moved to Winnipeg in 1886, at the advice of her doctor. She had been of ill-health, and her doctor believed the fresh prairie air would be good for her. The doctor was right, Scott recovered and took up work as a stenographer in Winnipeg. Her first forays into charity work came through the Holy Trinity Anglican Church and the Winnipeg Lodging and Coffee House on Logan Avenue, where she served as its deaconess.  Scott regularly delivered milk, butter, and other foods to families in need and often visited inmates at Vaughan Street Jail (444 York Avenue). Over time, nursing became a staple of Scott's work despite her lack of formal training. Ernest H. Taylor, a Winnipeg businessman, helped pay for Scott's nursing training in 1900 – and convinced the city to pay for the rest.
There was significant demand for this type of work, and so the Margaret Scott Nursing Mission was founded in 1904 with financial support from prominent Winnipeg women, a group of local churches, and the municipal government. A trained nurse was hired, funded by donations from the City of Winnipeg, and a house was rented at 54 Pearl Street. A year later another nurse was added to the staff and the mission was averaging around 1,000 home visits a month.
A 1907 report from the mission reveals the details of the work. Hospitals the report stated, were often overcrowded and many cases did not require constant attention. In other cases, the patient was still needed at home (such as a sick mother, who had children to care for). The breakdown of visits in 1907 looked like this:
"To typhoid patients: 757
To Obstetric patients: 4,252
To infants and sick children: 3,733
To surgical cases: 1,345
To aged and chronic: 910
Miscellaneous: 2,287
Total: 12, 284"
-The Winnipeg Tribune, 1907-10-28 (page 7)
Burridge's former home was a large upgrade for the institution, which transformed the house into a nurse's residence. Patient care was generally performed in the patients' homes. There was a great need for healthcare in Winnipeg, especially in Winnipeg's poorer neighbourhoods, and the Margaret Scott Nursing Mission grew rapidly. Funding from the province and the city kept the institution afloat, and later The Winnipeg Foundation would help fund the mission. A volunteer auxiliary unit was created to produce linens, clothing, and bandages for patients as well as assist nurses with visitations and provide comfort and companionship to the sick and elderly. The nursing staff grew to include student nurses from the Winnipeg General Hospital, and a child hygiene department was created in 1910.
Understandably, 99 George Street underwent significant renovations to accommodate the mission. A small two-storey addition, designed by J. McKinnon, was added in 1908 for a cost of $1,300. A much more substantial two-storey addition was built in 1920, this time designed by Woodman and Cubbige.
The ground floor of the home consisted of two bedrooms, a bathroom, the living/dining room originally used by Burridge's family, a bedroom and attached bathroom for Margaret Scott, and an office, kitchen, pantry, and summer kitchen. The second floor was divided into eight bedrooms, two in the new 1920 addition, as well as two bathrooms.
Nurses resided at 99 George Street for the following three decades, working through the First World War, the 1918 Influenza epidemic, the 1919 Winnipeg General Strike, and two polio outbreaks (1928 and 1936). Margaret Scott herself was actively working throughout much of this period – including leading the development of one of the most comprehensive home nursing programs in western Canada. Scott also helped create the Little Nurses' League, which taught schoolchildren about the importance of proper food preparation and good hygiene. In recognition of all her work, the Margaret Scott School (Alfred Avenue) was opened in her honour in 1920. By her death in 1931, Scott had left a lasting impression on Winnipeg. Following her death, flags flew at half-mast at City Hall and her funeral at the Holy Trinity Anglican Church was attended by many.  A nursing scholarship, run by the Winnipeg Foundation, is named in her honour.
The Mission continued to operate without Scott at the helm for several years, but the Great Depression took its toll on the organization. With funds dwindling, the mission was restructured to include a Medical Advisory Committee and fewer students. The City of Winnipeg was listed as the owner of 99 George Street by 1939, though nurses continued to reside in the home.  In 1941 the Victorian Order of Nurses took over the Margaret Scott Mission's bedside care operations, and by 1943 the mission had shut down completely.
The next owners of 99 George Street took advantage of the house's layout and converted it into a boarding house (single room occupancy). It operated as a boarding house from 1944-1989. By the 1990s, 99 George Street was converted back into a single-family dwelling, though many original features remain. A stained glass window on the landing of the staircase was carefully restored and remains there still. A mural by artist Wanda Koop lines the wall of the staircase.
Portions of the original baseboards, flooring, and tin ceiling remain on the home's main floor – as do fireplaces in several of the rooms. On the second floor, doors are marked with room numbers from the home's days as a boarding house, and several doors have beautiful decorative doorknobs that are believed to be original to the home.
The City of Winnipeg designated 99 George Street a municipal historic structure in 2014. The home is privately owned today, but stories of community service and activism remain on the building's walls.
THANK YOU TO THE SPONSOR OF THIS BLOG POST:

Written by Heritage Winnipeg.
SOURCES:
99 George Street, City of Winnipeg Historical Report
"Women Working for Healthy Communities, Part 3" Province of Manitoba
Carolyn Crippen and Marion McKay, "Margaret Scott", Dictionary of Canadian Biography
Margaret Scott School, Manitoba Historical Society
"Margaret Scott Nursing Mission", The Winnipeg Tribune, 1907-10-28 (Page 7)
"Off On Their Rounds", Winnipeg Tribune 1936-02-01 (12)
Fighting for a Future: The Vaughan Street Jail