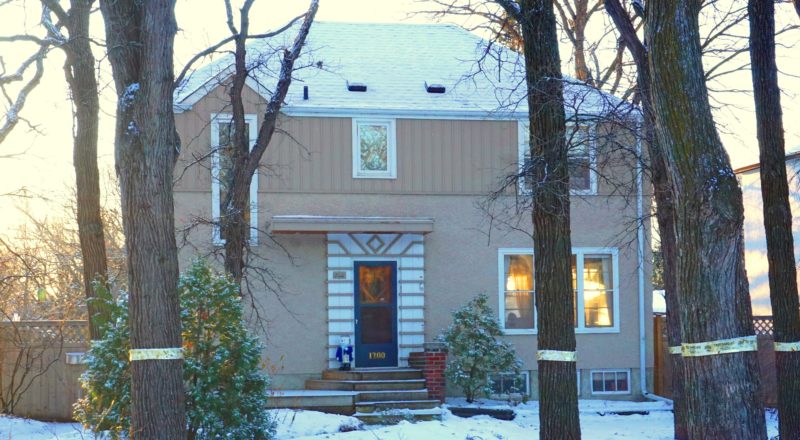 / Blog

February 15, 2022
Looking Back at the Home of Tomorrow!
The mid-20th century was a time of constant technological innovation. New and exciting electrical devices promised to save time and effort, radically changing the way Canadians lived their lives and interacted with their homes. Model homes showing these exciting displays were often boldly declared the home of the future, or the home of tomorrow. Winnipeg got its own taste of this in the August of 1939.
A new model home was opening at 1200 Grosvenor Avenue, and was promised to be "studded with conveniences". It was owned by Ignatius A. Mahon of the Winnipeg Electric Company, and the Winnipeg press showed great excitement over Mahon's new residence. Across the month of August 1939, there are multiple full-page spreads extolling the beauty and modernity of the home, as well as advertisements for open houses allowing the public to see the home itself.
The "Home of Tomorrow" first made the news on August 12th, with lengthy articles in both the Winnipeg Tribune and Winnipeg Free Press. By all accounts, the home was strikingly modern in function. Inside were appliances and electrical features that were entirely new to Winnipeg, almost all of which were added by Mahon's employer, the Winnipeg Electric Company.
Mahon was born in 1894 in Sudbury Ontario and had worked for some years at the International Nickle Company before enlisting in the First World War. Following this, he took a job with the General Electric Company, where he remained until 1929 when the Winnipeg Electric Company offered Mahon the position of Merchandise Manager. Mahon would work with the Winnipeg Electric Company for many years, first as the Merchandise Manager and later as the General Sales Manager, before retiring in 1953. Additionally, Mahon was a former president of the Winnipeg Kiwanis Club, founded of the inter-club apple selling campaign, a past president and honorary life member of the Granite Curling Club, and a member of numerous community clubs.
The home itself was a frame construction, 34 x 23 feet, with a concrete basement and asbestos shingles. Minor art deco detailing surrounds the front door of the house. Traces of its modernity could be found on the exterior with two plugs for Christmas tree lights, lighting above the front door, and a neon house number. Its doorbell, the Tribune noted, was "an electric chime bell with a musical tone". One of the other more immediate features was the silence of the electrical systems. Light switches could be flicked on or off without any noise, as prior to this there was a "warning click" when lights were switched on. Even the garage was a novelty: its new overhead sliding doors were an exciting new innovation in garage door technology.
Beginning Monday, August 14th, 1939, the home was open for tours from 2:00 pm to 5:30 pm and 7:00 pm to 10:00 pm. There was even a guide on hand to explain the variety of amenities within the home.
The L-shaped living room had red oak flooring, white plaster walls, and an antique brass ceiling light. Fluorescent electric lights were placed above the windows, a "near approach to daylight" in the words of the Winnipeg Free Press. The windows were touted as being able to allow ultraviolet light through and to provide draft-less ventilation. These were the first windows of this kind in Winnipeg.
The nerve centre of the home was the U-shaped kitchen, which came fully equipped with modern appliances such as a dishwasher sink and disposal unit. There was also a gas-operated fridge and gas range. Tube lighting was installed in the kitchen, which shone brightly off the red and white walls.
In the basement of the house was a spacious recreation room, which was known as the "naval room". Small, marine touches were interspersed throughout the space: from the fir flooring to the faux-Tyndall stone fireplace designed to resemble a porthole. Tiny anchors hung from the lighting fixtures, while steering wheels motifs were placed above. Off of the recreation room was a bathroom, maid's bedroom, and laundry room with an electric washing machine and iron. There was no electric dryer, instead, there were 100 feet of clothesline available for use in a drying room. The heating system came with an unusual feature: one could turn off the heat in the entire house except for the drying room. Once this was done, it would purportedly take clothes roughly five minutes to dry. A fruit storage room was also kept in the basement.
A wrought-iron staircase led upstairs to the three bedrooms and bathrooms on the second floor of the house. Each room was fitted with a radio plug, and a telephone was kept on the main floor of the home and in the primary bedroom. The primary bedroom, which came complete with a private bathroom, was used by Mahon and his wife. The other two bedrooms by used by four of Mahon's children.
The project involved largely local companies. Winnipeg General Electric provided the electricity and heating, its contractor was a D. Rosen with offices at 225 Machray Avenue, the architect was Lloyd Finch of Lloyd Finch and Associates, and all interior furnishings were provided by the Hudson's Bay Company. Finch was a graduate of the University of Manitoba Architecture program and had spent 1926 to 1932 working in Chicago before returning to Winnipeg. For a time, he worked with Safeway Canada and designed a number of grocery stores in the prairies. Locally, his company Lloyd Finch & Associates worked on a wide variety of buildings, from homes to larger commercial ventures.
Scores of Winnipeggers flocked to examine the home during its public viewing hours, which ran for six weeks from August to September. Some 1400 people visited within days of its opening, while thousands of others were turned away.
The last showing of the home took place on September 27th, 1939, leaving Mahon and his family to enjoy its many innovations. The Mahon's lived at 1200 Grosvenor Avenue until around 1955 when Doctor Morley Cohen and his wife Joan were listed as the owners. Later, in 1970, it was owned by Gordon Bell High School principal Frederick A. Hodgkinson. In 1982, the home was listed for sale at $59,900. It was sold again in 2006, this time for $279,900. This listing, which boasted "retro accenting everywhere", implies that some interior features of the home remain.
1200 Grosvenor Avenue remains a private home to this day, a quiet remnant of technology of the past. No longer the futuristic marvel it was once advertised as 1200 Grosvenor Avenue is still functional and contributing to its community, its art deco styling now a charming vintage feature. The "Home of Tomorrow" has become the heritage of today, a reminder that everything shiny and new will eventually become a part of our history. May it motivate us to make wise choices and be thoughtful in our actions today, as the impact can last for decades, if not centuries. The cutting-edge silent electric light switches of the past can now be used to turn on high-efficiency light bulbs and more importantly, they can be used to turn off the lights to save energy. This approach, adapting and conserving built heritage like the "Home of Tomorrow", is part of creating a forward-thinking "City of Tomorrow" that values diversity, sustainability, health, fiscal responsibility, and vibrancy. May the "Home of Tomorrow" continue to inspire Winnipeggers as to what is possible when we use innovative approaches to conserving built heritage to plan for a brighter future!
THANK YOU TO THE SPONSOR OF THIS BLOG POST:

Written by Heritage Winnipeg.
SOURCES:
I.A. (Tony) Mahon, Winnipeg Tribune 1971-09-27
"The Home of Tomorrow Should Make Strong Appeal", The Winnipeg Tribune, 1939-08-12 (Page 4)
"Visitors Welcome at Model Residence Monday" Winnipeg Free Press Newspaper 1939-08-12 (8)
"Home of Tomorrow Studded with Convivences" Winnipeg Free Press 1939-08-12(9)
1200 Grosvenor Listing 2006, Glen Sytnyk Group
"Contains Every Convenience to Save Time and Work" The Winnipeg Tribune, 1939-08-12 (5)
"Home of Tomorrow Open For Six Weeks", The Winnipeg Tribune, 1939-08-16 (Page 12).
Henderson Directories Winnipeg 1955
"Fantastic Rapping and Rapport at Gordon Bell High" Winnipeg Free Press 1970-11-27 (59)
"Public Open Houses", Winnipeg Free Press 1982-03-06 (85)