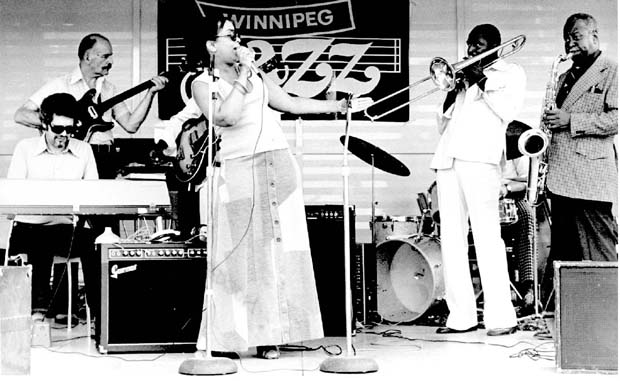 / Blog

June 23, 2021
If It Ain't Got That Swing: Jazz Clubs in Winnipeg
In June of 1942, some 2,000 Winnipeg dance and jazz enthusiasts packed into the Civic Auditorium (200 Vaughan Street) for an evening of entertainment. There was going to be a two-night Jitterbug Contest, attracting what the Winnipeg Free Press colourfully called the "alligators" and "hep cats" of Winnipeg. The evening's entertainment however, stopped the dancers in their tracks. The band was a 17-piece orchestra led by the "Trumpet King of Swing," Louis Armstrong. Nicknamed "Satchmo," Armstrong was an American musician, vocalist, composer, and actor with a prolific 50-year career. Armstrong alone would have been enough to draw a big crowd. For jazz enthusiasts, though, the orchestra itself was star-studded.
Drummer "Big Sid" Catlett ran away with the show, with a staggering fifteen minute drum solo. There were also singers Velma Middleton and Sonny Woods, and jazz pianist Luis Russel. All were incredibly talented individually, and combined they made for a memorable evening of entertainment, which attracted rave reviews from both the Winnipeg Free Press and Winnipeg Tribune.
Jazz music on its own, was a rare treat for Winnipeggers. The Civic Auditorium, at the time was just a decade old, typically hosting touring shows or classical performances from the Winnipeg Symphony Orchestra. While Winnipeg's smaller venues, be it lounges or nightclubs, hired live performers that rarely requested exclusively jazz. Instead they would ask for a wide array of music, a 'Hit Parade'. This included jazz music but also encompassed standards, show tunes, Latin music, and even polkas to entertain the locals. Because of this, smaller-time musicians had to be incredibly versatile. On top of an unpredictable set list, there were more things for Black performers to worry about when visiting.
While segregation was not a written law in Canada, it was still quietly practiced. More famous Black performers like Armstrong, could use their fame to get around this and still have access to the ritzier hotels that otherwise allowed only white guests. For artists without that social capital, finding accommodations in Winnipeg was more of a struggle. The exact extent to which Winnipeg hotels discriminated against non-white guests and artists is hard to discern, as it was rarely a part of written company policy. Instead, Black travelers without the bargaining power of fame had to rely on word-of-mouth to find a safe place to stay. In America, this led to Victor Hugo Green's creation of a guide for Black roadtrippers in 1936 called, The Negro Motorist Green Book.
In 1947, Canadian destinations began appearing in the Green Book, though the focus remained largely on Toronto and Montreal for many years. In the 1960s, during the last few years of the Green Book's publication, prairie cities began to make an appearance. Winnipeg was noticeably absent on the list, either because travelers were not interested in visiting Winnipeg in the early 1960s, because Winnipeg was not considered a safe place to visit, or some combination of the two?
Musician June "Pepper" Harris learned some of this firsthand when she arrived in Winnipeg in the mid-1950s. Harris was a young but talented jazz musician from Chicago, who had been hired to play as a background singer and pianist at Beefeater's Restaurant in Winnipeg. At the time Harris was just nineteen, and unfamiliar with Winnipeg, and when she tried to check into the CN Hotel she was turned away. Black guests were not allowed, with the exception of Black railway porters – whose rooms were kept in the basement.
Eventually Harris got a room at the Marlborough Hotel on the advice of Georgia Ambros, another young singer in Winnipeg who later became a close friend of Harris. Through Ambros, Harris also met Gladys and Reginald Basillie. Reginald was a musician and Gladys was a restaurant manager with a side career managing dancers (her nickname in fact, was the Queen of Burlesque). The Basillie's held jam sessions in their basement after Saturday night shows, and their home was a hotspot of local talent. Among them was Bob Lydé, a musician who had once played with the likes of Count Basie, Dinah Washington, and Duke Ellington, before taking a job as a dietician at the St. Boniface Hospital. There was also Del Wagner, a talented local drummer who worked for some of Winnipeg's top jazz clubs at the time. Wagner, nicknamed Wags, was born and raised in Winnipeg's North End, spoke fluent Ukrainian, and was an avid golfer.
When these musicians were not gathering at the Basilie's house, they held jam sessions in the Assiniboine Hotel. Of course, they weren't being paid for these jam sessions, so most musicians took on paid gigs at one of Winnipeg's many nightclubs. The most well-known of these was Rancho Don Carlos at 650 Pembina Hwy, which opened in 1951 and attracted some of the biggest celebrity performers, (including Armstrong, who visited with his band after his Auditorium Performance). Rancho Don Carlos's owner, Carlo Mazzone, was a well-known nightclub owner in Winnipeg and even added one of Winnipeg's first outdoor patios to his Pembina Highway location. A televised special featuring Cab Calloway, was filmed inside the club as well – giving a rare peak into a Winnipeg nightclub show.
Most nightclubs required a backing band on standby, even for bigger performers, and this gave Winnipeg artists a chance to play with some of the musical greats. Over the following decade, Harris would return to Winnipeg and play at a variety of Winnipeg nightclubs alongside Lydé and Wagner. She played at the Constellation Room at the Winnipeg Airport Hotel, and at Club Morocco (575 Portage Avenue) in the 1960s, and would meet two of her future husbands while playing in Winnipeg.
Eventually in the late 1960s, Harris and her two children moved to Winnipeg permanently to avoid the rising unrest in Chicago. Throughout the 1970s and 80s, Harris got involved in the local jazz scene and started performing at the Winnipeg International Jazz Festival. After Harris's death in August of 2020, a jam session was held in her honour.
In her autobiography, I Used to Be Coloured But Now, I'm Black!, Harris discusses both the talented Black musicians in Winnipeg and the quiet racism that many of them encountered throughout their performing careers. Autobiographies like Harris' are an invaluable resource for those curious about Black history in Winnipeg, and a reminder of the immense musical talent Winnipeg holds.
Though the buildings often remain, jazz clubs may have fallen by the wayside in recent years, as newer forms of music emerge and gain popularity, but events like the Winnipeg International Jazz Festival keep the fire alive for the hep cats who want to hear it!
THANK YOU TO THE SPONSOR OF THIS BLOG POST:

Written by Heritage Winnipeg.
SOURCES:
Research by Alex Judge
June Harris, I Used to Be Coloured but Now, I'm Black!
Cab Calloway TV Special, HideHo Blog.
Swinging Spot Brought In Big Names, John Einarson (Winnipeg Free Press)
Bygone Bites, David Sanderson (Winnipeg Free Press)
This Pepper Is Still Quite Spicy, Beatrice Watson (Winnipeg Free Press)
575 Portage Avenue, City of Winnipeg Historical Study