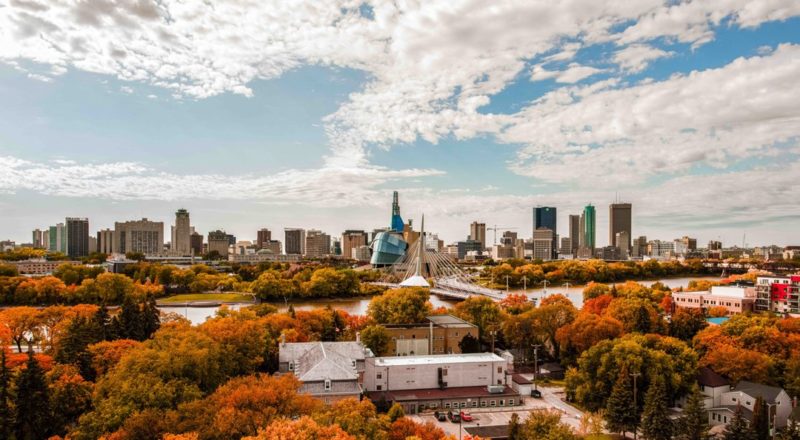 / Blog

October 14, 2020
Heritage Winnipeg: Thinking of Thanksgiving
Everyone can agree that 2020 has been quite a year and we still have a couple months to go. But despite all the things that may be going wrong in the world, Heritage Winnipeg has a lot to be thankful for. As we paused from our busy lives to celebrate Thanksgiving in a safe and socially distanced fashion, we reflected on the many parts 2020 that were wonderful and worth remembering. Here, in their own words, are what each staff member of Heritage Winnipeg is thankful for.
When I reflect on the past year as Executive Director of Heritage Winnipeg, and working with our dedicated Board and staff, I think of resilience, passion and vision. The heritage community faces a lot of adversities on a daily basis but we are strong and tenacious. We held the National Trust for Canada Conference in Winnipeg last October and we had over 450 participants marvel at our city's built heritage. We are unique and we should be very proud of our accomplishments, as others are noticing. We had many challenges over the past year, and particularly with COVID-19, but with that came many opportunities. Our organization took a huge leap of faith, and rescheduled our signature event, Doors Open Winnipeg from May to September. Subsequently with a lot of planning and thinking outside the box, we were thrilled that Winnipeggers embraced their built and cultural heritage! With a safe plan in place, everyone enjoyed a free weekend to explore their city, which inevitably connects us all. With all the financial worries there also came hope that many would reach out and continue to support the work that we are proud to undertake each day. We give thanks to all our members and supporters! I would like to thank all my staff over the past year, as all the students that have come through our doors have made a huge contribution to all the work we have proudly accomplished. Also I must underscore the value of volunteers, as without their support Heritage Winnipeg would be unable to undertaken many of our projects and events. We recently held the first ever virtual Manitoba Heritage Summit in partnership with seven other Provincial Heritage Agencies, and it was a resounding success. Moreover it is a testament to our vision to foster communication and collaboration. In a year with so much unpredictability, we continue to adapt and keep moving forward. To help bridge the importance of our past with the challenges of the present, for continued success in our future. Our city's built heritage truly is something to be thankful for! -Cindy

Whenever I walk past an historic building, pause to marvel at its beauty, brush my fingers across its weathered facade that has stood tall through many long winters, a symbol of resilience and stability in an ever changing world, I cannot help but be thankful for all the people who have worked tirelessly to ensure that building was conserved. At Heritage Winnipeg we have had the wonderful opportunity to get to know these people, the community advocates and building owners, the developers and concerned citizens, the philanthropists and nonprofit organizations, all passionate about built heritage. They volunteer their time and resources, make donations and open their doors, speak in defense of our historic buildings and pour their hearts into heritage projects. Their enthusiasm and dedication reminds us daily that the work we do at Heritage Winnipeg is important, and that there are people willing to stand up and fight for our historic buildings that cannot speak for themselves. On days when the task of saving Winnipeg's heritage seems impossible, they lighten our load and offer kind words of encouragement. And on days when a building is saved and once again filled with life, they share in our success and celebrate our accomplishments. Although the mission of Heritage Winnipeg is to promote the conservation of Winnipeg's built environment, we are truly in the people business, for buildings are nothing without the lives lived in and around them. We are so thankful for all the selfless people that support the work of Heritage Winnipeg, ensuring our magnificent built heritage lives on, enriching the lives of everyone in our community for generations to come. – Cheryl
When I am online and go to look up a historic building, I am always intrigued by the stories that surround these structures. It is hard not to appreciate something that has stood the test of time and that has seen the comings and goings of many people. The communities in which these buildings reside also cherish these structures because each one has a story to tell. Organizations like Heritage Winnipeg are important for this among many reasons because they help to preserve these important buildings and gives us a tangible way that we can continue to learn about them, enjoy their innovative architecture, and focus on ways to adaptively reuse it as time goes on. Heritage Winnipeg has worked with people from all over to help create spaces that continue to educate people on the past (both the negative and the positive). It is through learning about our history and connecting with our past that we have the opportunity to acknowledge our mistakes, bring people together and to work towards a better future for everyone. I am thankful to be a part of a team that helps preserve the stories of these buildings that are important to the community.  – Georgia
I love going outside and exploring all that Winnipeg has to offer. Recently, thanks to Heritage Winnipeg, I am starting to incorporate architecture into my explorations. Buildings can tell so many stories, whether they are 100 years old or just built within the last couple of years. I never realized that architecture could tell so many stories and that the stories could be so varied. But what I am most thankful for is the connections Heritage Winnipeg has allowed me to make with the community. Researching blogs can be quite dry sometimes, finding someone that shares your enthusiasm of a particular building makes a dry topic spring to life. Plus, sometimes that leads to extra adventures like climbing onto the roof of an iconic Winnipeg building to get some pretty spectacular pictures. Winnipeg Heritage presents history from all angles, some good and some not so good. It shows everyone that no city is perfect and that the only way forward to go explore the past, and figure out what went wrong, and how to rectify those wrongs. I am thankful that I can write about and share the good, bad, and the ugly of Winnipeg, while learning and exploring everything about the only city I have ever called home. – Rheanna
We hope this past weekend was a safe and happy Thanksgiving for you and yours! As you move forward during these challenging times, may you take solace in our beautiful heritage buildings that have weathered may storms and still stand proudly today. Many of these  buildings were once in peril with a bleak outlook on the future, but we came together as a community, overcoming insurmountable hurdles and making them vibrant community hubs once again. May their resilience and success inspire you for the remainder of 2020, knowing that united we can truly accomplish anything.
THANK YOU TO THE SPONSOR OF THIS BLOG POST:

Written by Heritage Winnipeg.
SOURCES:
Photograph | Rheanna C
One response to "Heritage Winnipeg: Thinking of Thanksgiving"