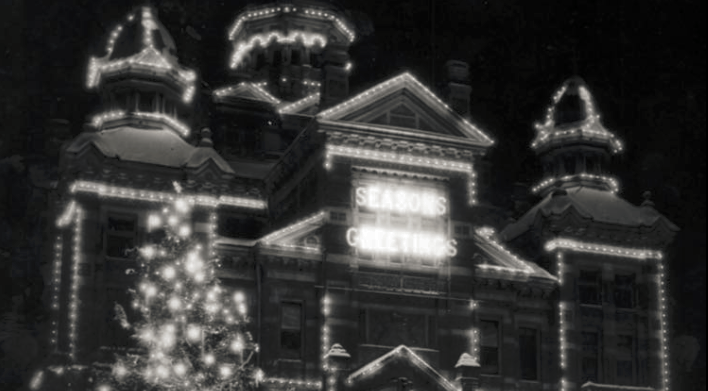 / Blog

December 23, 2020
Heritage and the Holidays in Winnipeg
'Twas the week of Christmas, when all through the city, Winnipeg was looking all festive and pretty. Lights were hung along the streets with care, knowing that St. Nicholas soon would be there. Winnipeggers were jolly, generous and kind, while visions of holidays past filled their minds. Memories of Eaton's, lighting the tree at City Hall, with the Santa Claus Parade being the best of all! Let us reminisce about such buildings, the grand and the old, and recollect all the happy holiday connections they hold. Because Christmas is not just about presents under the tree, it's about the joy in your heart that you share for free.
Although Eaton's is often remembered as synonymous with Christmas in Winnipeg, the city was celebrating the season long before the department store arrived. So where was a Winnipegger to shop for Christmas present pre-Eaton's? The Imperial Dry Goods Store! Opened in 1889 at 460 Main Street, the store carried everything from slop pails to ball gowns. Come Christmas time they labelled themselves as "Santa Claus' Headquarters for Toys and Dolls", boasting of its basement "crowded with the newest novelties in Toydom". The large windows on the front facade of the building were used to create stunning displays of Christmas wares, that no man, woman or child could resist. Maybe this was the inspiration behind Eaton's stunning seasonal displays? Sadly, the store could not compete with the arrival of the much larger Eaton's and closed in 1907. In 1909 the front of the building was replaced with the Royal Bank of Canada Building, now home to Ted Motyka's Dance Studio, which has returned to its festive roots, being featured in the 2019 Hallmark Christmas movie, The Christmas Club!
Christmas in Winnipeg is forever tied to Eaton's, the iconic department store that once stood on Portage Avenue, which embraced the season and started traditions we still hold dear today. Eaton's opened it doors in July 1905, and that first winter season, the company was already ready to celebrate Christmas like the city had never seen before. Advertisements in the newspaper told tales of Santa Claus making his way from the North Pole towards the city, bringing lots of toys for all the good little girls and boys. But those expecting a miniature sleigh pulled by eight tiny reindeer would be in for a surprise, because Saint Nick arrived in Winnipeg by train! Jolly Old Saint Nicholas' iron horse pulled into the newly completed Canadian Pacific Railway Station at 181 Higgins Avenue, a grand Beaux-Arts building fitting of welcoming such an esteemed guest. From the train station, Father Christmas would parade south down Main Street handing out gifts and goodies, turn west down Portage Avenue and arrive at Eaton's, where he would spend much of the season at Toyland. Accommodated in a special house, children could then visit the jolly old fellow, getting a treat in exchange for sharing their Christmas list. This festive event gave rise to the official Santa Clause Parade, the first of which took place on a Saturday morning in 1909, weaving its way through the grid of downtown. Eaton's would go on to sponsor the beloved annual parade for 56 years, which has continued long after the store disappeared.
Like the Imperial Dry Goods Store that came before it, Eaton's worked hard to fill their windows along Portage Avenue with charming Christmas cheer. Many Winnipegger's have fond memories of these displays, having made a point of going to see them each holiday season. One of these displays, designed to coordinate with the Santa Clause Parade, is now in the Western Development Museum (WDM) in Saskatoon, Saskatchewan. Aircraft technicians and WWII veterans built the mechanical figures of the display in 1946, using plaster of Paris and air force navigational motors. After many years on display in Winnipeg, the display spent some time in storage before being sold to smaller Eaton's stores in 1976. The Saskatoon Eaton's store then bought up all the pieces a year later and displayed them proudly until 1984. The window display was then donated to the WDM in 1987, delighting crowds every winter season since in their "Eaton's Once Upon A Christmas" exhibit.
Eaton's fantastical displays were not just along Portage Avenue, they were also found throughout the store. The most memorable of these displays were the Fairytale Vignettes, originally a part of Toyland. The Vignettes were later moved to the ninth floor annex, spreading Christmas magic to visitors of all ages. There were 15 vignettes with over 300 pieces, including classics such as Cinderella, Sleeping Beauty and Snow White. The collection was donated to the
Manitoba Children's Museum
(located in the 1889
CNR Bridges and Structures Building
) in 1999, where it has undergone several repairs, restorations, and redevelopments, costing about $85,000. Although their locations has changed, visiting the Eaton's Fairytale Vignettes remain a beloved Christmas tradition in Winnipeg, still being passed through the generations.
A little further west down Portage Avenue, the Hudson Bay Company (HBC) built their colossal new store in 1926, quickly becoming stiff competition for Eaton's. The store opened on November 18, with only the basement and first two floors ready in time for the Christmas season. From tea to ties, the store carried everything you could want to give or receive. It would seem their first holiday season was a success, as they delivered five tones of Christmas cake! And not to be outdone by Eaton's, HBC lavished festive decorations throughout their store, including displays in their large windows along Portage Avenue. Santa Claus and all his toys took up residence in the store's Toy Town, which could be reached by a special elevator. Called the Toy Town Express, the elevator was operated by an employee dressed as a toy soldier. The Christmas theme was also spread outside with real Christmas trees and giant candy canes parading atop the awning along Portage Avenue in later years. The Winnipeg HBC store was even featured on the company's signature shopping bags, festively adorned with green garlands and red holly berries.
It was not just the retail stores that took part in Christmas decorations in Winnipeg. In 1929 the Beautify Winnipeg committee convinced business owners to support them in decorating the city's streets. Christmas trees were attached to lamp posts and lights strung over traffic, with the Manitoba Electrical Association covering the cost of lights. What a festive sight it must have been, strolling beneath the twinkling lights of Main Street and Portage Avenue on a snowy winter's night! Portage Avenue's decorations shone so bright they eventually became known as the "Mile of Lights". Unfortunately, lack of interest, cost and a drought causing electricity shortages, all caused the cancellation of the decorations on and off throughout the years. But as of 2020 the tradition persists, with the current holiday decorations along the historic Portage Avenue and Main Street having lit up the season's nights since 1999.
Just north from the corner of Portage Avenue and Main Street, is Winnipeg's City Hall. Not wanting to miss out on spreading good cheer, the first Christmas tree in front of City Hall was lit up on December 21, 1915. It was a 40 foot fir with hundreds of lights, all ablaze in front of the charming 1886 Victorian gingerbread City Hall, creating a picture perfect scene fit for a Christmas card. Bands played next to the tree for three days and donations were collected for military families, a tradition that continued throughout the First World War. The Christmas tree tradition was halted after the war until 1928, when Mayor Daniel McLean brought back the festive Tannenbaum. Then it took another 30 years before the lighting ceremony was resurrected by Mayor Stephan Juba. Sadly, in 1962 and 1963 City Hall went without a tree, as the city was busy demolishing the beloved gingerbread City Hall. The glorious tree tradition returned in 1964 in front of the new modernist city hall and has remained a Christmas constant since. At 40 to 50 feet tall, for many decades the City Hall tree was donated by a proud homeowner in Winnipeg. This tradition changed in 2019, when the city purchased a 28 foot tall artificial tree, deeming it more economical and sustainable.
If you can longer find your way because City Hall's new tree is much shorter, fear not as the Star of Bethlehem still shines bright in our city! It can be found on the 1959 Great West Life Building, a modernist marvel at 80 Osborne Street North. The tradition started in 1973, when the "Three Wise Men" first started riding their majestic camels northward across the main entrance of the building, following the guiding light. Bearing gifts of gold, frankincense and myrrh, the three figures are 14 feet tall atop their camels, each weighing 300 pounds. Their annual ascent to the roof of the Great West Life Building takes about six hours with a crane, as the camels are of no help when it comes to climbing ladders. Luckily, these wise men and their camels are hardy Winnipeggers, designed by a local company and constructed of plastic, chicken wire, plywood and Styrofoam, unfazed by our cold, snowy winter weather!
As this challenging year draws to a close and we must celebrate Christmas without our friends and family near, we can find solace in memories of wonderful Christmas' past. Some traditions will continue, even if it is only through a computer screen, while new ones will be made. The memories we make will live on and be celebrated in our hearts, long after the buildings that hold them disappear. We take solace in knowing this time will pass and we will be able to celebrate together once again, filling buildings with light and life once again. From everyone at Heritage Winnipeg, "Happy Christmas to all and to all a good night!"
THANK YOU TO THE SPONSOR OF THIS BLOG POST:

Written by Heritage Winnipeg.
SOURCES:
"91 Albert Street: Imperial Dry Goods Block" | Historical Buildings Committee - March 14, 1980
B4B130 | Martin Berman Postcard Collection - PastForward
"Eaton's Fairytale Vignettes" | Manitoba Children's Museum
"Eaton's Once Upon A Christmas History" | Western Development Museum
"Heralding the season: Who are the Wise Men atop Great-West Life?" | CBC News - December 25, 2016
"The Magi" | What's Next - December 24, 2018.
"Old Eaton's Christmas Window Display" | Sask Wanderer - December 21, 202.
Page 9 | Manitoba Free Press - November 11, 1905, Page 9.
"Parade History" | Winnipeg's Santa Claus Parade
Postcard 1733 | Peel's Prairie Provinces
"Ready your reindeer, Santa's Winnipeg parade is going ahead" | CBC News - October 04, 2018
"Rich History of Holiday Lighting in City's Downtown" | Community News Commons - December 30, 2015.
"Shopping Bag - Flagship Christmas" | Hudson's Bay Company History Foundation
Virgin Radio Winnipeg - November 21, 2017
"A Visit from St. Nicholas" | Poetry Foundation
"Winnipeg's downtown Christmas lights of 1929!" | West End Dumplings
"Winnipeg's Santa Claus parade in jeopardy of being cancelled after 108 years" | CBC News - September 24, 2018
2 Responses to "Heritage and the Holidays in Winnipeg"