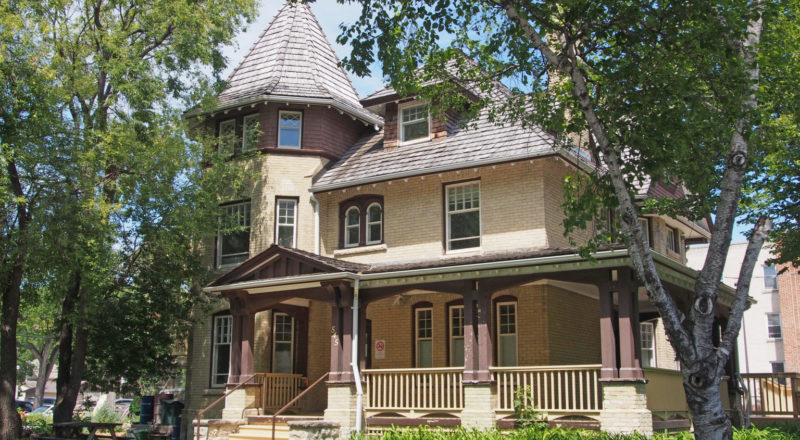 / Blog

January 13, 2021
Healthy Heritage: The Wilson House
At the corner of Broadway and Colony Street sits a piece of the past, set back from the street and shielded by large trees, it clearly stands apart from its neighbours, drawing in those who notice its curious presence. Half home and half castle, Wilson House was originally built in 1904 for a wealthy family but evolved into an important community hub over the past century. The story of Wilson House is the story of Winnipeg, arising suddenly in the early 20th century, full of hope, prosperity and youth, changing over the decades to meet the needs of a modernizing world, only to struggle in the post World War II era when Winnipeggers fled to suburbia. Both the city and the house were resilient, waiting patiently, knowing their time to shine would come again. Wilson House was eventually reborn as Klinic, a crucial community health centre, that would play a pivotal role in Wilson house's life for much of the next 40 years. As the house and the city moved from the 20th century to the 21st, they have both faced challenges head on, overcoming hurdles and naysayers while still holding fast to their core values. For a house and city are nothing without their community, the people who call them home and bring them to life, sharing tears and smiles as they makes memories in them and plan for their future. It is Winnipeggers that make Wilson House great, and it is Winnipeggers that Wilson House strives to serve, giving back to the community it calls home.
Robert Richey Wilson and his wife Sara (nee Bussell) Wilson were the first to live in the Wilson House at 545 Broadway. Wilson was a wholesale grocery merchant for one of Western Canada's largest wholesale grocers, Campbell Brothers and Wilson. The couple had the house was built specifically for them, costing around $9000. The area of West Broadway would have looked very different back then. It was a desirable residential area, just far away enough from the hustle and bustle of Main Street, but a short enough commute to Main Street even by foot for it to be convenient.
Wilson must have been a fan of J. H. G. Russell, who was a preeminent architect in Winnipeg during the early 20th century, with over 250 building designs credited to his name. Russell designed the 1903 Campbell Brothers and Wilson Warehouse at 92-100 Princess Street, which was built one year before Wilson House. The designated warehouse bridges the older Richardsonian Romanesque and the newer Chicago School styles, displaying Russell's aptitude for all different types of architecture. Russell further flexed his creative muscles with the design of Wilson House, a two and a half storey, fourteen room Queen Anne Revival. It is a restrained version of the often eclectic style, creating a picturesque home that exudes calmness while welcoming guests with its grand front entrance. The stately house is dominated by an octagonal turret on the southwest corner of the front facade, capped by a steeply pitched roof, it conjures up visions of medieval castles. On the opposite corner of the front facade is a wrap around porch, creating an asymmetric yet balanced appearance. Set on a rough cut stone foundation, the rather plain buff brick facade has stood the test of time, with materials that look as relevant today as the day they were installed. Wilson must have been pleased with the outcome of the house, for he commissioned Russell to design the 1913 two story addition on the Warehouse and his next family home in 1925.
The Wilson family was wealthy and Mrs. Wilson and the children frequently went to England for the summer months to visit family. Mr. Wilson joined them at least once from June to September 1906, when their home was rented out to William John Hammond and his wife, of the Hammond Building at 63 Albert Street. The Wilson family lived in the house till 1925, when they moved to a larger and grander house at 680 Wellington Crescent. This was common for the time period, as people wanted to move a little further away from the core of Winnipeg, and Wellington Crescent was establishing itself as the place for Winnipeg's elite.
The Wilson House was bought by Mr. and Mrs. Gustav A. Zryd in June 1925. Mr. Zryd was a real estate salesman (agent). They lived in the home but rented out the extra rooms in the house. This was the start of the Wilson House being used as a shared housing accommodation. From 1931 to 1947, the Wilson House was a single room occupancy (SRO), commonly known as a boarding house. This was a great way to adaptively reuse large houses. The first two women who ran the boarding house were both widows, Mrs. Annie Grasco (1931-1936) and Mrs. A Sexsmith (1936-1938). Running a SRO was a common way for widows to earn an income in a time period where older women working was still considered a little taboo. Mary Greer ran the boarding house from 1939-1947, she never married much like her relatives, Edna and Irene Greer, who lived at another famous Winnipeg house, 606 Stradbrook Avenue.
Wilson House was vacant in 1948, but was reimagined as a business, the Beauty Chalet, that lasted from 1949 to 1956. Hubert Kohlbeck was the owner of the building. Unfortunately it is not known how much of Wilson House was used as the Beauty Chalet. Due to the size of the house, it is possible that the upper floor was used as a living accommodation or by another business.
By the 1950s Wilson House was very much in the core of Winnipeg. The boom of suburbia had started and many people, especially families, were not that keen on living in the middle of a city. The extremely close proximity to downtown and the Manitoba Legislative building, made the House an ideal location for commerce, yet no one stayed long. From 1957 to 1977, the Wilson House saw many businesses come and go, including a multitude of government organizations. The House was almost demolished in the mid 1960s, until the Graphics Group stepped in and saved it.
In those 20 years, there were at least seven occupants of the Wilson House:
-Vacant 1957
-Liquor Control Commission (Inspection Bureau) 1958
-Department of Agriculture (Soils and Crops Bureau) 1960-1961
-Public Works Provincial Department of (Highways Bureau) District Number 2  1962 -1963
-Vacant 1964-1965
-The Graphics Group 1966-1968
-Stanley Shackell Design Consultants Limited 1969-1972
-Task Force on Post Secondary Education 1972-?
-Milk Control Board on Manitoba 1975-?
Klinic Community Health bought the Wilson House in July 1977. Klinic started in 1970, at first dealing largely with the mass rise of  the recreational use of psychotropic drugs. However, they quickly expanded their services to include general health care, counselling, and crisis services for those in the community. They soon became an integral service in Winnipeg, and became an official part of Winnipeg's health care community.
The early 1990s was a precarious time for the Wilson House. Klinic was bursting at the seams, they had outgrown the now crumbling house. The house was bought by Charlemore Investments Limited in 1990, who promptly sought for the house to be demolished and replaced with a ten story office building. Thankfully, almost straight away the City of Winnipeg sought to protect the 86 year old house. The lawyer representing Charlemore Investments Limited said "There are better uses for the land than to preserve the house"(Winnipeg Free Press – July 22, 1990 (46). The City of Winnipeg disagreed, and graciously gave the Wilson House a Grade III heritage designation on January 23, 1991, protecting it from demolition.
However, straight away there was a challenge to the designation. Charlemore Investment Limited still wanted the house demolished and fought the city on the designation. Over the three years there were talks of the house being turned into a restaurant, strip mall, and a natural health clinic. Charlemore Investment Limited fought the City of Winnipeg for roughly three years, with the city thankfully remaining steadfast on the house retaining its heritage designation. Charlemore Investments Limited eventually gave up and ended up attempting to sue the city for loss of income on the Wilson property, but that was also unsuccessful.
The Wilson House stood vacant from 1994-1999. It started to fall into disrepair and was a popular target of vandalism. Thankfully, the Lions Club of Winnipeg Housing Centres bought the property in 1999. Through fundraising and the help of the Winnipeg community, they were able to fix the exterior and completely renovate the interior. The big fundraiser was a gala "Paint the Town Red" held at the Hotel Fort Garry, in which interior designer Debbie Travis was the guest of honour. Sadly, the interior was extensively renovated so it no longer had any historic features, as it was only the exterior of the building that was protected by the heritage designation. There were also plans to add a 45,000 square foot wrap around addition to the building. The renovations were finished around 2001.
Klinic moved back into the renovated building in 2002 and stayed there until 2017, when once again they outgrew the building. But their time back at Wilson House was well spent. In 2005 the conservation work completed on the exterior of the house, which preserved its historic character, was recognized by Heritage Winnipeg at the Annual Preservation Awards. Klinic added an incredible number of services and outreach programs. In 2009 Klinic received funding for the first Manitoba Transgender Clinic, which opened in 2010. They started the Manitoba Suicide Prevention & Support Line and became home to the head office of the Canadian Association for Suicide Prevention in 2008. Today Klinic can be found still in West Broadway at 167 Sherbrook Street.
West Broadway Community Organization bought the house in 2017 but did not stay there for long. They moved to 222 Furby Street in late 2019, although they still held on to the ownership of Wilson House. Currently the Wilson House in home to several non-profits, including the West Broadway BIZ and the Manitoba Harm Reduction Network. Most recently in summer of 2020, there was a successful fundraising effort to establish a permanent accessible Indigenous garden on the grounds of Wilson House.
If Robert and Sara Wilson were to stroll past Wilson House today, chances are they would very much recognize the house they built 117 years ago, although they may be rather pleasantly surprised by the positive changes that have taken place inside. The exterior of the House has remained relatively unchanged, capturing the elegance of a bygone era and becoming a landmark in the community. Once home to a wealthy family, the house is a survivor, adaptively reused over and over until it found its current calling serving the community. It exemplifies the benefits of built heritage, its ability to remain the same yet constantly change, ensuring a sense of place, environmental sustainability and modern viability. With proper maintenance and a protective heritage designation, Wilson House is ready to weather any storm, providing a place for the community to heal, grow and flourish for generations to come.
This blog briefly mentions mental health and other triggering topics. If you or anyone you know is struggling, please remember you can reach out to the Klinic Crisis Line anytime of any day at (204) 786-8686 / 1-888-322-3019.
THANK YOU TO THE SPONSOR OF THIS BLOG POST:

Written by Rheanna Costen on behalf of Heritage Winnipeg.
SOURCES:
"545 Broadway - Wilson House / Klinic" | West End Dumplings
"92 Princess Street Adelman Building (Formerly Campbell Brothers & Wilson Warehouse) | City of Winnipeg Historical Buildings Committee - November 24, 1982.
Advertisement | Winnipeg Free Press -April 29, 1999, Page 33.
"Architectural Styles" | Heritage Manitoba
"Building's Fate Left Up to Court" | Winnipeg Free Press - December 3, 1993, Page 24.
"Grassroots Health Care" | Winnipeg Free Press - October 15, 1989, Page 55.
Henderson's Directory of the City of Winnipeg | Peel's Prairie Provinces
"Historic Sites of Manitoba: Adelman Building / Campbell Brothers and Wilson Warehouse" | Manitoba Historical Society
"Historic Sites of Manitoba: Wilson House / Klinic Building" | Manitoba Historical Society
"History" | Klinic Community Health
"House Inches Towards Special Designation" | Winnipeg Free Press - January 20, 1911, Page 103.
"Klinic Changing; Programs To Reflect Community Needs | Winnipeg Free Press - June 28, 1977, Page 3.
"Klinic Makes the Move to New Quarters" | Winnipeg Free Press - September 16, 1900, Page 111.
"Klinic's move to Sherbrook Street facility finalized" | Winnipeg Free Press - November 10, 2017
"Klinic Return to West Broadway Area" | Winnipeg Free Press - October 3, 2001, Page 93.
"A Life Made Whole" | Winnipeg Free Press - November 3, 2012, Page 137
"Living in the City, Living Off the Land" | Winnipeg Free Press - August 15, 2020, Page 51.
"Memorable Manitobans: Robert Richey Wilson" | Manitoba Historical Society
"Old Klinic's Future on Hold" | Winnipeg Free Press - April 15, 1993 Page 29 .
"Owner of Klinic Mansion Want it Demolished | Winnipeg Free Press - July 22, 1990, Page 46.
"Owner of Mansion Want it Demolished | Winnipeg Free Press - July 15, 1990, Page 111.
Page 18 | Winnipeg Free Press - March 13, 1954, Page 18.
Page 57 | Winnipeg Free Press - January 8, 1966, Page 57.
"Photographs on Display in Chicago" | Winnipeg Free Press - August 5, 1970, Page 80.
"Russell, John Hamilton Gordon" | Biographical Dictionary of Architects in Canada: 1800 – 1950
Social and Personal News | Winnipeg Free Press - August 18, 1942, Page 6.
Social Side of City Life | Winnipeg Tribune - June 21, 1906, Page 5.
"West Broadway Non-Profit on Move" | Winnipeg Free Press- August 6, 2019, Page 13.
"The Wilson House (Klinic) 545 Broadway" | City of Winnipeg Historical Buildings Committee - May 1990.
'Winnipeg, Manitoba, Canada in Colour Photos Book 5 – My Top 8 Picks" | Barbara Raué
One response to "Healthy Heritage: The Wilson House"