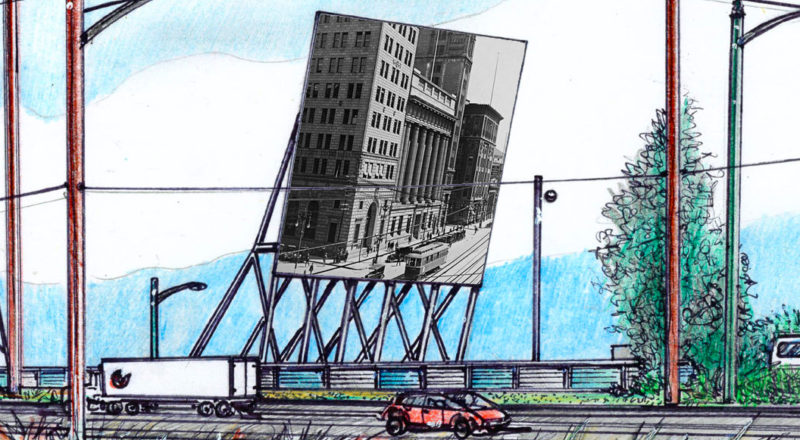 / Blog

July 22, 2021
Grab Your Popcorn! A Look at Winnipeg's Drive-In Movie Theatres
Drive-in theatres were a hotspot and trend during the 1950s along with poodle skirts, letterman jackets, and soda fountains. Movie-goers would sit under the stars with their friends, family, or partner to watch the newest film while surrounded with blankets, pillows, and snacks. It went beyond seeing a movie – it was the perfect girls-night-out, an opportunity to meet new people, a family activity, or date night. It would cost roughly 25 cents ($2.87 today) for kids and roughly 60 cents ($6.89 today) for adults. Opening nights sold out with showings of a cartoon, a newsreel, and/or "Red River," a John Wayne film. Some drive-ins featured play areas for children or mini-golf and other activities to keep people busy while they wait for their showtime or an activity to make the night last longer.
As the world evolved into a digital era, so did the movie scene. Indoor theatres offered similar amenities to the drive-ins: games, concession, and of course, the newest movie. As the City of Winnipeg developed, the need for land grew. Many of the old drive-in locations have been converted into residential areas, shopping strips, or more-developed streets.
Fun fact: the first-ever patented drive-in theatre opened in 1933 in New Jersey. The first one in Canada opened in 1946 in Stoney Creek (Hamilton, Ontario).
Pembina Drive-In
One of the first drive-ins to open in Winnipeg was Pembina Drive-In on July 19, 1949, on Pembina Highway near today's Bishop Grandin Boulevard. Western Theatres Ltd. (originally named Allied Amusements Ltd.) was Western Canada's largest theatre chain and a Winnipeg-based company owned by Jack Miles. The company financed the $150,000 project ($1.7 million today) and owned and operated 18 movie theatres around Winnipeg. Jack Miles worked with architects Liebenberg and Kaplan from Minneapolis to design it. The drive-in theatre had a capacity of 575 cars with a 54 X 36-foot screen held by a 75-foot tower. It also featured a building where the projection room and a concession stand could be found so movie-goers could enjoy their favourite snacks while catching their favourite film.
Pembina Drive-In closed in the fall of 1975.
Eldorado Drive-In Theatre
The next drive-in theatre was also built by Jack Miles of Western Theatres Ltd. On June 29, 1950, Eldorado Drive-In Theatre opened at 1001 Henderson Highway. It was deemed Canada's largest drive-in theatre located in the growing area of East Kildonan and cost roughly $170,000 ($1.9 million today). It was built on 12 acres of land with a capacity of 720 cars. Rows of ramps set in a fan shape were built for cars to park on and the 66 X 64-foot screen was visible from all angles so you never had to fight for the perfect spot.
Each car was provided with loudspeakers so the sound was brought right to the movie-goers and they could customize the volume to their liking. For the best traffic flow, the Eldorado had a large holding area where cars could line up to enter the box office and it was separated with a high fence that prevented glare from the headlights for those watching the movie. There was a  playground to keep children busy while they waited for the movie to play and there was a building, the "Breeze-way," that housed the projection room, a concession stand, and restrooms.
The theatre's motto was "a little bit of the west in East Kildonan." The ushers and other employees wore cowboy costumes, and the concession building had a semi-rustic style of architecture.
Eldorado Drive-In Theatre closed five short years later in 1955. The land is now home to the Northdale Shopping Centre.
Northmain Drive-In
Northmain Drive-In theatre opened May 3, 1951, at Lot 32 Main Street and Red River Boulevard. The theatre was financed by Max Shnier, a developer who worked with designer Patricia Kettner from Green Blankstein Russel – an architecture firm. This theatre had a capacity of 700 cars.
Northmain Drive-In featured a two-storey building that housed the concession stand, projection room, a restaurant, and a viewing lounge. It also had other amenities like mini-golf, playground, mini-train, petting zoo, pony rides, and a monkey house. It was a good spot to spend an entire day and was well-suited for families and people of all ages.
Northmain Drive-In theatre closed in 1980.
Airport Drive-In
On July 16, 1952, Western Theatre's Airport Drive-In opened on Ellice Avenue and Madison Street with a capacity for 700 cars. It was later renamed the Airliner in 1964.
The Airliner closed on May 29, 1977.
 Starlite Drive-In & Circus Drive-In
The Starlite Drive-In and Circus Drive-In were next to open. Starlite was a Transcona treasure and Circus was located on Portage Avenue and Muriel Street. Circus Drive-In opened with a capacity for 480 cars on August 14, 1952 but was short-lived after its closure in 1955. Starlite closed in 1984.
Odeon Drive-In
The last drive-in theatre that opened in Winnipeg was also the last to close. Odeon Drive-In opened on September 20, 1963, on Portage Avenue near Assiniboia Downs. The theatre cost $500,000 ($4.3 million today) and was financed by theatre chain, Odeon-Morton who worked with designers Libling Michener and Associates.
Odeon had a capacity for 1,000 cars and room for a large runoff area to keep traffic from lining up on the highway. The concession building was 6,600 square feet and the screen measured at 105 X 45 feet. It was also a year-round theatre – rain, shine, or snow, the show would go on. They offered movie-goers electric heaters to warm their cars instead of having to leave the engine running.
Visits to the drive-in started to slow down in 2005 and Odeon announced its closure. But an online petition gathered over 11,000 signatures that left the theatre running again until September 2007. Once it closed for the season, it announced it would not re-open in 2008. A spokesperson said they would need to serve 1,000 cars every night for it to remain open and given Canada's short summers, it was no longer a viable option. Odeon Drive-In has since been demolished.
Drive-in Theatres Today
Drive-in movie theatres aren't so much a thing of the past – a few are remaining in Manitoba. Winnipeggers can make a 90-minute drive to Morden to catch a film at the Stardust Drive-In Theatre, typically opening for the season on the May long weekend.
In 2015, after a big storm, The Shamrock Drive-In located in Killarney was forced to close. Six years later, in 2021, they are ready to re-open after purchasing some shipping containers to create a new screen. The current owners couldn't find anyone to fix the broken screen so that's when they decided to purchase a projector and the shipping containers to bring back the small-town favourite.
Big Island Drive-In Theatre is serving Northern Manitoba located in Flin Flon and will be opening for the 2021 season.
In 2020, AVentPro, CAA Manitoba, and the Winnipeg Airport Authority partnered together for a summer of drive-in movies in the airport's parking lot in June. It had a capacity for 200 cars with a cost of $30 per car. This created an opportunity for Winnipeggers to safely gather with friends/families to partake in a new activity to Winnipeg during the pandemic.
Although drive-in theatres aren't as popular as they were in the 1950s, it is still an opportunity for movie-goers to experience the entertainment industry with a touch of modern and historic times.
THANK YOU TO THE SPONSOR OF THIS BLOG POST:

Written by Heritage Winnipeg.
SOURCES:
Bob's Winnipeg Dance Pages & Photo Gallery | Theatres of Winnipeg 1900 to Present
Christian Cassidy | A history of Winnipeg's drive-in theatres
Cinema Treasures | Movie Theaters in Winnipeg, MB
CTV News | 'It's a big relief': Manitoba drive-in theatre set to reopen this summer following a 5-year hiatus
CTV News | Winnipeg airport parking lot to turn into drive-in movie theatre
North East Winnipeg Historical Society | Eldorado Drive In Theatre 1950