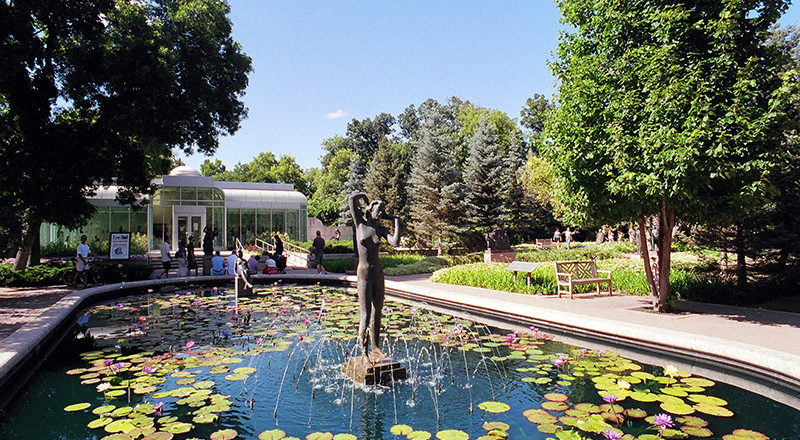 / Blog

September 30, 2020
Famous Sculptor Leo Mol: When Art Forms History
The Leo Mol Sculpture Garden is a quiet place to relax, to enjoy nature and to look at incredible art in the busy city of Winnipeg. Located in Assiniboine Park just a short walk from the Pavilion, it is a place of tranquility for any art and nature fan.
Art is an important part of built heritage in the sense that it acts as a cultural representation of a community and its values. Art enhances the cultural landscape it is placed in throughout a variety of styles and renditions of things we may see every day, of important artifacts or people from our past, and much more! It is places and art like the ones we may see at the Leo Mol Sculpture Garden that help us to learn and appreciate art and its history.
"Combining artistic beauty with a natural setting, the Leo Mol Sculpture Garden offers a quiet retreat to view the magnificent works of the master sculptor, Dr. Leo Mol."
– Assiniboine Park
Leonid Molodoshanin or Dr. Leo Mol for short was a Ukrainian born artist. He studied art at a variety of places including the Leningrad Academy of Arts, Berlin's Kunst Academy, and the Academy of Arts in the Hague, Netherlands. By 1948, Mol migrated to Winnipeg, Canada with his wife, Margaret. Mol would continue creating art in Winnipeg until his passing in 2009.
A magnificent artist, Mol used very particular and intricate methods in creating his sculptures. While many artists may use a regular chipping method in shaping their sculptures, Mol used the lost wax method. This method, which is also called cire perdue, is a type of metal casting whereby molten metal is poured into a mold that was previously created from a model. At the Leo Mol Sculpture Garden inside the Leo Mol Schoolhouse Studio, visitors can also learn more about how these sculptures were created.
Mol also created bronze statues. He sculpted a variety of subjects, including animals such as deer and bears and people ranging from Pope John Paul ll to John Diefenbaker. His figures featured both realistic as well as mythological abstract traits such as his mystical work titled Europa which represents the Cretan moon goddess and mother to King Minos of Crete from Greek Mythology. And though many artists today display their art in galleries indoors, Mol's wish for his sculptures was to display them outdoors to the vast public, much like how the Romans or Greeks would display their statues as well.
Mol's work was so valued that his sculptures gained a home at the Leo Mol Sculpture Garden in Assiniboine Park in 1992 after Mol donated over 300 bronzes, terra cottas, drawings, and paintings to the City of Winnipeg in 1990.
The phases of the garden were designed in collaboration with the City of Winnipeg through Leo Mol's donations by landscape architects Garry Hilderman, Heather Cram, and Natasa Juck of HTFC Planning & Design. The firm even received a Canadian Society of Landscape Architects, Regional Merit in 1994 for their work.
This garden not only has a variety of art, but the landscape and space that surrounds his sculptures are also a sight to behold with flowers and shrubs planted throughout, creating an intertwining wonderland design of art and nature. The garden itself is all parts garden, museum, and gallery as it is home to both the Leo Mol Schoolhouse Studio and the Leo Mol Gallery (shown above). This architectural yet free space makes the garden the perfect location for get-togethers, wedding functions, and other forms of celebrations throughout the years with Mol's work amid the greenery.
We are lucky the public green space at the Leo Mol Sculpture Garden is open year-round for everyone to enjoy. This way we can see Mol's work when the flowers are in full bloom in the warmer months and view them when the frost rests on his sculptures in the winter. His versatile art shows that his sculptures stand out in any environment, each bringing new energy to the space the sculptures are placed in.
Since the time of the Leo Mol Sculpture Garden's official opening, people from around the world have visited the garden to catch a glimpse of a piece of art and as such, a piece of incredible history.
Mol's place of work (or art) was a small schoolhouse studio which now stands on the grounds of the Leo Mol Sculpture Garden at Assiniboine Park. Mol purchased the former Corona School District No. 1706 in the 1960s which was in use at Birds Hill up until 1913. During the 1970s and 80s, Mol created some of his most well-known works in the building. By 1995, the structure was moved to the Leo Mol Sculpture Garden and renovated to the green and white building we see today.
Mol also generously gifted many of his art pieces to other parts of the Winnipeg community besides the Assiniboine Park. An example of this includes Mol's sculpture titled Tom Lamb which was located at the lobby of the Richardson Building. Other works of art were donated to local churches and cathedrals.
While Leo Mol was traditionally known for his sculptures in and around Assiniboine Park, his work can also be found in many historic churches, such as Westworth United Church at 1750 Grosvenor Avenue. The church owns two of the approximately 80 stained glass windows made by the famous sculptor. This window (shown below) is a monumental depiction of the Last Supper with a variety of colours in bright reds and deep blues.
The second stained glass piece at the side of the same church shows the dove of the Holy Spirit and the bread and cup representing Communion. To the far left of the glass piece is a crown of thorns and nails which symbolize crucifixion. Four Evangelists are placed in the middle of the work starting from the left with St. John with a dove, St. Luke with an ox, St. Mark with a lion, and St. Matthew with an angel showing that each figure represents something different.
Westworth United Church was constructed between 1954-1956 by Green Blankstein Russell and Associates (1954), Smith Carter Searle and Associates (1959), and H. E. Gibson and Company. The church's fine modernist architecture helps enhance Mol's stained glass work which dates as far back as to 1959!
Saints Vladimir and Olga Cathedral (also known as the Ukrainian Catholic Church) at 115 McGregor Street also received work by Mol with a Christ the King Rose Window from 1950.
In the centre of this grand rose window sits 'Christ the King'. Roundels with seraphim and symbolic objects circle around the central figure. Clockwise from the bottom, and excluding the seraphim, the roundels include the Crown of spiritual triumph; the Bible with the seven branched candelabra of Revelation; Christ as the Lamb of God; the Chalice and Grapes of the Holy Eucharist; Symbols of Chi-Rho (Greek for Christ), and Alpha and Omega for God the Father; the Pelican in her piety; the Anchor of hope and NIKA (Victory); and the Ten Commandments.

Institute for Stained Glass in Canada
In 1951, the Saints Vladimir and Olga Ukrainian Church gained cathedral status which is why we know it by the name Saints Vladimir and Olga Cathedral today.
Leo Mol also added paintings and other types of art to his collection of work. Some of his more famous depictions include the mosaic at the front of the Holy Trinity Ukrainian Orthodox Metropolitan Cathedral on Main Street (1986). If you had the chance to participate in this years' Doors Open Winnipeg event, you may have had the chance to also see this massive piece of art in person.

Mol's paintings and drawings were also impressive. His paintings represented Canadian and European landscapes, possibly due to the fact that at one point, he went on sketching trips with the famous Group of Seven painters, many of their art of which can be found at the Winnipeg Art Gallery. Mol's drawings, however, were of nudes or portraits like this one of A. Y. Jackson.
Mol is known for creating over one hundred portraits including the Group of Seven painters and Winston Churchill to name a few. Mol's work was commissioned by the Canadian Government, the Provincial Government of Manitoba, the University of Manitoba, and more. His work can be found internationally at the National Portrait Gallery in Washington D.C. and the Vatican Museum. Or you can catch a glimpse of his art within Canada in places such as the Art Gallery of Ontario, the McMichael Canadian Art Collection, and even at the Winnipeg Art Gallery.
Mol's art and art itself is an important part of history and culture. It shares a diverse amount of styles of art, appreciation for different cultures, and a way to hear about the stories of our past. As such, art helps us to learn more about our heritage and gives us an idea of what varieties of future art to look forward to.
THANK YOU TO THE SPONSOR OF THIS BLOG POST:

Written by Georgia Wiebe on behalf of Heritage Winnipeg.
SOURCES:
Assiniboine Park, Leo Mol Sculpture Garden
Attractions Canada, Leo Mol Sculpture Garden
CBC News, 'A living history': North End church slowly working to protect prized stained glass
City of Winnipeg, Holy Trinity Ukrainian Orthodox Metropolitan Cathedral
Institute for Stained Glass in Canada, Leo Mol Windows at Saints Vladimir & Olga Cathedral
Manitoba Historical Society, Memorable Manitobans: Leo Mol (1915-2009)
Manitoba Historical Society, Leo Mol Schoolhouse Studio
Tourism Winnipeg, Leo Mol Sculpture Garden
Travel Manitoba, Floral Fever in Manitoba
Ukrainian Catholic Metropolitan Cathedral - Sts. Vladimir & Olga
University of Manitoba, Leo Mol fonds
Waddingtons McLean & Company, From a Humble Start: Ukrainian-Canadian Artist Leo Mol
Westworth United Church, Our Windows
Winnipeg Free Press, Citizen Mol: A century after his birth, world-renowned artist's work accessible across Winnipeg
Winnipeg Architecture Foundation, Westworth United Church