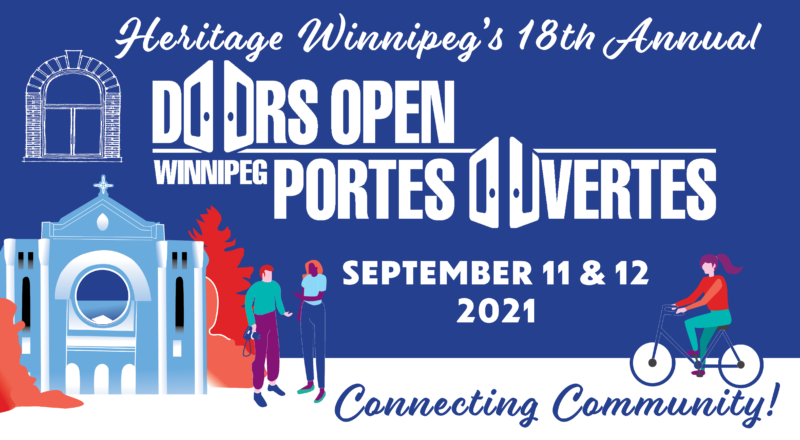 / Blog

September 2, 2021
Doors Open Winnipeg 2021 – Connecting Community!
Do you love Winnipeg's historic architecture? Are you curious about our culture and history? Come join Heritage Winnipeg for this year's Doors Open Winnipeg! We are hosting our 11th annual FREE event filled with different buildings, events and tours. Plan your weekend of fun family-friendly activities, be ready for the opening of online registration – on Friday, September 3rdat noon. Everyone's favourites will fill up fast so register early as to not be disappointed! Additionally, to help keep our community safe, immunization cards (unless medically exempt or under 12), wearing face masks, and social distancing are mandatory at all buildings, events and tours.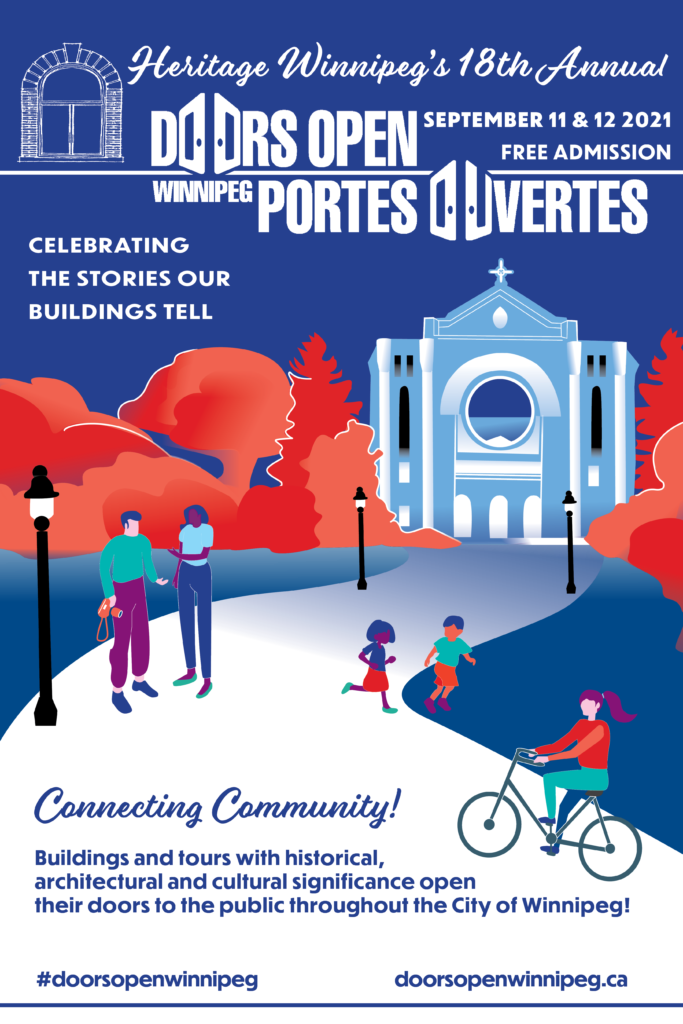 The COVID-19 pandemic brought a lot of changes to the world, including Doors Open Winnipeg. Last year, after postponing the event to the fall, we made the decision to implement online registration to ensure Winnipeg could still enjoy this treasured event safely, even during these challenging times. After a successful 2020 during which hosts and guests alike raved about the online registration, we are moving forward with the same system, allowing Heritage Winnipeg to host the only in-person 2021 Doors Open event in Canada! We have already surpassed last year's number of buildings and tours signed up to participate in Doors Open Winnipeg and we are so excited to welcome you.
Doors Open Winnipeg is such an important way to showcase and support Winnipeg's built heritage. Heritage buildings are crucial contributors to our community, creating a sense of place, providing diverse and affordable spaces, fostering vibrant and walkable neighbourhoods, supporting environmental sustainability, and providing a tangible connection to our past. We tend to pass them every day without a second thought, for after having stood for so many years (sometimes over 100!), one cannot imagine that they will ever disappear. But without ongoing maintenance and strong legal protection, our heritage buildings are at risk of turning to dust and taking all their positive community contributions with them. Doors Open Winnipeg lets you see the buildings behind the facades, meet the people who work and play in them, learn about their history, and be inspired to support the heritage movement. If you loved the Doors Open Winnipeg tour of a quaint museum in a heritage building, make a point of going back and taking the full tour another day. Think the Vaughan Street Jail is totally spooky and totally worth saving? Make a donation to the group advocating for its protection. Really enjoyed seeing your neighbourhood in a new light during a walking tour? Grab your friends and check out what other tours the organization is offering or step up and support the creation of Heritage Conservation districts in Winnipeg. Let Doors Open Winnipeg be the starting of your exciting history with Winnipeg's built heritage!
Doors Open Winnipeg 2021 Participants
One of the things that makes Doors Open Winnipeg really special is a chance to explore some buildings that would otherwise not be open to the public. You can visit the ever-popular Vaughan Street Jail, which is only open to the public these two days every year! Or maybe you have fond memories of Winnipeg's streetcars? Do not miss your chance to see Streetcar 356, one of the last wooden streetcars being rehabilitated at the Winnipeg Railway Museum. No matter what your interest, there is something for you to enjoy at Doors Open Winnipeg! See the equipment our police used dating back to 1874 at the Winnipeg Police Museum, how hydropower contributes to the goals of sustainability at the Manitoba Electrical Museum, or the re-creation of Cuthbert Grant's 1829 water-powered grist mill at Grant's Old Mill Museum. See what Winnipeg was like back in the day at wonderful community museums, such as the St. Vital Museum, Winnipeg Fire Fighters Museum, Seven Oaks House Museum, or Charleswood Historical Society Museum. Interested in Winnipeg's famous residents? ?Learn more at La Maison Gabrielle-Roy. Take a walk through Manitoba Sports Hall of Fame or get a world tour experience at the Mariaggi's Theme Suite Hotel and Spa. Get scared by ghost stories on the Haunted History Tour or travel at your own pace on the West End BIZ Self-Guided Audio Mural Tour. For a full list of participating buildings, tours and events, visit the Doors Open Winnipeg website, and do not forget to register starting Friday, September 3rd at noon!
Vaughan Street Jail
Behind the Fence at CN 2747
Église Saint-Norbert Church
Manitoba Sports Hall of Fame
Grant's Old Mill Museum
Winnipeg Police Museum
NEW This Year!
Some new and exciting things are going on this year at Doors Open Winnipeg! While you are exploring participating Doors Open Winnipeg buildings, keep an eye out for our friend the Golden Boy. Once you find him, snap a picture! After you have discovered him at three different buildings, post the pictures to social media with the hashtag #DoorsOpenWinnipeg or email the pictures to info@heritagewinnipeg.com to be entered to win a fun prize! The contest opens Saturday, September 11th at 9:00 a.m. and closes Friday, September 17th at 11:59 p.m. For full scavenger hunt contest details, visit the Doors Open Winnipeg website.
Also new this year, you can enjoy Doors Open Winnipeg at home with our FREE downloadable colouring book! The delightful "Colouring our Community" features 12 original drawings of iconic Winnipeg heritage by the incredibly talented artist, Robert Sweeney. It is the perfect activity for creative folks of all ages to enjoy. Visit the Door Open Winnipeg website to download your copy!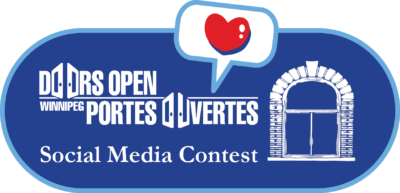 Returning once again is the Doors Open Winnipeg Social Media Contest. Tell us why you love Heritage Winnipeg's Doors Open Winnipeg for your chance to win a Heritage Winnipeg prize pack! Post a selfie while having a blast at Doors Open Winnipeg 2021 to social media with the finished caption "I love #DoorsOpenWinnipeg because…" and don't forget to tag @heritagewpg! Contest opens Saturday, September 11th at 9:00 a.m. and closes Friday, September 17th at 11:59 p.m. For full contest detail please visit the Doors Open Winnipeg website and check out the past winning entries!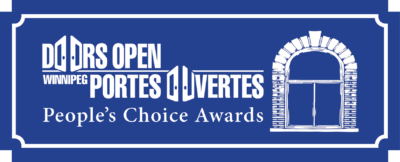 Heritage Winnipeg is also excited about our 11th Annual People's Choice Awards! Show your favourite building, tour or event some love by voting for them. There are three categories to vote in: Best Architecture, Best Tour, and Best Overall Experience. Winners are always thrilled to be hounoured by these awards so do not let all the hardworking volunteers down! Voting Opens Saturday, September 11th at 9:00 a.m. and closes Friday, September 17th at 11:59 p.m. Visit the Doors Open Winnipeg website for details and to cast you vote.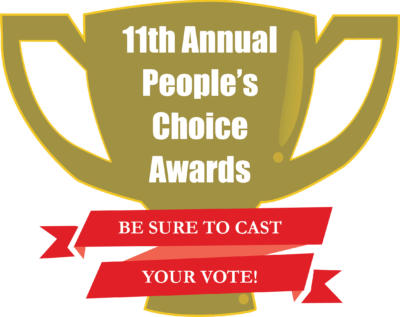 Thank YOU!
Heritage Winnipeg would like to give a huge thank you to all of our sponsors and volunteers who help make Doors Open Winnipeg possible. Their continued support during these challenging times is invaluable to Winnipeg's built heritage community. Be sure to thank all the hard working volunteers when you see them on Doors Open Winnipeg weekend!

Head over to the Doors Open Winnipeg website and start making plans for a weekend that will go down in history! Invite your family and friends as we embrace this opportunity to connect with our community and our past in a fun and safe environment. Make sure you register online, have your immunization card ready and wear a face mask on the day because we cannot wait for you to join us in celebrating the stories our building tell! See you on September 11th and 12th, 2021!