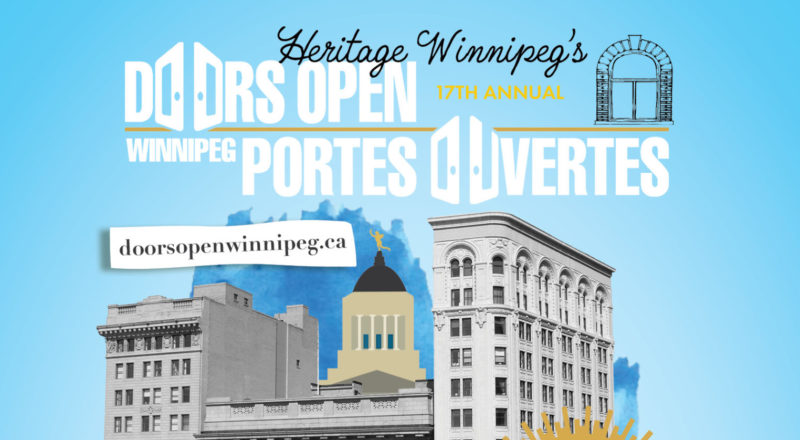 / Blog

September 3, 2020
Doors Open Winnipeg 2020: United in Celebration
Are you ready to celebrate Winnipeg's built heritage? Then you do not want to miss Doors Open Winnipeg 2020, a FREE public event during the weekend of September 12th and 13th! Join Heritage Winnipeg in supporting the historic museums, businesses, religious institutions, arts & cultural centres, and walking tours that strive to protect, conserve, and share Winnipeg's amazing history. Heritage is so important to our city and needs us more than ever during these challenging times. So get online on Friday, September 4th at noon to preregister for your favourite building and tours through the Doors Open Winnipeg website. And do not forget to plan on wearing your face mask and practicing social distancing to help keep us all safe!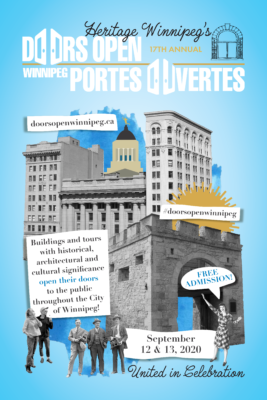 Way back in January when Heritage Winnipeg started getting ready for the 17th annual Doors Open Winnipeg event, no one could have foreseen that the world was about to change. We reached out to heritage building owners and stewards, engaging museums, historic churches, tour facilitators and more, hoping to plan the largest and most exciting Doors Open Winnipeg to date. It was going to be a full weekend of heritage hoopla, with a special focus on Manitoba 150. So many of our favourite buildings and tours were returning and there was going to be an exciting lineup of new buildings to explore and events to enjoy. We were delighted that 2020 was on track to be the best Door Open Winnipeg ever!
Then, COVID-19 struck. The world went into quarantine in the hope of squelching the deadly virus, a small sacrifice to save lives and quickly return to normal life. But weeks would turn into months, and it was clear the danger would not soon be over. On April 17th, after much thoughtful consideration and consultation with our board of directors and stakeholders, it became clear that Doors Open Winnipeg could not take place on May 30th and 31st, 2020. The safety of all our hosts, volunteers and guests was of the utmost importance and took top priority when planning Doors Open Winnipeg. Rather than go forward in May, we felt that it was in the best interest of everyone to postpone the event.
So began a long summer of staying home and hoping, hoping that Doors Open Winnipeg 2020 could take place on a new weekend, September 12th and 13th. The future was looking brighter, with everyone in Manitoba doing their part, and the virus almost disappearing from the province. Unfortunately, this was soon followed by a second wave of the virus that many feared would only continue to spread as schools reopened in the fall. Again, Heritage Winnipeg was faced with a tough decision, do we go forward with Doors Open Winnipeg 2020? This time, the answer was yes!
Winnipeg's heritage organizations need our support now more than ever! Most were closed for months this spring as part of quarantine and now are just reopening at a limited capacity. Often non-profit organizations, run by volunteers, they depend on your generosity to keep their doors open. Heritage organizations are more than just old buildings, they are of vital importance to our community. They contribute to the economy, attracting tourists and functioning as backdrops for the film industry while providing affordable spaces for community groups to gather. When maintained they are more environmentally sustainable than demolishing and building something new and create desirable neighbourhoods where people are more likely to walk instead of driving. They create a scene of place, that warm and fuzzy feeling you get when you see a familiar building that has stood for generations and makes your feel like you are truly home. They are our heritage, a narrative of past challenges and great feats, failures and triumphs, passed from one generation to the next. They are a priceless collection of tangible history ready to help guide us into the future. Doors Open Winnipeg is a great opportunity to get out of the house, stay safe, and show your support for Winnipeg's heritage!
Doors Open Winnipeg 2020 might be small this year but is a testament to the resilience of heritage and Heritage Winnipeg. A hundred years or more of floods, fires, economic uncertainty and changing trends have not gotten the best of it, so neither will a pandemic! Our brave Doors Open hosts having been hard at work making plans so they can open their doors safely on September 12th and 13th, welcoming you to enjoy the best of Winnipeg's heritage. With safety as the number one priority this year, there have been some changes as to how the event will operate. Most buildings and tours are operating with a very limited capacity to ensure there is room for social distancing. To make sure you do not have to spend hours in line waiting to get in, most buildings and tours will require that you preregister online. A few buildings are allowing unregistered guests to also visit, but this is only if there is the capacity to do so and social distancing can be maintained. All preregistration will be online, opening Friday, September 4th, 2020, through the Doors Open Winnipeg website. We expect that registration will fill up quickly, so do not put off booking your spot! Additionally, you should plan on wearing your face mask. It will be mandatory for some buildings and tours, while others would greatly appreciate everyone doing their part to help keep us all safe.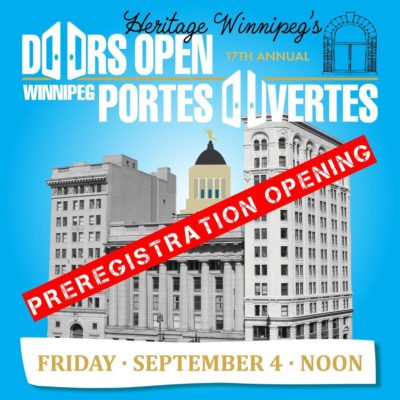 The Doors Open Winnipeg website and Facebook page are the best places to go for all the most up-to-date information on Doors Open Winnipeg 2020, and where you can start planning your Doors Open weekend. There are so many great buildings and tours to choose from! Downtown is a Doors Open hotspot, with buildings, museums and walking tours! Hit the pavement with six amazing walking tours: celebrate Manitoba 150 at Upper Fort Garry Provincial Park, learn about "prairie gold" with Agriculture in Downtown Winnipeg or get frightened by ghost stories on the Haunted History Tour! For a different kind of ghost join the Ghost Sign Walking Tour to learn about fading historic advertisements painted on heritage buildings in the Exchange District, or learn more about the people and places of Winnipeg's National Historic site on the Exchange District Walking Tour. Do not forget to check out this year's new tour, Downtown 1895: A Walk with Sir Hugh for a little time travel with the Dalnavert Museum!
There will be indigo dying at C2 Centre for Craft, opera at the Millennium Centre and ghosts at the Marlborough Hotel! Visit Winnipeg's last wooden streetcar at the Winnipeg Railway Museum, reconnect with your Ukrainian heritage at Oseredok Ukrainian Cultural and Educational Centre, and do not miss everyone's favourite, the Vaughan Street Jail! Interested in police history? The Winnipeg Police Museum is for you! Looking for something more relaxing? Scout out your next weekend getaway at Mariaggi's Theme Suite Hotel and Spa. And when you need a breather, stop by the Dominion Express Building to see the new home of the Oak Room from the St. Regis Hotel while you get a drink!
Blaze a trail northward to visit the Winnipeg Firefighters Historical Society Museum, the oldest house in Winnipeg, Seven Oaks House, or the final resting place of the Selkirk Settlers, the Historic Kildonan Presbyterian Church & Cemetery. Follow the rails to Transcona, where you can visit their outstanding museum or the Historic Locomotive CN 2747, and learn how the railway shaped the community. And on your way stop by Holy Eucharist Ukrainian Church to be amazed by its stunning frescoes and stained glass. Travelling towards the south end of the city stop to visit the charming La Maison Gabrielle-Roy or the head to the heart of Saint Boniface to see their City Hall. Anyone interested in Métis history or the Guess Who needs to stop by the St. Vital Museum. And then why not continue on to the beautiful Église Saint-Norbert and L'Hotellerie St. Norbert Guest House to see the ruins of the Trappist Monastery? Get electrified at the Manitoba Electrical Museum Education Centre, feel inspired by the stunning stained glass at St. George's Anglican Church or learn about pioneer life at the Historical Museum of St. James-Assiniboia. There are just so many great options to choose from!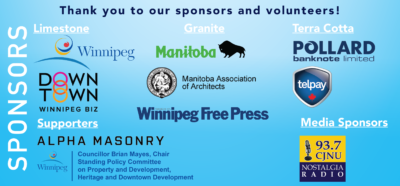 Doors Open Winnipeg would not be possible without all our amazing hosts, volunteers and sponsors. We cannot thank them enough! Their support in invaluable in making this event possible. Be sure to let them know their hard work is appreciated when you see them on September 12th and 13th. So you do not miss out on your favourites make your way to the Doors Open Winnipeg website on Friday, September 4th starting at noon to preregister! The doors will be open in Winnipeg soon, and we cannot wait to unite and celebrate the stories our buildings tell!
THANK YOU TO THE SPONSOR OF THIS BLOG POST:

Written by Cheryl Mann on behalf of Heritage Winnipeg.