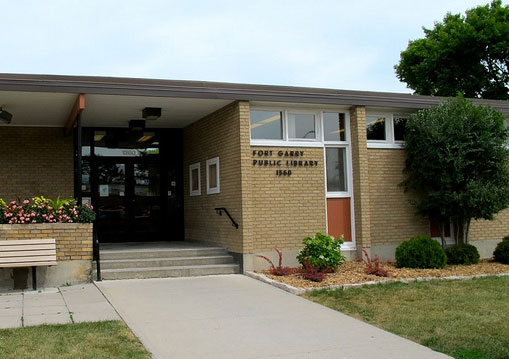 / Blog

February 3, 2021
Community Stories at the Fort Garry Library
Public libraries provide much more than just books. Today, in the digital era, they allow access to online resources and digital media but even in the years before the internet, libraries played many important roles within their communities. Multi-purpose rooms provide space for group meetings, community workshops, and educational lectures. And, of course, libraries provide knowledge – both through trained librarians and shelves upon shelves of books. Because of this, is it any wonder that Winnipeggers welcomed a library with open arms?
Winnipeg's first public library was the Carnegie Library (380 William Avenue), built in 1905 with funds provided by America's Carnegie Foundation. As Winnipeg grew, smaller lending stations were set up across the city in schools and drug stores and wherever else they could go. By 1913 there were 35 stations and roughly 500 books circling through these locations every few weeks. Obviously, Winnipeg needed more libraries and by the end of the 1910s, Winnipeg readers had two new libraries to visit: The St. John's Library (500 Salter Street), and the Cornish Library (20 West Gate). Over the years more libraries were be built and the city would introduce "bookmobiles" to visit neighbourhoods without their own library branch.
Similar needs were being felt in Winnipeg's surrounding municipalities. Prior to the 1972 Unicity Agreement, Winnipeg's surrounding neighbourhoods existed as separate municipalities and towns. Charleswood, Fort Garry, North Kildonan, and Old Kildonan, the Town of Tuxedo, the cities of East Kildonan, West Kildonan, St. Vital, Transcona, St. Boniface, and St. James-Assiniboia all had their own municipal structures and community needs, and this included the need for a public library.
In Fort Garry this need came a bit later. Located in southern Winnipeg near the University of Manitoba, the community only began to clamour for a library in the 1950s. In June of 1955, a Fort Garry Library Development Committee was formed and began collecting signatures of support. By October, the Committee had amassed 2,000 signatures and members of neighbouring library associations began voicing their support (including prominent librarian John Russel). This effort paid off, and the Fort Garry Library officially opened on September 23rd, 1956. Education Minister Wallace Conrad Miller led the opening ceremonies, which was then followed by a tea luncheon. This was all before the library even had a building of its own; from 1956-1960, the Fort Garry Library was housed in a 12′ by 24′ room in the Fort Garry Municipal Hall at 1350 Pembina Highway. Unsurprisingly, within a few years it had outgrown the space and construction began on a new home for the library at 1360 Pembina Highway.
Local architect George Stewart was responsible for the new building's modernist design, with its flat roofline and buffed brick exterior. The interior is well-lit by skylights, which illuminate both the main floor and the mezzanine. It also came with a multipurpose room.
Stewart, born and raised in Boissevain, Manitoba, received his degree in architecture from the University of Manitoba in 1949 and established his own practice shortly after. Somewhere in his career, Stewart developed an interest in community libraries and designed both the Fort Garry Library and the St. Vital Library. Speaking at the Fort Garry Library about his design and his ideas for libraries, Stewart said: "The role of the library in the modern community is to be a cultural and educational centre which helps people of all ages reach maturity rather than mere adulthood." Further, he proposed that public libraries be renamed community libraries, to make their purpose more explicit.
Scrolling through the Winnipeg Free Press Archives, it is clear that the Fort Garry Library quickly established itself as a community hub. Across the past sixty years, the Fort Garry Library has played host to a myriad of community events and workshops. Children have attended packed workshops on Ukrainian Egg Painting, the Winnipeg Contemporary Dancers have given lectures and demonstrations, and scores of artists have hung their art on the library walls.
The Fort Garry Library underwent $900,000 in renovations in 2014, which added accessible entrances and washrooms, an upgraded multipurpose room and a new play area for children. Unfortunately, part of the renovations involved removing the brise soleil that was located in front of the large windows on the front facade. A brise soleil is a feature of many modernist designs which blocks heat from the sun by deflecting its rays.
A new exterior feature was added during the 2014 renovations: a shard garden.
Shard gardens, or architecture gardens, are a unique landscaping feature made up of fragments of demolished buildings. While it is certainly not the ideal form of preservation, when a building cannot be rehabilitated a shard garden is a creative way to save architectural elements. There are a few gardens like this throughout Winnipeg; including the English Garden in Assiniboine Park which has architectural fragments tucked away along the curving paths, and the Variety Heritage Adventure Park at the Forks which has limestone building shards for children to explore and enjoy. Other pieces were saved by the City of Winnipeg, The Winnipeg Foundation, and Heritage Winnipeg that are awaiting or found new homes.
The Fort Garry Library's Garden consists of fragments from four demolished Winnipeg buildings: The Crown Trust Building (362 Main Street), Winnipeg Post Office (236 Portage Avenue), Great Western Building (356 Main Street), and the Thompson and Pope Building (379-381 Portage Avenue).
All four buildings were constructed between 1905-1915, during Winnipeg's population boom, and featured distinctive terracotta facades. The Crown Trust Building, designed by John D. Atchison in 1911, was the Winnipeg headquarters of both the Allan Line Steamship Company and the Allan Killam and McKay Insurance and Realty Company.
The Winnipeg Post Office, built in 1905, was designed by David Ewart and boasted a striking classical façade. This was Winnipeg's sixth post office, and the building was also home to the federal Customs, Dominion Lands, and Public Works offices.
John H.G. Russell designed the Great Western Building in 1912. It was an ornate office tower, and one of many that Russell would design across his long career.
Once at the corner of Portage and Edmonton, the Thompson and Pope Building was designed by William Fingland and featured large display windows and an ornamental upper storey with cream-coloured terracotta and coloured shields.
By the 1960s, with Winnipeg's downtown was in decline and all four were demolished to make way for new developments. Thankfully not all of the building was scrapped and lost forever, and some parts of our architectural history found a new home at the Fort Garry Library.
The Fort Garry Library today, is still a clear model of George Stewart's community library. In February of 2020, looming budget cuts put the future of the Fort Garry Library at risk – something which the community staunchly opposed. A Free Press editorial spoke highly of the value of the Fort Garry Library. It is one of just two libraries in Winnipeg's south end, and the only one near a major transit line making it accessible to those without vehicles. More than that, the library was a source of valuable social connections for local seniors, provides resources to Winnipeg newcomers, and hosts a popular summer reading program for children.
Perhaps the staunchest defenders of the Fort Garry Library came from Oakenwald School. Dean Humeny, a fourth grader at the school, wrote a letter to Fort Rouge-East Fort Garry Councilor Sherri Rollins and Mayor Brian Bowman to defend the library – and shortly after, many of his classmates followed suit. Nearly 190 students wrote letters to the City of Winnipeg, all asking to keep the library open, and other local schools started similar campaigns. The Fort Garry Library was, mercifully, spared the chopping block – though the recent COVID-19 pandemic has resulted in the library's temporary closure.
The Fort Garry Library is more than just the books that line the shelves. Hidden in the walls, tucked between the pages of books, is the story of a community that pushed for the creation of the library and then fought to save it!
THANK YOU TO THE SPONSOR OF THIS BLOG POST:

Sabrina Janke
SOURCES:
1350 Pembina Highway, Winnipeg Architecture Foundation
Shard Garden: An Architectural History, Winnipeg Public LIbraries
George A Stewart, Winnipeg Architecture Foundation
Fort Garry Library Reopens After Nearly $1M Renovation, Chris D.
Fort Garry Library is At Risk, Winnipeg Free Press
More than just books: Young students write to Winnipeg city council pleading for local library to stay open, CBC News.
Winnipeg Free Press Files
Winnipeg Tribune Files
The New Edition of the St. John's Library
Modernism for the Masses – The St. Vital Library
Carnegie Library: Heritage At Risk