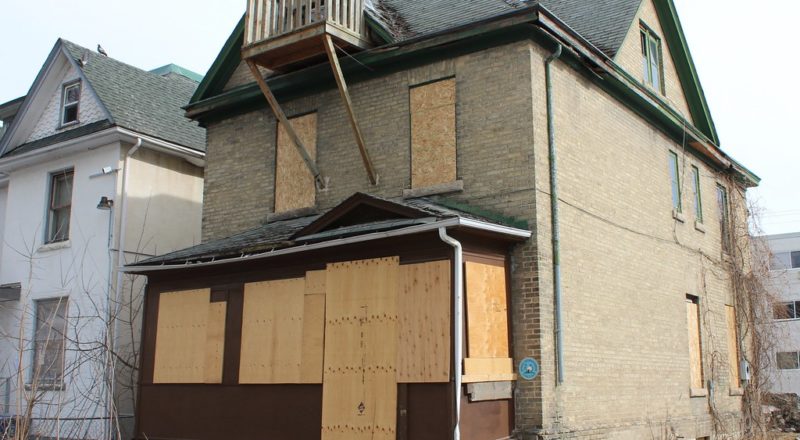 / Blog

June 30, 2020
Christian Cassidy: A Voice for Hidden Heritage
Like with each person, every building tells a story. Our buildings can tell us about our past and give us some insight about our future. However, there are times when some buildings that are less known to the public blend into the background. They are buildings that are not regularly posted about online, are not designated and often have less than a paragraph of documentation for people to learn about their past. It is because of this that sadly, these buildings fade from our memories, lost from the public's consciousness. But the bold Christian Cassidy plans to change that. A blogger and history enthusiast, Cassidy is focused on giving a voice to Winnipeg's forgotten buildings and their history.
When Cassidy started writing about Winnipeg's hidden and overlooked built heritage, he worked as a payroll and benefits administrator by day, while spending his free time researching these buildings for his blogs. He got the inspiration to create his blogs back when discussion forums and groups on the internet were just starting to become popular. Cassidy would frequent the forums that discussed 'this day in history' themes and other related topics.
"The thing is on these papers today is what the Beetles did, what Abraham Lincoln did, and what Winston Churchill did. And the odd time I would stick my nose in and be like "you know, great stuff went on in Winnipeg on these days," says Cassidy. "And people would put it down saying "Nothing ever happens in Winnipeg"."
That discussion 15 years ago sparked Cassidy's desire to take up the challenge of getting more people interested in learning about the events in Winnipeg and its history. It is because of this that he runs three different blogs, each to help illustrate a different theme. About 12 years ago Cassidy started his first blog, titled This was Winnipeg. The blog gave him an outlet to pursue his hobby in learning about the history and buildings in the city, but it was more than that.
"I think they're more accessible than historic building reports," says Cassidy while referring to the ease of reading blogs.
While he does not write for his first blog anymore, Cassidy continues adding to his other two blogs, called Winnipeg Downtown Places and West End Dumplings. Winnipeg Downtown Places acts as an index site where he can add more specific information and keep a record of structures that may have only a sentence or two written about them. Nearly 300 building histories are documented on this blog. Cassidy says he has at least 40 more he plans to add, which would make for at least 400 histories by the end of the year! West End Dumplings, on the other hand, is more long-term writing. The stories are written to ignite readers' interest in overlooked buildings we often walk by every day but never stop to think twice about.
"I'm interested in the everyday buildings that people pass by 500, 1,000, or 5,000 times and never give them a second thought because to me those might be a former corner store or a little decrepit apartment block or little run-down house. Those are the buildings where the people who built Winnipeg lived, worked, and socialized," says Cassidy. "And when I say the people who built Winnipeg, I don't mean the politicians who make decisions or the financiers who make the construction of the building, I mean the people that flipped the hamburgers and swung the hammers, the ones that worked in the rail yards, the cafes, the hospitals."
Instead of posting about the popular buildings you may see frequently on social media, Cassidy wants to focus on the ones that mean something to the community – to the everyday person.
"Those kinds of non-descript buildings are where the real history the city has is," says Cassidy. "To me, history was made in those common everyday little commercial buildings and apartment blocks."
Back between 2013-2016, Cassidy worked as a freelance columnist. He wrote articles for the Winnipeg Free Press and the Real Estate News usually once every three weeks, sharing the stories of all types of buildings in the city. He even ran his own radio show through the University of Manitoba's UMFM 101.5 station. His radio show went by the same name as his blog, West End Dumplings.
His work not only helps educate people about these buildings but inspire others while making a positive impact on the community. Cassidy wrote about, discussed during his walking tours, and convinced the old International Order of Good Templars Hall on Sargent Avenue to open for Heritage Winnipeg's Doors Open Winnipeg event last year. Cassidy also nominated the building for a 2019 Heritage Winnipeg Annual Preservation Award, which it deservingly won. Cassidy continues to champion Winnipeg's West End, offering the occasional free public walking tour.
In his decade of writing blogs, there are some posts that are still fresh in Cassidy's mind. One of them is Cecil Francis Lloyd's house at 495 Victor Street. It was one of Cassidy's favourite blogs to write about even though the story is quite sad. The blog discusses the life and death of a man and his poetry. When Cassidy came across the building, it was already boarded up and the following year, in 2019, the house burned down.
Cassidy posted about the house both in his Winnipeg Downtown Places and West End Dumplings blogs. While Winnipeg Downtown Places briefly describes the facts about it, the West End Dumplings blog explains the story about the life and death of a poet including his struggles during the Depression.
"There is a citizen of Winnipeg whose name is known to only a few outside literary circles, yet his fame will live long after our captains of industry, the grain nabobs, members of parliament and the city council, to say noting of other saints, scholars and sinners will have passed on unwept, unhonoured and unsung. I refer to Cecil Francis Lloyd, essayist and poet."
Alex Musgrove, Nov 2, 1935, Winnipeg Tribune
Today, Cassidy works in administration and community development involving housing grants. But that has not stopped him from continuing to give a voice to the forgotten buildings that are often overlooked in mainstream media, often focusing on the West End or East Kildonan areas. Cassidy also hopes that, eventually, we will better document buildings before they are torn down or renovated. This way, we can keep track of the changes these buildings went through and keep a record for our future readers.
"I think in Winnipeg, we have an incredibly narrow focus on what buildings are historically important, what neighbourhoods these buildings are in," says Cassidy. "It's just the same old buildings that you can find written about in nine different places, but there are thousands of buildings that are written in no places."
Cassidy mentions that the city needs to do a better job of including the history and voices of minorities in the city. The Craig Block is a great example of this. The block, which was built in 1894 at 795 Main Street for merchant George Craig, has a history that should be shared. Cassidy's blog on the Craig Block delves into this history, unveiling the important role the building played in Winnipeg's Black community. The blog also mentions the Railway Porters' Band of Winnipeg which was formed in 1921 by George Blair, a new porter with the Canadian Pacific Railway. Blair and his band played events for the Black community in the North End during the early 1920s. While the band did not last long, it is still an important part of history in the city that should be recognized.
"If we want to tell a wider variety of stories, then we need to look at a wider variety of buildings and their neighbourhoods," says Cassidy, referring to the importance of representation in media.
Keeping pictures and articles on these buildings and moments as a record can also be useful to buildings' previous owners, or to relatives of people that used to live in the buildings. Even today, Cassidy gets emails from people asking about the photos he took years earlier. It is reassuring to Cassidy to know that people care about his work and are still learning more about history through his blogs.
Cassidy's motivation to write about these structures shows how important it is to document all the buildings in the city, including the ones we may take for granted. Through documenting these structures, we can continue to learn about and celebrate them long after they are gone.
One of the main recommendations Cassidy has for readers interested in Winnipeg's built heritage is to be consistent and diligent about documenting things online, even if it is something as simple as a single photo.
"One thing I always say to people is if you find something, put it online," says Cassidy. "… if you find something [a building], find a way to get it online so people can access it. That helps create that network."
Cassidy encourages people to post this type of information online even if they do not have the whole story about the building, because we may not realize how much it can affect someone in the future. It is a starting point so people have an opportunity to continue learning more about the structure, and thus, our city's history.
"You're bringing interesting history about your neighbourhood to life," says Cassidy. "So, if you don't do it, not a lot of people will and that story goes untold."
Special note: Thank you to Christian Cassidy for his insights about the history of Winnipeg and the importance of documenting all of the city's buildings, both big and small!
THANK YOU TO THE SPONSOR OF THIS BLOG POST:

Written by Georgia Wiebe on behalf of Heritage Winnipeg.
SOURCES:
Manitoba Historical Society, Historic Sites of Manitoba: International Order of Good Templars Hall / Canadian Order of Foresters Hall / Redeemed Christian Church of God (635 Sargent Avenue, Winnipeg),
University of Manitoba, West End Dumplings: The Radio Edition,
Winnipeg Downtown Places, 793 – 795 Main Street – Craig Block,
Winnipeg Downtown Places, 635 Sargent Avenue – IOGT Lodge/Zoohky Memorial Hall,
West End Dumplings, Behind the Photo: Railway Porters' Band of Winnipeg (1922),
West End Dumplings, The forgotten poet of Victor Street,
Winnipeg Free Press, Christian Cassidy,
Winnipeg Free Press, Taking a walk back in time – West End tours highlight history,
One response to "Christian Cassidy: A Voice for Hidden Heritage"