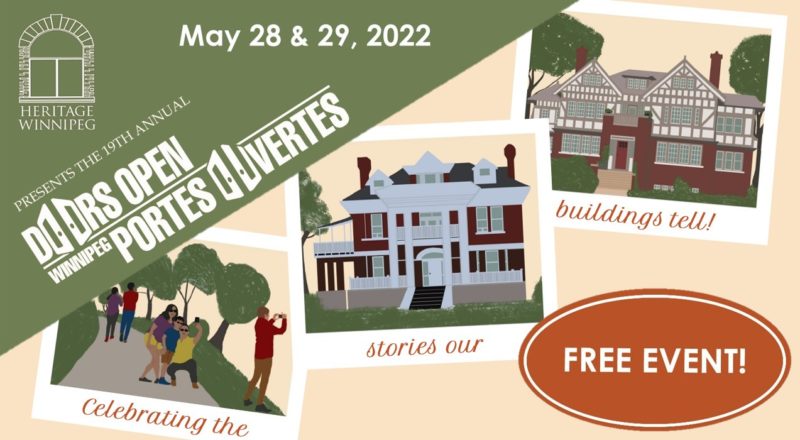 / Blog

May 19, 2022
Celebrating Neighbourhoods: Doors Open Winnipeg 2022
It's May, which means Heritage Winnipeg's favourite weekend of the year is quickly approaching! That's right, we are happy to say that our 19th annual Doors Open Winnipeg is happening on Saturday, May 28, and Sunday, May 29! After hosting a safe and successful event in September 2021, we are looking forward to celebrating the stories our buildings tell in 2022. This FREE public event is dedicated to sharing and celebrating Winnipeg's stunning architecture, history, and arts & culture. The theme of this year's event is "Celebrating Neighbourhoods", expressing our excitement over the progress of heritage conservation districts in Winnipeg.
Since the first Doors Open Winnipeg in 2004, this weekend has become a tradition for history and architecture lovers all over the city. Held annually during the last weekend of May, Doors Open Winnipeg has been attended by thousands of Winnipeggers every year. Doors Open Winnipeg's increasing popularity over the years is a result of the amazing and unique tours and events offered throughout the city. From guided tours of theatres, churches, museums, and even some ghost stories, Doors Open Winnipeg has something for everyone of all ages to enjoy!
One of the things that make Doors Open Winnipeg so special is that gives Winnipeggers the unique experience of exploring buildings they otherwise would not have the opportunity to. Take the Vaughan Street Jail, for example, located at 444 York Avenue, the Vaughan Street Jail was the city's primary jail from 1881 to 1930. Men, women, and children as young as five were incarcerated there. Today, the Province of Manitoba employees occupy part of the building while the rest sits vacant. Normally closed to the public, the Vaughan Street Jail is transformed into a vibrant place during Doors Open! This tour is consistently among the most popular of the weekend, with volunteers playing different roles and dressing up to tell stories. It is tours like the Vaughan Street Jail that provide an excellent example of how Doors Open raises awareness about a mostly vacant building.
Not only does Doors Open give you a special ticket into exclusive buildings but it also allows Winnipeggers to act like tourists in their own city. When was the last time you went to one of the many available museums in Winnipeg? Or have you ever taken a walking tour of various neighbourhoods across our city? The Doors Open weekend brings more Winnipeggers downtown and boosts tourism and the local economy within the city while supporting the organizations that participate. It invites people to look at our city through new eyes, making us appreciate what beautiful and historic architecture we have. This is why Doors Open is such an amazing event, it lets visitors explore the city in a way that you might otherwise not think to do.
Doors Open Winnipeg encompasses the built heritage that makes our city great. The weekend is jam-packed with events that involve history from all parts of Winnipeg. You can learn Ukrainian history at the Oseredok Ukrainian Cultural and Educational Centre, the beautiful Holy Eucharist Ukrainian Catholic Church, and the newly renovated Ukrainian Labour Temple! Or you can visit one of the best-preserved examples of a river lot farm at the Seven Oaks House Museum and one of the oldest remaining homes in the city at the Ross House Museum! All of the Doors Open weekend tours are FREE, making them accessible for all age demographics to enjoy. Through the love of Winnipeg's history and architecture, Doors Open provides a fantastic way for Winnipeggers to support local museums, non-profit organizations, and the greater Winnipeg community!
The weekend also offers a number of outdoor events that will let you enjoy the fresh air while you are exploring the city. From architecture to public art, to the city's fading downtown promotional signage, this year's outdoor events definitely don't disappoint. The Doors Open walking tours also give Winnipeggers an opportunity to learn about different neighbourhoods in the city. This year, you can explore Wolseley, Nairn Avenue, Transcona, and more on foot. These tours give a unique glimpse into Winnipeg's past while getting outside.
As mentioned before, this year's theme is "Celebrating Neighbourhoods." The theme comes from the exciting recent developments of the first Heritage Conservation District in 2019 in Armstrong's Point, and now the nomination of Crescentwood is well underway. Visitors can walk around the first Heritage Conservation District themselves during the Armstrong's Point Walking tour. Armstrong's Point is the oldest inner-city residential neighbourhood in Winnipeg. The area's unique peninsular cul-de-sac is in a bend of the Assiniboine River, with no through-way. Aside from learning about some of the stories behind its 123 homes, the tour will take a peek into a backyard or two, as a special treat!
Doors Open is also a great opportunity to get more Winnipeggers downtown. Our downtown including the Exchange District, a national historic site is filled with beautiful historic buildings that we often take for granted. Doors Open Winnipeg lets Winnipeggers get to go inside some unique downtown buildings, such as the Costume Museum of Canada, as well as wandering the cobblestone streets of the historic Exchange District during the Exchange District BIZ Historic Walking Tour. This tour takes you on a journey through Winnipeg's riveting political history, uncovering scandals. After you take in some of Doors Open Winnipeg's events, you can stop by one of the many local restaurants and grab a bite to eat!
If you are interested in hearing some music while touring an extravagant building, we suggest you check out the Manitoba Underground Opera at the Millennium Centre. Designed for the Canadian Bank of Commerce by renowned architects Darling and Pearson, this magnificent heritage building has been beautifully conserved and reborn as the Millennium Centre. Join us in the monumental granite and marble banking hall for a chance to explore the exquisite spaces of the ground floor and delight in a performance by outstanding local singers from the Manitoba Underground Opera.
After 19 years of Doors Open, we are still excited to see new participants join us! This year, in particular, we have a number of new participants that we think will interest a lot of people. There will be a special screening of the 2019 film Stand!. This movie musical is a film adaptation of Danny Schur and Rick Chafe's award-winning musical Strike! Set against the 1919 Winnipeg General Strike, Stand! follows the story of Ukrainian immigrants fleeing from Russia's war on Ukraine, trying to make a better life for themselves in Winnipeg. The FREE screening will be held in the historic Burton Cummings Theatre (which was the site of a famous General Strike meeting) at 7 pm on Saturday, May 28th, and Sunday, May 29th.  After the screening, there will be a special Q&A with the filmmaker! Admission is free but the event will run on a first-come-first-served basis. Guests are encouraged to dress like it's 1919!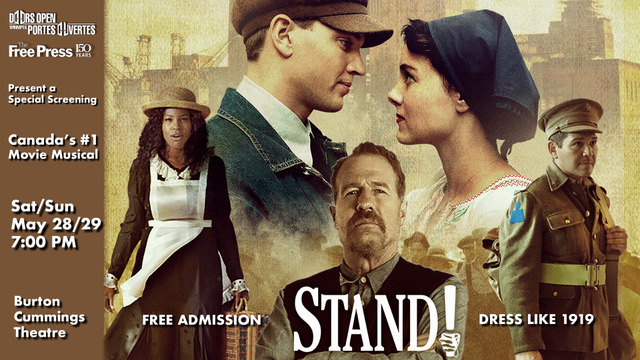 Another new exciting participant takes Winnipeggers just outside of the city to Birds Hill Park. Located on Pine Ridge Trail, South Drive stands the Kudlowich Homestead. During the early 20th century, Polish and Ukrainian immigrants came to Canada to find freedom and prosperity. With the best farmland in the Red River Valley already taken, the new immigrants settled on marginal land. By the 1930s a strong Polish and Ukrainian community had established themselves in what became known as Pine Ridge. The Kudlowich Homestead is the last remaining home in the park. Still standing today is the house and barn, of log construction with dovetail joinery, typical of the Depression-era construction.
Some of this year's new Doors Open participants also include excellent examples of adaptive reuse of old buildings. In the past couple of years, there has been an emphasis placed on the environmental sustainability of reusing old buildings to better fit our city's needs. This comes as a solution to the act of tearing down old buildings to replace them with new developments. Both the Augustine Centre and WestEnd Commons have shown that adaptive reuse projects can be successful in Winnipeg. The Augustine United Church has stood as an iconic building in Osborne Village since 1904. Recently the church went under renovations to be restored as the Augustine Centre, which will provide community space and services. During Doors Open, the Augustine Centre will be offering guided tours of the newly redeveloped space. The WestEnd Commons located inside St. Matthew's Anglican Church will also let people see their new renovations. The upper level of the building was renovated for affordable housing as part of the WestEnd Commons. The renovations to the building kept its historic architectural beauty while creating a modern living space.
There are so many fun and interesting buildings and tours participating in Doors Open Winnipeg 2022! To start making your plans for the weekend, go check out the Doors Open Winnipeg website for all of the participants and the detailed information. Heritage Winnipeg would also like to give a huge thank you to our volunteers and sponsors. Doors Open would not be the success that it is without your constant and valuable support over the years. We couldn't do it without you!
Tell us why you love Doors Open Winnipeg and you could win a

This year we are bringing back the Doors Open social media contest! To win a Heritage Winnipeg prize pack, post a selfie while having a blast at Doors Open Winnipeg 2022 to Facebook, Instagram, or Twitter with the finished caption "I love #DoorsOpenWinnipeg because…" and don't forget to tag Heritage Winnipeg! The contest opens Saturday, May 28th at 9:00 am and closes for submissions on Friday, June 3rd at 11:59 pm.

Doors Open Winnipeg is proudly presented by Heritage Winnipeg. Our organization collaborates with community groups and businesses, contributing hundreds of hours of staff time to present Doors Open Winnipeg, accompanied by the time and effort of over 500 volunteers. But it is the generosity of donors like you that make this highly successful FREE event possible each year. Help us continue to celebrate our community's architecturally, culturally, and historically significant buildings by making a tax-deductible donation to Heritage Winnipeg today!
Don't forget to mark your calendars for Doors Open Winnipeg 2022 on Saturday, May 28, and Sunday, May 29. Check out the website for everything you need to know about this year's events and start making your plans for the weekend. We cannot wait to explore and celebrate our city's history and architecture with you all!

THANK YOU TO THE SPONSOR OF THIS BLOG POST:

SOURCES:
Halmarson, Daniel. "Doors Open Winnipeg opens historic buildings for tours this weekend." CTV News, September 10, 2021.
Heritage Winnipeg, "Doors Open 2021: Connecting Community." Blog, Sept. 2, 2021.
Greenslade, Brittany. "Winnipeg historic sites to open doors for free." Global News, May 30, 2014.
Small, Alan. "Portals to history: Doors swinging Open again as annual event soldiers on despite pandemic." Winnipeg Free Press. Sept. 10, 2021.
Doors Open Winnipeg. "Frequently Asked Questions."