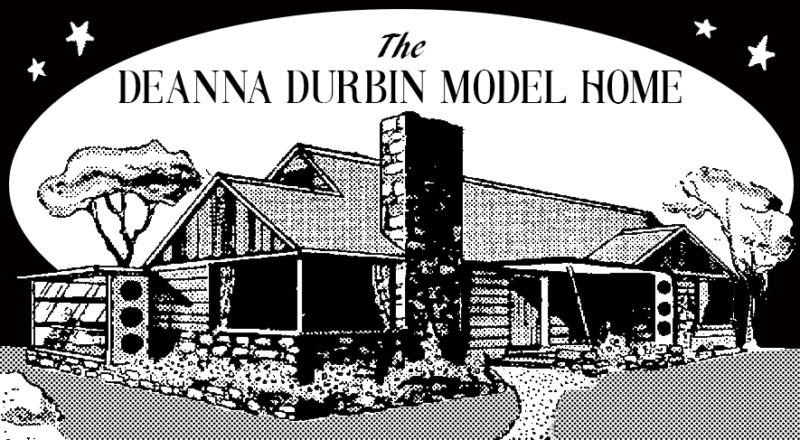 / Blog

May 5, 2021
A Hollywood Home: 8 Kingston Row
If you had the chance to enter a contest to win a home sponsored by a movie star, would you? The answer seems obvious: of course!
Winnipeggers were presented with this question early in 1944, when the Kinsmen Club of Winnipeg announced plans for a new fundraising drive. The Kinsmen were founded in Ontario in 1920 to provide camaraderie to war veterans in Canada. Their Winnipeg branch was founded in 1923. So, by 1944, they had over two decades of experience in organizing charitable campaigns. Named the "Milk for Britain" campaign, the Kinsmen would spend much of 1944 raising money to provide milk for British children, who were facing food shortages due to World War II.  A number of prizes were collected, including a silver tea service, wrist watches, and war savings certificates.
The focal point of the campaign and the biggest prize was the Deanna Durbin Model Home at 8 Kingston Row. Tickets for the auction were sold for $1, at which point you would be entered to win a brand new house in St. Vital, or $10,000. Further sweetening the pot was that Deanna Durbin herself sponsored the home and signed off on its design.
Deanna Durbin was at the time, a prominent starlet in Hollywood and had acted alongside the likes of Judy Garland, Gene Kelly, and Vincent Price, but she had gotten her start right here in Winnipeg, Manitoba! Born Edna Mae Durbin at Winnipeg's Grace Hospital in 1921, Durbin was the youngest daughter of James and Ada Durbin. The family relocated to California before Durbin turned two, though both she and her parents kept close ties to Winnipeg through family and friends. Durbin's maternal grandmother Sophia Read, and her two uncles lived in Winnipeg. Winnipeg for its part, watched Durbin's career and spoke of her as if she had never left.
Durbin had a strong singing voice, leading to roles in Los Angeles recitals and eventually a guest spot on the Eddie Cantor Radio Show. This then led to an audition with Metro-Goldwyn-Meyer Studios (MGM) in 1936. While training on the MGM lot, Durbin befriended another young actress named Francis Gumm. As often is the case with actors, once both women entered the studio system, their names were changed. Edna Mae became Deanna, and Francis Gumm became Judy Garland. The duo starred in a screen test turned movie called Every Sunday, and once completed Garland stayed on while Durbin was let go. She was quickly picked up by Universal Studios, and starred in Three Smart Girls later in 1936.
From there, her stardom quickly grew. Studios released Deanna Durbin merchandise, which was sold at the Eaton's Department Store (345 Portage Avenue) in Winnipeg, and Durbin attracted quite the crowd when she paid a visit to Winnipeg in 1937. Durbin and her family had breakfast at the Royal Alexandra Hotel, gave a radio address at the Richardson's radio station, and then spent the rest of the day with her extended family in St. Vital before returning home to California. Though Durbin's Hollywood success kept her from visiting Winnipeg throughout the 1940s, she invited Winnipeg relatives and friends to her short-lived marriage to Paul Vaughn in 1941.  She also took part in Winnipeg charitable activities, including sponsoring a home for the Kinsmen Club of Winnipeg's "Milk for Britain" campaign.
Durbin was by no means a trained architect, so architects Lloyd Hugh Finch and Fred Walker were brought on to create the plans for the model home.  Finch was a graduate of the University of Manitoba architecture program and had spent from 1926 to 1932 working in Chicago before returning to Winnipeg. For a time, he worked with Safeway Canada and designed a number of grocery stores in the prairies. Locally his company Lloyd Finch & Associates worked on a wide variety of buildings, from homes to commercial ventures.  The Deanna Durbin Model Home was one of his earliest Winnipeg projects, and a sketch of the home was released on March 18th, 1944.
The design of the Model Home was pleasantly modern, with a mix of wood paneling and stonework along the exterior of the home. A later Winnipeg Free Press listing described the home in lush detail.
"Situation in beautiful St. Vital. This sensational new type home, built by an outstanding construction company, with every one of the most modern and up-to-date features. On the ground floor there are 5 of the loveliest rooms you could wish to see. The living room is large and attractive, massive open F.P [floor plan]. The dining room is almost entirely glass; picture kitchen to minimize the cooking problem; master bedroom for twin beds; excellent second bedroom; clothes and linen closet space, all that could be desired; combination den and sunroom; stairway to attic which can be finished with two bedrooms and bathroom at low cost. Basement in keeping with the rest of the premises: special space for recreation room. There is fine laundry, furnace room, and bin-fed stoker. Some of the many unusual features include special system of ventilation, picture windows, built-in cabinets, special finish in kitchen and bathroom walls; fenced landscaped lot; garage. This home is thoroughly insulated and has a remarkably fine appearance."
-from the Winnipeg Free Press, 1944-11-11 (25)
One of Durbin's observations about the house was that it quite resembled a number of bungalows in California.
Filming commitments kept Durbin from playing a larger role in the campaign, though she did send a telegram to both the Kinsmen Club and Mayor Garnet Coulter. Her message to Mayor Coulter read, in part:
"Dear Mayor Coulter: May I commend you and every citizen of Winnipeg for the grand support you are giving the Kinsmen club model home, which I have been asked to sponsor. I am sure that this project will be of tremendous benefit to the Milk for Britain fund, and think that you all can be very proud of the support you are giving it."
-from the Winnipeg Free Press, February 4th 1944 (3))
Construction began on the home at 8 Kingston Row in April of 1944, with a public sod turning ceremony. Durbin's mother Ada was present, and actually turned the first sod herself.
Excitement began to increase in the summer of 1944; a to-scale model of the home was displayed in the Eaton's Department Store, and a radio presentation on the exciting features of the home. Mentioned in the newspaper ad for the program were the slanted verandah post and padded satin wall coverings.  Plans were made to announce the winner of the draw at the St. Vital Fair on August 19th, 1944, despite an unexpected delay that pushed the home completion date back to October. It was also announced that the Eaton's Department Store would be providing furniture for the home.
The St. Vital Fair was one of many agricultural fairs that took place across the prairies during the 20th century, with gardening contests, animal displays, and numerous community events. The St. Vital Fair had been an annual community event since 1905, and in 1944 drew in an excited crowds looking to see who had won the Model Home, or $10,000.
Except, the winner was not at the fair – he was not even in the province.
William G. Campbell, a 28-year old bachelor and farmer from Saskatchewan was the winner. Interviewed by the Winnipeg Tribune, Campbell said he had bought an auction ticket in February as he "had nothing lose", and frequently donated to charitable organizations anyway. Campbell chose to take the $10,000 instead of the house, preferring to remain on his farm. Harvest season prevented him from being able to inspect the home as well. According to the interview with the Winnipeg Tribune, Campbell also planned on donating his $10,000 in winnings on war bonds.
This meant the Deanna Durbin Model Home was officially on the market. By all accounts the fundraising drive was a huge success, with a conservative estimate of $65-70,000 raised – enough to buy 780,000 quarts of milk!
The Kinsmen Club planned to have a week-long open house once construction was finished, to show off the newly for sale Deanna Durbin Model Home to those who had purchased an auction ticket. The open house boasted Eaton's furniture and ran from October 18th to October 29th, after which point the home was officially on the market.
The listed price on the home as of November, 1944, was around $15,000, with options to buy it furnished or unfurnished. It was purchased by a private owner. Some of the star power lingered, however as in 1948, a new advertisement for the home appeared in the paper. A local photographer was offering the home up as a backdrop for family Christmas photos, and since then it has continued along as a family home with little incident.  In 2011, Christian Cassidy of West End Dumplings spoke with the current homeowners, who informed him that barring one exterior alteration, the home is more or less as it was in 1944!
Today the home is privately owned, and remains an interesting and hidden connection to Winnipeg's glamorous Hollywood heritage.
THANK YOU TO THE SPONSOR OF THIS BLOG POST:

Written by Heritage Winnipeg.
SOURCES:
Deanna Durbin: An amazing career (1936 - 1949), West End Dumplings
Lloyd Finch, Manitoba Historical Society
Christian Cassidy, "Deanna Durbin didn't forget her Winnipeg roots after fame" (Winnipeg Free Press)
"Kinsmen's Deanna Durbin Home to Help Milk Fund" The Winnipeg Evening Tribune, 1944-02-24 (Page 4)
Lloyd Finch, Winnipeg Architecture Foundation
"Prizewinners at St. Vital Fair" The Winnipeg Evening Tribune, 1944-08-19 (Page 2)
Winnipeg Evening Tribune, 1944-08-21 (Page 1)
Winnipeg Free Press, April 28, 1944, page 3
Winnipeg Free Press, Friday, June 02, 1944, page 18
"28-Year-Old Bachelor Will Take the $10,000" The Winnipeg Evening Tribune, 1944-08-21 (Page 1)
Winnipeg Free Press Files