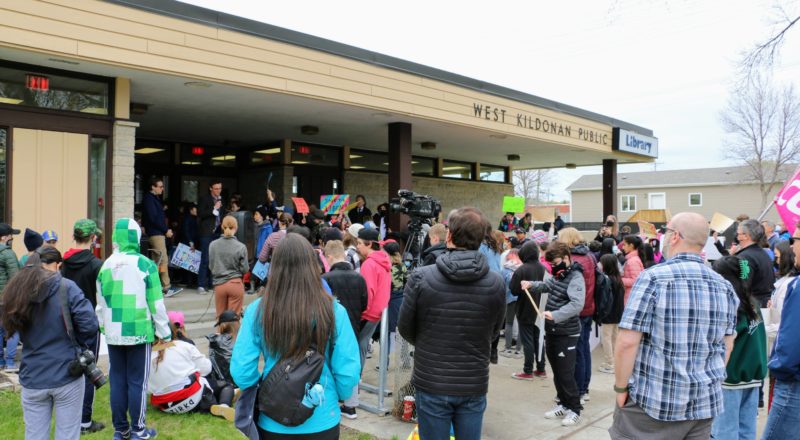 / News

May 18, 2022
Hundreds Rally to Save West Kildonan Library
On Tuesday, May 17th, 2022, over 100 community leaders, elected officials, parents, and students from across the Seven Oaks School Division, rallied outside of the West Kildonan Library to share their concerns about a proposed city plan to move the public Library into the Garden City Shopping Centre.
The proposal from City Hall recommends the Library be moved from its current Jefferson Avenue location, where it has remained for 55 years, to a unit the city would lease inside the Garden City Shopping Centre. The city claims that this proposal inevitably surfaced due to the structure's apparent lack of resources and parking. Today (May 18th), the fate of the Library will be voted on by the Executive Policy Committee.
Nahanni Fontaine, MLA for St. John's, shared her opposition to the closure, by stating that "if we want a city in which all Winnipeggers can thrive, we need to make investments in the community infrastructure families use, where they use it and when they need it, which includes the West Kildonan Library."
Despite the inclosing threat from City Hall, the members of the West Kildonan community are not backing down from this fight. Signs from the Tuesday rally demonstrated the overwhelming community support and the collective concern for opening a public library branch within the Garden City mall.
During the rally, Grade 9 Met School student, Katelyn Panchoo, shared how the Library has personally impacted her by stating that "the West Kildonan Library has always given me a sense of community. If it is put in Garden City Shopping Centre, I believe that it would lose that sense. The Library is somewhere that you can find familiar faces… The Library is also a safe place for students to go during their lunch break or a place to study after school. The Library is a place for young children, high school students, senior citizens, and everyone in-between to come and enjoy a book while also being warmed with a sense of community around them."
Daniel Guenther and Evan Krosney, the organizers of Tuesday's rally and members of the Friends of West Kildonan Library coalition, are calling on Mayer Brian Bowman to meet with them before making any decision, regarding the valued community resource.
Heritage Winnipeg supports the West Kildonan Library, the Friends of West Kildonan Library Coalition and its community members as they work to resolve the controversial proposal brought forward by the city.
For more information, check out the articles listed below.
Global News Article
CBC News Article
CTV News Winnipeg Article