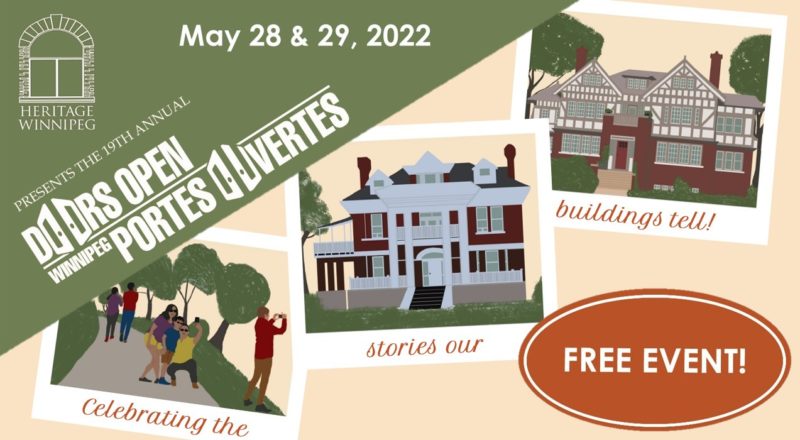 / News

May 2, 2022
Doors Open Winnipeg 2022 is Just Around the Corner!
Heritage Winnipeg is proud to present the 19th annual Doors Open Winnipeg! This FREE event invites the public to explore our built heritage treasures, cultural institutions, and historic streetscapes. This year we are looking forward to bringing Winnipeggers to exciting buildings, events, and tours! It will be a fun and safe event that supports local heritage organizations and businesses during these challenging times. Come enjoy the neighbourhoods that make our city wonderful as we celebrate the stories our buildings tell!
Doors Open Winnipeg 2022 will take place on Saturday, May 28, and Sunday, May 29. Each participating building and tour will have its own set of COVID-19 protocols. This is to make sure everyone is safe and comfortable when attending Doors Open events. With that said, some buildings/tours may require visitors to wear masks while others may require pre-online registration to attend. All of this information will be available on the Doors Open Winnipeg website.
Now let's take a closer look into what we can expect from Doors Open Winnipeg 2022! One of the things that makes Doors Open Winnipeg special is that it gives people a chance to explore buildings that are otherwise not open to the public, such as the historic Vaughan Street Jail or the Strachan Armoury! Whatever your historical interest may be, Doors Open Winnipeg has something for you!
Are you interested in exploring Winnipeg's Ukrainian community? Come visit the Oseredok Ukrainian Cultural and Educational Centre and the beautiful Holy Eucharist Ukrainian Catholic Church.
Maybe the early stages of Winnipeg's history are what you are interested in. If so, we'd recommend checking out one of the best-preserved examples of a river lot farm in Winnipeg; the Seven Oaks House Museum, or one of the oldest homes remaining in the city; the Ross House Museum!
Visitors can come to see the re-creation of Cuthbert Grant's 1829 water-powered grist mill at Grant's Old Mill Museum or get to know the history of various communities through museums like St. Vital Museum, the Charleswood Historical Society Museum, or the Transcona Museum.
Did you know that Doors Open Winnipeg offers outdoor walking tours such as the Historic Downtown Transcona Walking Tour and the Nairn Avenue Walking Tour? These tours are a great way to get to know different Winnipeg neighbourhoods while also getting outside! Another tour that is returning to Doors Open is the fan-favourite Haunted History Tour! This spooky tour combines historical facts with ghost stories from historic Winnipeg buildings.
Doors Open Winnipeg 2022 is pleased to have a number of new participants for this year's festivities. Osborne Village's Augustine Centre is joining us for the first time, offering guided tours of their newly redeveloped space. Another new event will be at the Burton Cummings Theatre, which is hosting a FREE screening of the movie musical Stand!. Set against the 1919 Winnipeg General Strike, the movie's story follows Ukrainian immigrants fleeing from Russia's war on Ukraine, trying to make a better life in Winnipeg.
Heritage Winnipeg would like to give a huge thank you to all of our sponsors and volunteers who help make Doors Open Winnipeg possible. Their continued support over the years is invaluable to Winnipeg's built heritage community. Be sure to thank all the hard-working volunteers when you see them on Doors Open Winnipeg weekend! If you would like to volunteer for this year's Doors Open, visit the Doors Open website for more information.
We are so excited to celebrate and explore our city's beautiful built heritage with you all this spring! Head over to the Doors Open Winnipeg website for a full list of the participating buildings and tours and start making your plans for a weekend filled with history, architecture, and fun! See you Saturday, May 28, and Sunday, May 29!