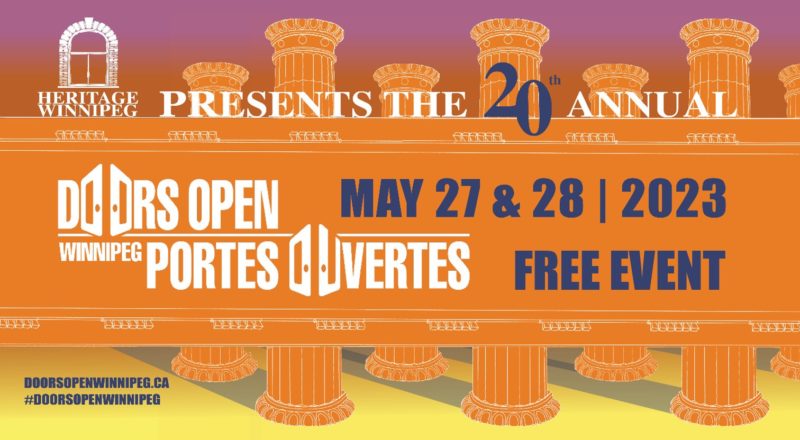 / News

May 15, 2023
Are You Ready for Doors Open Winnipeg 2023?
Heritage Winnipeg is proud to present the 20th annual Doors Open Winnipeg, celebrating the built heritage treasures, cultural institutions and historic streetscapes of our great city. Come explore Winnipeg's past through open buildings, fun events and exclusive tours on May 27th and 28th, 2023. Volunteers will answer questions while guided tours will maximize the immersive experience. Fascinating history and breathtaking architecture is yours to discover for one weekend a year, completely free! Be sure to visit the Doors Open Winnipeg website for everything you need to plan an amazing weekend adventure in heritage and join us in celebrating the stories our buildings tell!

Doors Open Winnipeg is a celebration and showcase of Winnipeg's built heritage. Why is built heritage important? It creates a sense of place that makes us feel like we belong, it provides diverse and affordable spaces, it fosters vibrant and walkable neighbourhoods, it supports environmental sustainability, and it provides a tangible connection to our past. We tend to pass heritage buildings every day without a second thought, for after having stood for so many years (sometimes over 100!), one cannot imagine that they will ever disappear. But without ongoing maintenance and strong legal protection, our heritage buildings are at risk of turning to dust and taking all their positive community contributions with them.

Doors Open Winnipeg lets you see the buildings behind the facades, meet the people who work and play in them, learn about their history, and be inspired to support the heritage movement. Loved touring a quaint museum during Doors Open? Make a point of going back and taking the full tour another day. Think the Vaughan Street Jail is totally spooky and totally worth saving? Make a donation to the group advocating for its protection. Really enjoyed seeing your neighbourhood in a new light during a walking tour? Grab your friends and check out what other tours the organization is offering or step up and support the creation of Heritage Conservation Districts in Winnipeg. Let Doors Open Winnipeg be the starting of your exciting history with Winnipeg's built heritage!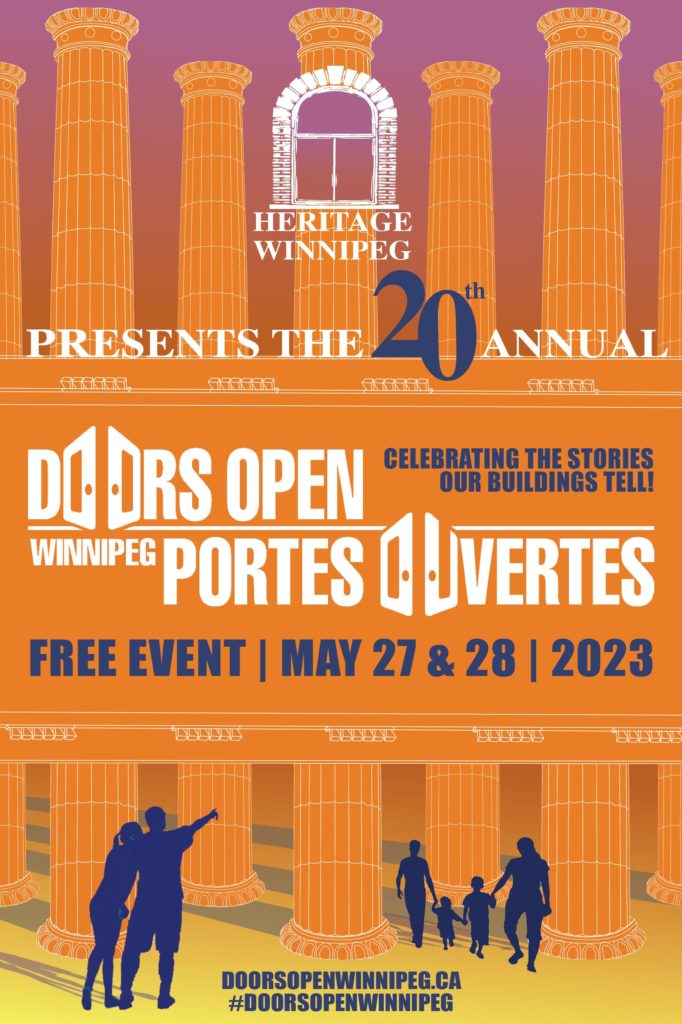 In our 20th year of Doors Open Winnipeg, we are thrilled to still have new participants join us, keeping our line up exciting for even the most seasoned attendee. This year's new participants are so diverse – from the solar powered Aurora Farm to the funky Park Alleys bowling lanes, you will not want to miss these event! Catch one of the new walking tours, go behind the scenes at Transcona Museum, or marvel at the beautiful golden shrine at the heart of the Manitoba Buddhist Temple. You can dip a paddle in the water at the Winnipeg Rowing Club, check out two new buildings downtown and a new museum in the North End. Do not forget to make time for some hot jazz at the Vaughan Street Jail as we celebrate two amazing decades of Doors Open Winnipeg! Check out all the events new to Doors Open Winnipeg:
Some of our tours have very limited spaces available and so in order to give you the best experience possible, online registration prior to attending is required. Online registration opens Saturday, May 20th at noon with links being put in the individual profile of each event requiring registration on the Doors Open Winnipeg website. Popular tours fill up really fast, so be sure to register early to get a spot. And if registration is full before you get there, do not worry. There are 61 other amazing events for you to check – no registration required. Just check the day and time they are open, show up and enjoy! The nine events that require online registration are:
Heritage Winnipeg is also excited about our 13th Annual People's Choice Awards! Show your favourite building, tour or event some love by voting for them. There are three categories to vote in: Best Architecture, Best Tour, and Best Overall Experience. Winners are always thrilled to be hounoured by these awards, so do not let all the hardworking volunteers down! Voting Opens Saturday, May 27th at 9:00am and closes Friday, June 2nd at 11:59pm. Visit the Doors Open Winnipeg website for details and to cast you vote.

While you are exploring participating Doors Open Winnipeg buildings, be sure to keep an eye out for our friend the Golden Boy. Once you find him, snap a picture! After you have discovered him at three different buildings, post the pictures to social media with the hashtag #DoorsOpenWinnipeg or email the pictures to info@heritagewinnipeg.com to be entered to win a fun prize! The contest opens Saturday, May 27th at 9:00am and closes Friday, June 2nd at 11:59pm. For full scavenger hunt contest details, visit the Doors Open Winnipeg website.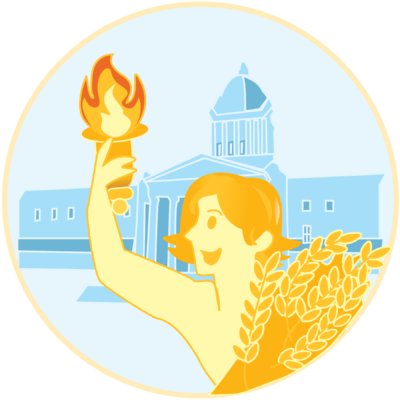 Returning once again is the Doors Open Winnipeg Social Media Contest. Tell us why you love Doors Open Winnipeg for your chance to win a Heritage Winnipeg prize pack! Post a selfie while having a blast at Doors Open Winnipeg 2023 to social media with the finished caption "I love #DoorsOpenWinnipeg because…" and don't forget to tag @heritagewpg! Contest opens Saturday, May 27th at 9:00am and closes Friday, June 2nd at 11:59pm. For full contest detail please visit the Doors Open Winnipeg website and check out the past winning entries!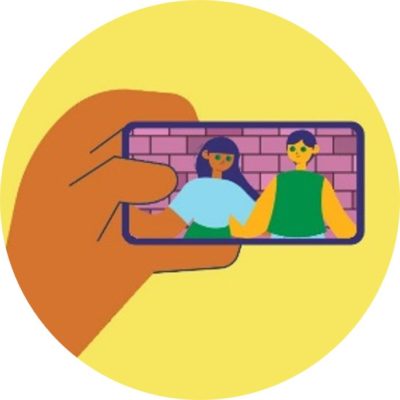 Heritage Winnipeg would like to give a huge thank you to all of our sponsors and volunteers who help make Doors Open Winnipeg possible. Their continued support over the years is invaluable to Winnipeg's built heritage community. Be sure to thank all the hard-working volunteers when you see them on Doors Open Winnipeg weekend!

We are so excited to celebrate and explore our city's beautiful built heritage with you all this spring! Head over to the Doors Open Winnipeg website for a full list of the participating buildings and tours and start making your plans for a weekend filled with history, architecture, and fun! See you Saturday, May 27th, and Sunday, May 28th!