Presented by Heritage Winnipeg
Since 1926, the downtown Winnipeg Hudson's Bay Company Department Store has been an architectural and cultural landmark on Portage Avenue. On November 30th, 2020, the Hudson Bay Company closed this flagship store. What does the future hold for this historic building? Join us for a virtual summit on the downtown Winnipeg Bay to engage in a discussion that highlights the historic, cultural and social significance of the building to Winnipeg, the province and the country. Presenters will speak on a vast array of topics regarding the downtown Winnipeg Bay with opportunities for questions throughout.
Thank you to the all the supporting organizations who helped make this event possible!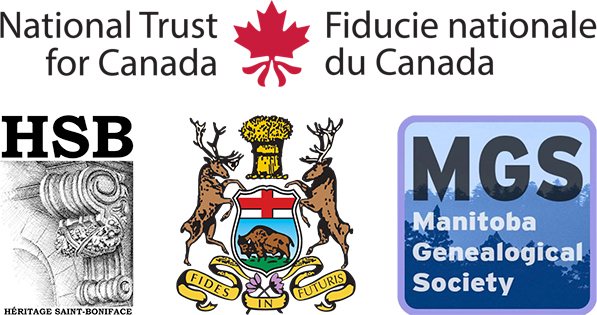 National Trust for Canada · Héritage Saint-Boniface · Manitoba Historical Society · Manitoba Genealogical Society
Thank you to everyone who attended the Summit!
Presenters
Murray Peterson
The Designation of The Bay Building by the City of Winnipeg
Murray is the City of Winnipeg's Heritage Officer and has been researching and writing histories of buildings for the Historical Buildings and Resources Committee for over 30 years.
Mary W. Rowe
The Bay Downtown as a Catalyst for Downtown Revitalization
Mary is President and CEO of the Canadian Urban Institute. An impassioned civic leader with diverse experience in the business, government, not-for-profit and philanthropy sectors in Canada and the US for over 30 years, Mary has been a steady advocate and champion for place-based approaches to building livable and resilient cities, and community-driven local economies. She has led campaigns, organizations, initiatives, and companies spanning a few months to several years. Mary was deeply engaged in the self-organizing initiatives that emerged in New Orleans and along the Gulf Coast following Hurricanes Katrina and Rita, providing support to two dozen initiatives that focused on various forms of resilience. She also supported, in her role at MAS NYC, community engagement efforts during the recovery from Superstorm Sandy, and Rebuild by Design. Subsequently, Mary has led local, national and international urban initiatives from Toronto and New York City, including the initial development of Re-Imagining the Civic Commons, an initiative to strengthen elements of the urban fabric that create social cohesion and community resilience, including libraries, community centres, parks and other 'third places'. Following her return to live in Toronto, in addition to her role leading CUI, Mary is a Senior Fellow with Evergreen and Future Cities Canada, Lead Facilitator for the National Urban Project and serves on the Advisory and Governing Boards of the New Cities Foundation and The Bentway respectively. Mary is also Senior Fellow with Shorefast, a charity and social enterprise focused on building place-based economic development strategies that strengthen local communities and foster their resilience.
Robert Eastwood
Refurbishment of the Bay Downtown Building
Robert (FRAIC, Retired Architect MAA & AIBC) retired from Number TEN Architectural Group in 2016 after over 35 years. He was a managing partner for 31 years and head of the Institutional Studio. Robert continues to be an advisor to Number TEN and mentor. He was involved with or led a number of the major downtown Winnipeg projects including the Provincial Law Courts Building, the Bell MTS Centre, the Eaton's Powerhouse redevelopment, Portage Place walkway connections and the downtown Winnipeg Walkway system guidelines and expansion and the Winnipeg Convention Centre Expansion. Robert is currently an advisor to the Manitoba Metis Federation on capital projects and the redevelopment of 335 Main Street (Bank of Montreal) into a National Heritage Centre. He was a member of the selection jury (2017-2018) for the architectural team for the new Ottawa Library and Canada Archives building and is currently a member of the jury (2021) for the Block 2 redevelopment design competition in downtown Ottawa. Robert has served on National and Provincial boards related to professional practice, on arts and community boards and is currently a volunteer board member and head of the building committee for the Bruce Oake Recovery Centre. Robert has been involved with a number of studies related to possible redevelopment of the Bay store over the past 14 years including for the Forks North Portage Corporation, a private development group and the University of Winnipeg.
Mark Thompson Brandt
Building Reuse and Climate Action
A conservation architect and urbanist (MTBA Associates Inc, Architecture*Urbanism*Conservation, Ottawa) with over 35 years' experience, Mark is a former Director of the Association for Preservation Technology International (APT) and former Co-Chair of APT Technical Committee on Sustainable Preservation. Brandt is a member of the International Steering Committees for EcoDistricts and of the Climate Heritage Network (ICOMOS). He is a founding Co-Chair of the Zero Net Carbon Collaboration for Existing & Historic Buildings. Brandt is also a former Director of Canadian Association of Heritage Professionals and of Canada Green Building Council. Mark founded the firm MTBA, which specializes in natural and cultural conservation for architecture and urban design. Parliament Hill projects include $70M East Block Rehabilitation and $100M Sir John A. Macdonald Building, which received seven national/international awards and a five Green Globes rating. Brandt is co-author of the national reference "Building Resilience: Practical Guidelines for the Sustainable Rehabilitation of Buildings in Canada".
Chris Wiebe
The National Trust Endangered Places List & Tackling Systemic Barriers
Chris is the Manager, Heritage Policy and Public Programs at the National Trust for Canada in Ottawa, a national charity working to save and revive Canada's heritage places . Since 2007, Chris has been the organizer of the National Trust's annual national conference and has helped it become Canada's leading forum for heritage sector professionals, volunteers, and practitioners. In addition, he assists with the National Trust's government relations, advocacy work including the National Trust Endangered Places List, and development of positions on heritage policies, particularly financial incentives. Chris was a heavy user of the Malt Stop in the Bay's basement while studying for his BA degrees at the University of Winnipeg and Canadian Mennonite University.
Walter Kleinschmit
Imagine
Walter is a retail real estate professional who has spent his professional life working in the industry, beginning in the Bay Store Winnipeg, to managing the development of international iconic mixed use centres in urban and greenfield situations. Since his return to Canada, Walter's passion has been centred in community activism focusing on balancing change options in the mature community he lives (St. Boniface, MB) and promoting a healthy and sustainable strategy to preserve, honour and reutilise historical buildings and heritage sites.
Michael Binetti
Imagine the Possibilities – Case Studies of Rehabilitation Projects
Michael is an urban planner in Toronto, Ontario, with nine years experience working both in the United States and Canada. His planning interests and knowledge include public transit planning, downtown renewal, and the challenges facing retail, particularly in downtown areas. When it comes to the Hudson's Bay Downtown Winnipeg Store, Michael believes the building can be transformed into a major destination that anchors the western end of a reinvigorated downtown Winnipeg.
Registration
REGISTRATION IS NOW CLOSED. There is no cost to attend the Summit but advance registration is required. Registration is through Eventbrite, with a Zoom link sent out shortly before the event begins. Remember to check your emails. To participate you will need a device such as a desktop computer, tablet, or smartphone that is connected to the internet. To participate in question and answer sessions, your device must have a working microphone.
Who can attend the summit?
The Bay Downtown Winnipeg Virtual Summit is open to everyone, both professional and amateur. Participation is especially encouraged by people connected with heritage in their community, including involvement with museums and archives, local historical societies, heritage advisory committees, government and heritage advocacy groups.
Contact Us
For further information or inquiries about the Bay Downtown Winnipeg Virtual Summit, please contact Heritage Winnipeg Executive Director Cindy Tugwell at info@heritagewinnipeg.com or 204-942-2663.
/ Event
---
The Bay Downtown Winnipeg Virtual Summit
Thu., Feb. 18, 2021, 12:00 pm - 2:00 pm

716 days ago