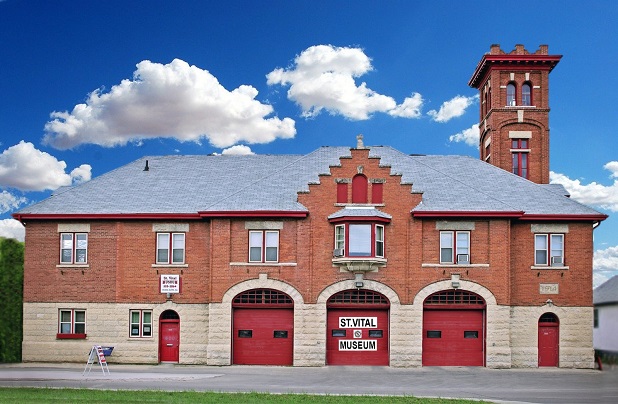 / Blog

August 26, 2020
St. Vital Museum: Vital Winnipeg History
At 600 St. Mary's Road stands a handsome two-storey red brick structure which has stood the test of time in Winnipeg's St. Vital neighbourhood. Built as the St. Vital Fire Hall & Police Station, it now functions as an ambulance station and museum – the St. Vital Museum. It is a special piece of Winnipeg history that features artifacts dating all the way back to when the area was first settled in the 1820s. St. Vital itself dates so far back that it is the oldest settled area of Winnipeg besides Seven Oaks!
Built in 1914, the St. Vital Fire Hall & Police Station was designed by Scottish brothers Alexander D. Melville and William N. Melville. The building may look familiar even if you have never visited it, and there is a good reason for this. The brothers had drawn up a fire hall design in 1904 that was used for just over a decade in the building of thirteen Romanesque-style fire halls in Winnipeg. Of these fire halls, ten are still standing, scattered throughout the city. One of their earliest fire halls, Fire Hall No. 3, is a municipally designated building that still stands at 56 Maple Street. Built in 1904 for $22,000, it was decommissioned in 1995 but reopened as the Winnipeg Fire Fighters Museum in 1999. Although it is slightly larger than the St. Vital Station, the two-storey buildings with towers on the back corner were clearly based on the same plans with their stone facing, rustic cladding, and arched openings.
These stations were designed with the intention of being able to blend in with their "residential or commercial surroundings." This meant gabled roofs and brick or stone facades, much like what you would see on a house. Other later examples of the Melvilles' fire halls are nearly identical to the St. Vital Station, such as the 1914 Fire Hall No. 14 at 161 Lipton Street, which has been adaptively reused as a private home. During this period the Melville brothers were also busy with other projects around Winnipeg, such as the Starland Theatre at 626 Main Street. It is thought that William returned to Scotland after 1915 and while Alexander went on to design many more buildings in Winnipeg, no more Melville fire halls were ever built in the city.
Much like the St. Vital Station, Fire Hall No. 14 also has features of Flemish Revival architecture. This style of architecture is easily identifiable by the use of stepped gables and scalloped decorations, which are seen on the front gable and tower of the St. Vital Station. It also commonly features red brick or rough-cut stone facades, spires and steeply pitched roofs. Flemish Revival architecture is rare in Winnipeg, if not Canada, but was popular in the 1890s in places like New York City, England, Denmark, Germany, Switzerland, and Sweden. As New York City was once a Dutch colony, it and other European nations were more strongly influenced by the distinctive style that originated in the Netherlands and Belgium.
The land that St. Vital sits on now is very different from what it used to be back in the early 1800s. First permanently settled by the Selkirk Settlers who arrived in 1820, it was already home to Métis' hunters and traders. These families turned to farming as their main source of income when they could no longer trade with the Hudson's Bay Company after it merged with the North West Company of Montréal in 1821. Métis families settled along the banks of the Red and Seine Rivers, between Bishop Grandin Boulevard and the south Perimeter Highway. Francophone families with names such as Riel, St. Germain, and Ritchot, also moved to the area in the hopes of becoming farmers. They were later joined by more Métis families from Fort Pembina and North Dakota, who moved to escape the unrest of the Sioux Nation.
As the community became established, residents wanted to name it after St. Alexander, who was the patron saint of Bishop Tache. Tache had done many good things for the Métis community, hence why they wanted to name it after him. However, Tache is said to have suggested they name it "St. Vital" instead, in honour of the Bishop Grandin, whose patron saint was St. Vitalis. When the first school was built in 1860, it was also named St. Vital.
1883 saw the formation of the Rural Municipality of St. Vital, which in turn became a part of the Rural Municipality of St. Boniface in 1891. This name only lasted until 1903, when the RM of St. Boniface changed its name to the RM of St. Vital, as to not be confused with the City of St. Boniface.
Descendants of the Métis settlers formed the majority of Louis Riel's provisional government leading to the formation of the Province of Manitoba.
– Winnipeg Free Press, April 02, 2014
In the 1900s St. Vital had large landowners and market gardeners. Much like today when many buildings are torn down to be replaced with condos, owners back then were pressured to sell their land for the development of "city lots". In fact, newspaper ads describing St. Mary's Road as the "Portage Avenue of St. Vital" was fairly common.
As the city's population began to grow, the Municipality of Fort Garry and the Anglophone council of St. Vital decided to implement paving and construction contracts. In November 1914, as part of the construction, they also decided to build the modern fire hall and police station at the intersection of St. Mary's Road and St. Anne's Road to provide services to the growing community. Interestingly, the St. Vital Fire Hall & Police Station was based on the standard design used for City of Winnipeg fire halls, although St. Vital would not become a part of the City of Winnipeg until 1972.
"Upon its completion, the fire hall and police station was the largest and most elaborate building in St. Vital and was the object of great civic pride."
–City of Winnipeg Historical Buildings Committee
The St. Vital Station at 600 St. Mary's Road not only acted as a place of work for the fire department – but it also provided a living space for the six firemen of the department on the second floor. Firemen would even add flower boxes just under the windows at the hall to make the space more comfortable. Unusually, the building also functioned as a police station, with their jail cells and office space on the first floor.
In its nearly 60 years in service as a fire hall, the St. Vital Station was witness to monumental changes in fire fighting. From horse-drawn wagons to diesel pumper trucks and corner call boxes to the 911 emergency call system, as technology constantly improved how fires were fought. In the end, the little old St. Vital Station could not keep up with growth and change. The fire department left in 1972 and the police followed two short years later in 1974. According to the Manitoba Historical Society, the retirement of the station was when "St. Vital amalgamated with the City of Winnipeg and was then adapted as a centre for the City Health Department and an ambulance station." Fortunately, the building was designated as a historical resource in 1982, to ensure that no matter what the building was used for, it was protected from any alteration of its character-defining features, or demolition.
By 1995, the St. Vital Station was adaptively reused, becoming home to the St. Vital Historical Society. Back then, many of the Society's fascinating artifacts were accessible to the public, but they were not on display for all to see.
"Stuff was gathered in boxes," said the St. Vital Museum's Executive Director, Bob Holliday.
Holliday joined the St. Vital Historical Society in 2007 and has made major contributions to the community throughout his life. This year, the street that Holliday grew up on, Sadler Avenue, east of St. Anne's Road, was given the honorary name of "Bob Holliday Way," recognizing his work as a journalist for the St. Vital Lance, the Winnipeg Tribune, and the Winnipeg Sun.  Also as an announcer, working with minor league hockey in Manitoba, and helping with historical preservation in the community.
Fast-forward to 2008 when the St. Vital Station became home to the St. Vital Museum, taking over space once used by the police department. The museum officially opened on May 24th, 2008. Thanks to this, we can now enjoy and learn more about the community's past from its wonderful displays showcasing a variety of artifacts including old records and an old key back from the days of Louis Riel.
"We really have a bit of everything," said Holliday, "It all has some history or connection to St. Vital."
Today, despite the museum temporarily closing its doors due to COVID-19, people like Holliday are still working hard at renovations that would help the museum expand.
"We started out just with one of the three fire bay in the old St. Vital Police Station, and then a few years ago we took over the whole main floor of the old fire hall which was built in 1914," said Holliday.
Improvements include adding more display cabinets and hiring three individuals through the Canada Summer Jobs program to revamp the museum's displays. The facilities are wheelchair and stroller accessible so that everyone can learn more about the history of Winnipeg and St. Vital. Along with these changes, Holliday says they also want to apply for a handicap washroom, an elevator, and a fiberglass case to showcase their famous Red River Cart at the front of the museum.
Holliday says the St. Vital Museum sees upwards of 2,000 to 2,500 people each year and they are looking forward to reopening sometime in August. The St. Vital Museum is hoping to have the renovations done in time for the public to see during Heritage Winnipeg's Doors Open Winnipeg event, taking place on Saturday, September 12th from 10 a.m. to 4 p.m. and Sunday 13th from noon to 4 p.m.
The St. Vital Station is also home to another Doors Open Winnipeg regular, the Winnipeg Senior Citizen Radio Club. Located on the second floor of the building, the club operates an amateur radio station, offers classes in Morse code, radio theory and radio regulations, all while providing a place for seniors of the community to gather and enjoy. The club also provides communication services for other non-profit organizations and for emergencies, should the need arise. One look at the roof of the St. Vital Station and it is clear from the multitude of antennas, they are a busy club. Unfortunately, the club was also greatly impacted by COVID-19 and will not be able to participate in Doors Open Winnipeg 2020. We hope to see them back next year!
Buildings like the St. Vital Station are very important to Winnipeg. Between the museum and the radio club, they give us an in-depth history lesson about our past, space to learn about our history, opportunities to learn new skills, and a reason to gather as a community. It is interesting to think about how much the city has changed since then, from a mostly rural to the urban landscape, to a modern city and how things will look 10, 20, and even 100 years from now!
Special note: Thank you to Bob Holliday for his insights about the St. Vital Museum and the history of St. Vital.
THANK YOU TO THE SPONSOR OF THIS BLOG POST:

Written by Heritage Winnipeg.
SOURCES:
Biographical Dictionary of Architects in Canada 1800-1950, Melville, William Noble
City of Winnipeg, 604 St. Mary's Road (St. Vital Municipal Building),
City of Winnipeg, St. Vital Fire Hall & Police Station,
Highland Titles, Scots Baronial Architecture: how to spot it
Manitoba Historical Society, Bishop Grandin Remembered,
Manitoba Historical Society, Glenwood School (51 Blenheim Avenue, Winnipeg),
Manitoba Historical Society, Historic Sites of Manitoba: St. Vital Museum / St. Vital Fire Hall (600 St. Mary's Road, Winnipeg),
Manitoba Historical Society, Honorable Manitobans: Alexander D. Melville (1873-1949),
Manitoba Historical Society, The Red River Cart and Trails: The Fur Trade
Virtual Museum, Métis Red River Carts
Winnipeg Senior Citizens Radio Club
Winnipeg Fire Fighters Museum, Archives Through the Years
Winnipeg Free Press, So, Just Who Was St. Vital Anyways?
Winnipeg Free Press, St. Vital Museum displays to get a facelift
Winnipeg Sun, Former Winnipeg Sun crime reporter, local legend gets honorary street name
2 Responses to "St. Vital Museum: Vital Winnipeg History"