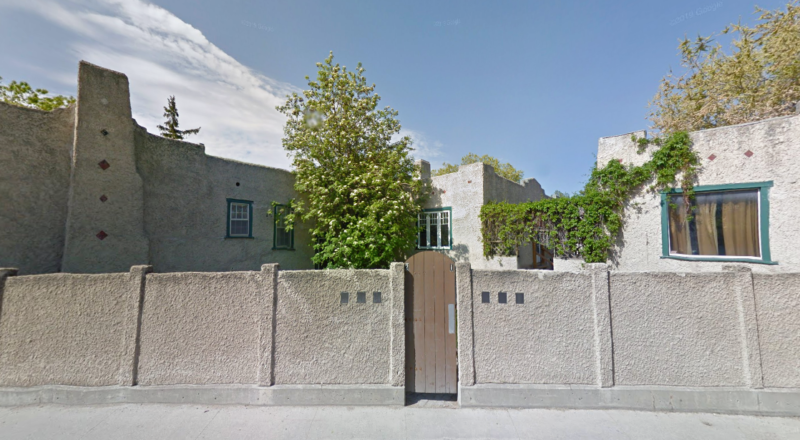 / Blog

January 15, 2020
California Calling: The Buena Vista Apartments
On a dark and cold winter day in Winnipeg, one only needs to travel to the Norwood neighbourhood to find a little bit of California sunshine. The Buena Vista Apartments are an unexpected splash of Spanish flare, standing out as one of the scarce examples of Mission Revival architecture in the city. At first glance the complex might be easy to dismiss, as the extensive white stucco walls appear rather plain and the flat roofs out of place when compared to other homes in the neighbourhood. But it is actually a hidden gem, with architectural grandeur that can only truly be appreciated when one takes the time to see its thoughtful details. It is a rarity in both style and functionality that should be conserved, celebrated and learned from in an effort to built a more sustainable, inclusive future.

The Buena Vista Apartments in June 2019.
Source: Google Maps.
Mission Revival architecture was inspired by historic Spanish colonial mission buildings found in the southwestern United States. Starting in the early 17th century, missions were built to reflect the styles popular in Europe for the next 200 years, with influences from local architecture and building materials. Designed to be more defensive and imposing than ornamental, with thick plastered walls and decorative roof lines, variations in the building styles reflected their environments. Missions were usually centered on a church, but could also include a cluster of buildings arranged in the "friary plan", where everything was centered around a lush, landscaped courtyard. Further increasing their fortifications, some mission also featured a perimeter wall.
Late 19th century architects in California were seeking inspiration for an architectural style that the state could identify as its own. Looking to their colonial past, architects drew inspiration from the Spanish missions, designing new buildings with vast, unadorned white stucco walls, decorative parapets, low pitched red tile roofs with large eaves and exposed rafters, covered walkways, arched openings and the minimal use of wood, wrought iron and tile for decoration. Labeled Mission Revival architecture, the style's "coming out" party took place in 1893 at the World's Columbian Exposition, with the enormous California Pavilion. The style gained popularity in California and the American southwest, well suited to the hot, dry climate. Mission Revival architecture slowly spread through North America, but was all too soon dismissed as unsophisticated. By the mid 20th century, the Mission Revival had fallen out of favour as new styles rose to prominence.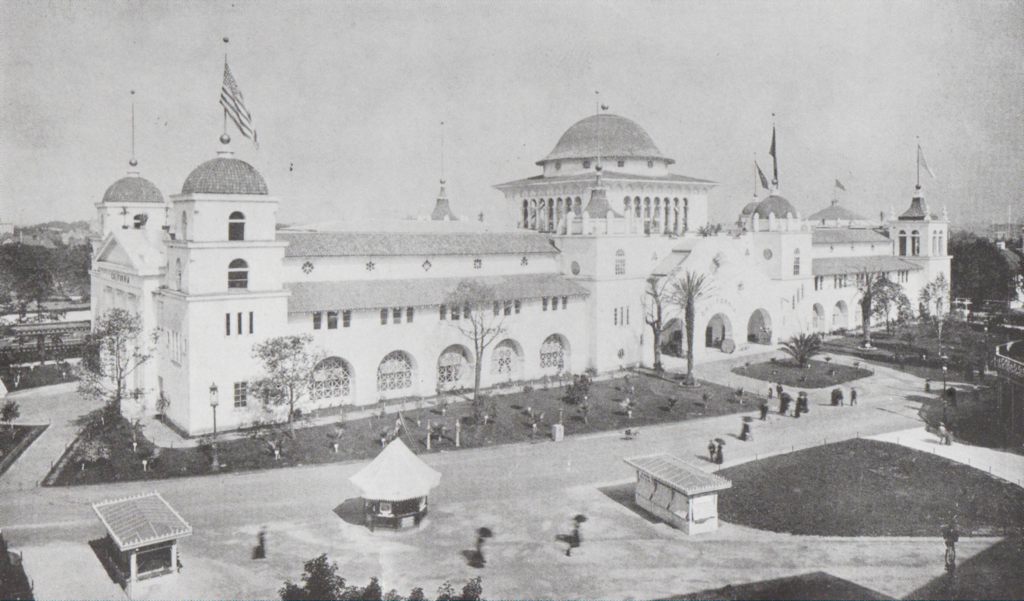 The California Pavilion at the World's Columbian Exposition in 1893, designed by Arthur Page Brown.
Source: At Home & Afield.
Despite having its origins thousands of miles away, Mission Revival architecture made its way to Winnipeg by the early 20th century. Although there are very few examples of the style in the city, its existence is a nod to how well connected and worldly the young city had become. The most notable examples are the Pasadena and Panama Court Apartments, built in 1912 and 1913. Although not overtly Mission Revival, the style is evident in the building's roofs, use of stucco, courtyard layouts and even their California inspired names.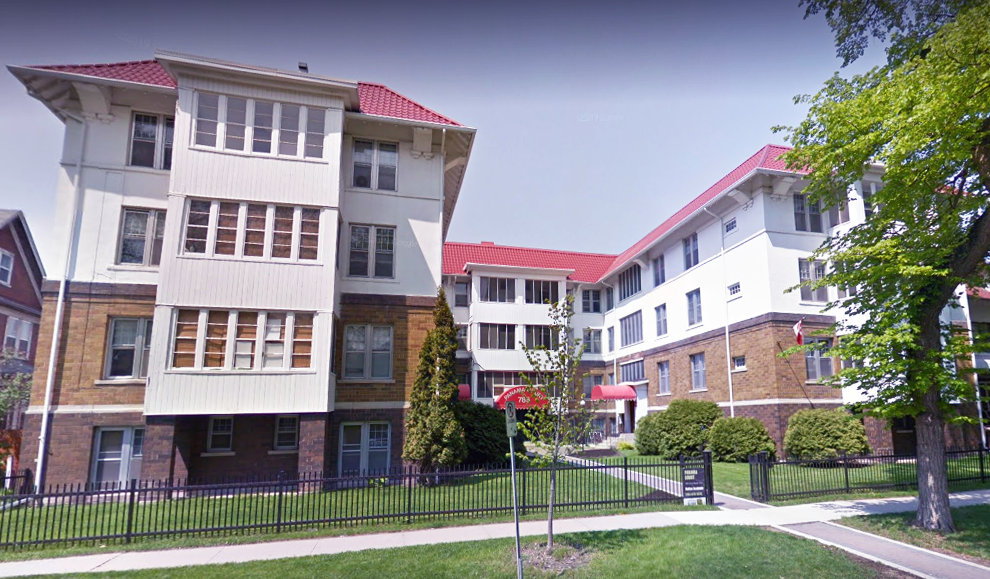 The Panama Court Apartments at 785 Dorchester Avenue in May 2019.
Source: Google Maps.
It would take another 15 years for Winnipeg to see another major Mission Revival style development. Built by Campbell & Company, the Buena Vista Apartments at 40 St. Mary's Road were a complete departure from anything Winnipeg had ever seen in 1929. This project embraced the Mission Revival style, truly bringing a little bit of California to Winnipeg. Instead of one large building reaching skyward with multiple units, the Buena Vista Apartments were a collection of 16 long, narrow bungalows, all surrounding a small courtyard and bordered by a low stucco wall that hearkened back to the layout of Spanish missions. Filling an entire oddly shaped block, the apartments stand out in a neighbourhood filled with traditional one and two storey homes and low rise apartment blocks.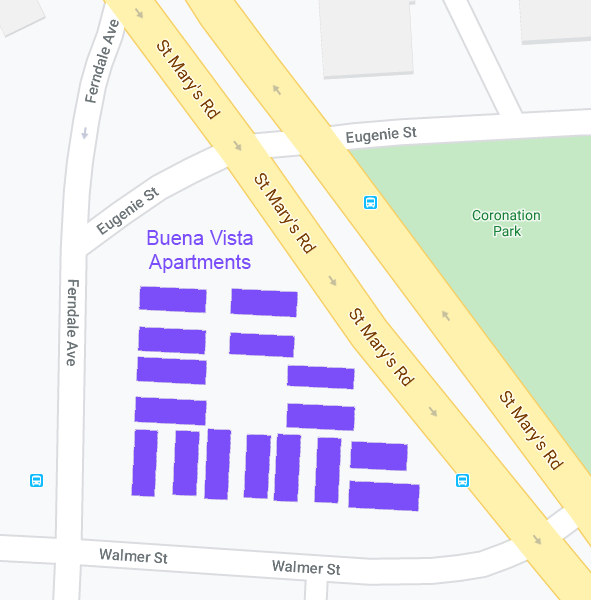 The Buena Vista Apartments cover an entire block just across the street from Coronation Park.
Source: Google Maps.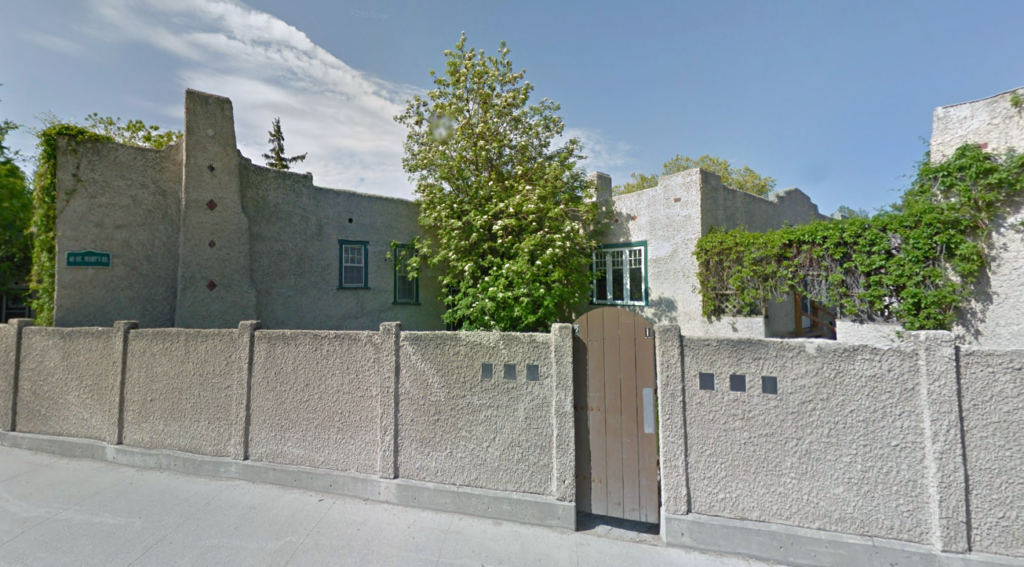 Buena Vista Apartments in June 2019.
Source: Google Maps.
The mastermind behind the project was David Campbell, a lawyer born in Ontario in 1870. Campbell studied law while working for the railroad, a job which saw him travel extensively throughout Canada and the United States. Campbell finished his studies in 1910, then settling in Winnipeg with plans to practice law. But Campbell became far more than just an exceptional lawyer appointed a King's Counsel, he was involved with the labour movement, the Mayor of St. Boniface, a contractor, developer and "genuinely public-spirited citizen" (Winnipeg Free Press, August 26, 1932, page 1).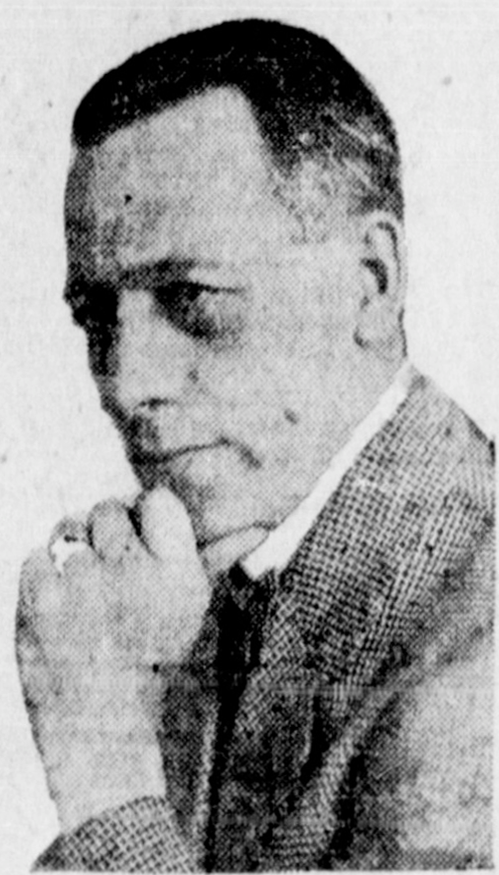 David Campbell.
Source: Winnipeg Evening Tribune, Friday November 7, 1924, Page 10.
What could have possibly inspired Campbell to create a tribute to California in the middle of the Canadian prairies? Perhaps during his travels as a young man he was fortunate enough to attend the 1893 World's Columbian Exposition in Chicago, seeing the California State Building that inspired the Mission Revival style. It would have been hard to miss, as it was the second largest state building at the Exposition. Or perhaps Campbell's travels took him to the American southwest, where he could experience the old Spanish missions and the rise of Mission Revival in person. Was Campbell so enamored by what he had seen that he held fast the memory of Mission Revival until he could recreate it in his home town? With no record of who designed the apartments, it is unlikely we will ever know what the motivation truly was.
In the community of Greater Winnipeg there will be regret at the passing of David Campbell… Mr. Campbell was long known as a man of unquestioned integrity and of independence of character. His kindness and warmth of human feeling will remain in the memories of all who knew him.
Winnipeg Free Press, August 26, 1932, page 1.
Beyond the layout of the Buena Vista Apartments, the design featured many characteristics of the Mission Revival style. Vast facades of plain white stucco with only a few plain tiles as adornment were topped with decorative parapets and flat roofs. Subtle arches are pressed into the stucco above some doorways while others are capped by low pitched awnings with exposed rafters, a nod to both the roofing style and covered walkways seen in Mission Revival. Wrought iron gates between bungalows with inverted arches further enhanced the Spanish feel of the apartments. Marketed as "Cosy Spanish Bungalow[s]", the units each featured a kitchen, living room with fireplace, dining alcove, bathroom, one bedroom, and full basement. Fitted out with all the latest electrical appliances, the apartments were all heated by a central boiler system.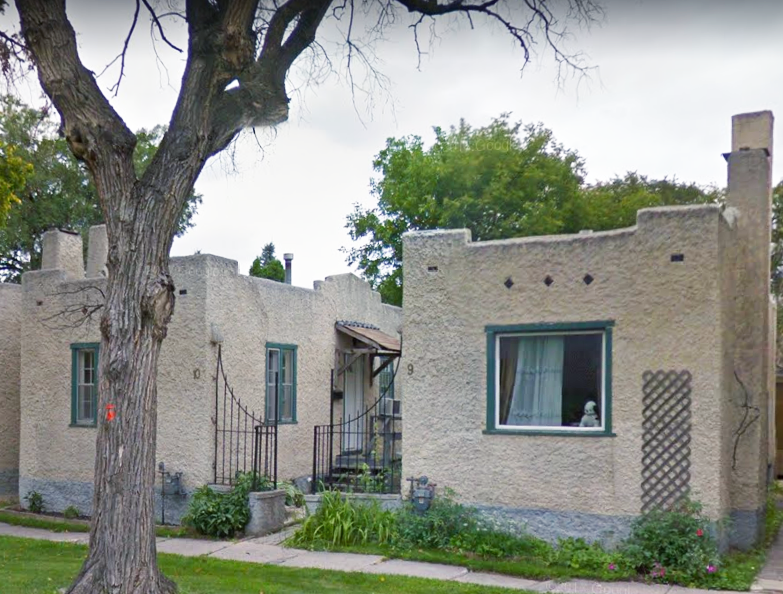 The wrought iron gates and subtle tile decoration add to the Spanish feel of the Buena Vista Apartments, seen here in August 2016.
Source: Google Maps.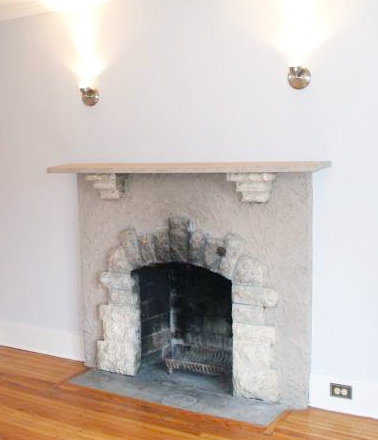 A rustic fireplace found in one of the Buena Vista Apartments.
Source: Dan Bouvier.
Once considered a fashionable place to call home, today the Buena Vista Apartments are an excellent example of how to gently increase density without sacrificing much desired privacy and independence. Slim yards running along the sides of the bungalows offer the private green space so often considered the "hallmark of homeownership" (Scientific American). A central courtyard allows space for people and pets to stretch their legs, with its usage maximized by its communal access. For those seeking even more space, the generous Coronation Park is just a short walk across St. Mary's Road. Located in a walkable neighbourhood with ground level floor plans, these apartments are also ideal for people interested in aging in place, "[t]he ability to live in the same home or community safely, independently, and comfortably, as you age" (Canada Housing and Mortgage Corporation). There are three bus stops located on the streets surrounding the apartments, stores, a hospital and a community center that can all be reached by foot on 15 minutes or less, facilitated by sidewalks and stoplights. Buena Vista Apartments are also rather centrally located, just across the rivers from downtown, helping ensure services, family and friends are never too far away.
The bright and sunny shared courtyard of the Buena Vista Apartments in 2017.
Source: Scott Zielke.
The Buena Vista Apartments are a one of a kind architectural treasure in the City of Winnipeg that provide interest and variation to the city's housing stock. The complex also supports walkability and aging in place, which are important considerations when planning a sustainable city that supports its citizens in living healthy lives, both physically and mentally. On January 15th, 2020, the City of Winnipeg's Historical Building and Resources Committee will be reviewing the Buena Vista Apartments to determine if they embody enough "heritage values" to be added to the List of Historical Resources, protecting the buildings from demolition and the character defining features from alteration. Heritage Winnipeg is hopeful that the committee will see the outstanding architectural value of these buildings and also recognize their greater value to the community. Granting them the recognition and protection they so rightly deserve ensures Winnipeg's own "Little California" lives on in perpetuity!
THANK YOU TO THE SPONSOR OF THIS BLOG POST:

Written by Cheryl Mann on behalf of Heritage Winnipeg
SOURCES:
Antique Home – Mission Revival
City of Winnipeg – Municipally Designated Sites in Winnipeg
Manitoba Historical Society – Memorable Manitobans: David Campbell (1870-1932)
Manitoba Historical Society – Memorable Manitobans: Queen's Counsels / King's Counsels
National Park Service – Mission Revival Style 1890s – 1920s
National Park Service – Spanish Colonial Missions Architecture and Preservation
National Park Service – Spanish Missions in the United States: Cultural and Historical Significance
Pacific Coast Architecture Database – World's Columbian Exposition, California Pavilion, Chicago, IL
Scientific American – The American Obsession with Lawns
University of Arizona – History of Spanish Colonial Missions
Vancouver Heritage Foundation – Mission Revival 1910 – 1940
Winnipeg Architecture Foundation – Buena Vista Apartments