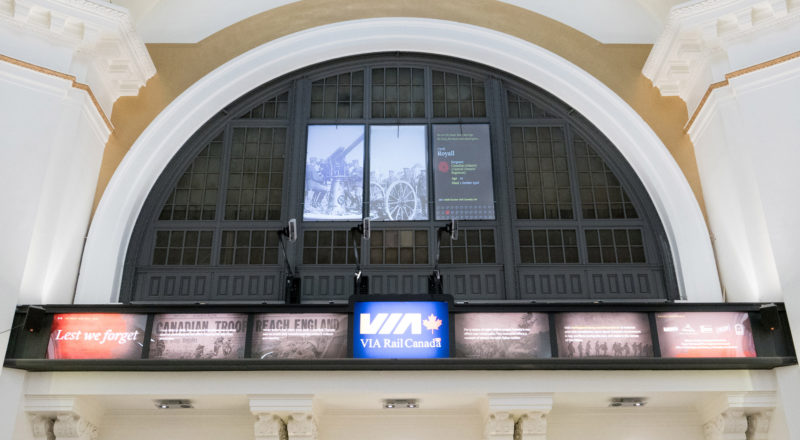 / News

February 15, 2015
First World War Memorial Installation: A Nation Remembers
The ranks of First World War veterans are no more and those of the Second World War are diminishing. Their sacrifices have not gone forgotten. Heritage Winnipeg undertook an innovative approach to acknowledging the debt owed.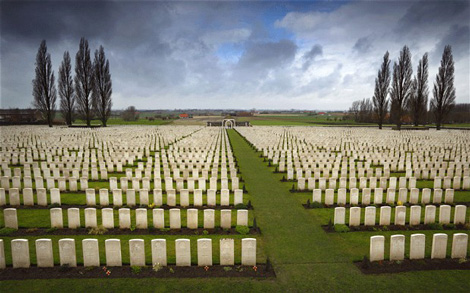 In 2014, Heritage Winnipeg was looking for a way to acknowledge the and commemorate 100th anniversary of the First World War. Over 600,000 men and women had enlisted in the Canadian Expeditionary Force (CEF) during the First World War (1914-1918) as soldiers, nurses and chaplains. At war's end 64,944 Canadian military personnel, alongside 2,000 civilians lost their lives, compiled with 149,732 injuries it was the sixth deadliest conflict in world history. Working with local digital media studio, Pattern Interactive and with the generous support of the City of Winnipeg and the Thomas Sill Foundation, a digital memorial was installed above the east rotunda entrance in Winnipeg's historic VIA Rail Union Station. This is the same portal that thousands of Canadian troops walked through 100 years ago on their way to Europe.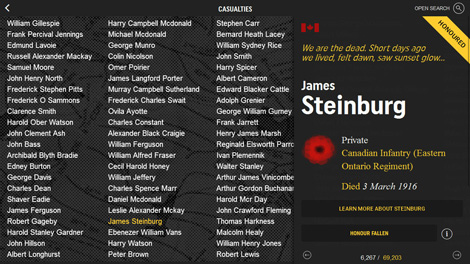 Railways of Canada have had a long and enduring relationship to all things military. Used substantially in WWI to mobilize troops, railways carried troops to training camps, to transport ships, and to their home territories after the war ended in 1918. Canadian railways were also used to facilitate the wartime economy during WWI. Products and workers were transported all over Canada by way of the railroad. The digital memorial recognizes the name, rank and unit of each individual that lost their lives in the First World War. All the names were displayed on the 100th anniversary of the month in which they died. The First World Memorial was on display daily from February 15, 2015 until the 100th anniversary of Armistice Day on November 11, 2018.