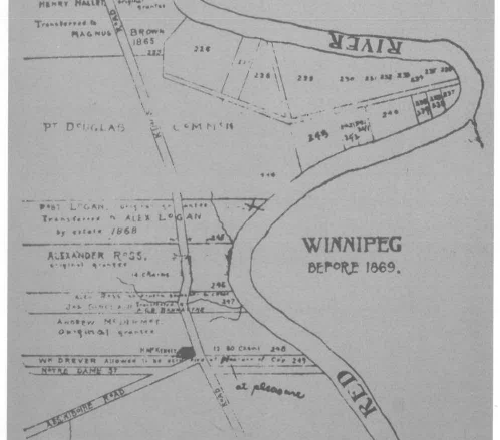 / Blog

June 13, 2018
Ross House – Historic House, Community Pride
Ross House Museum, owned by the city of Winnipeg, is located at 140 Meade St. N in North Point Douglas, and has been opened annually in the summertime since 1953, except in 1984 when it was moved from Higgins Ave to Joe Zuken Heritage Park. The oldest post office in Western Canada was built on land gifted to Alexander Ross in the 1820s, and was occupied by the Ross', a prominent Metis family, for many years.


When Alexander Ross brought his Okanogan/Syilx wife Sarah, and his four children, to the new Red River settlement, they quickly made it their home. It was Alexander and Sarah Ross' son, William Ross, who would build Ross House in 1854 for himself and his wife Jemima.
"The Rocky Mountains, or Back Lone of America, is truly a great sight. We had to pass them in the customary manner on snow shoes. My destination is Red River, a colony settled in Hudson Bay by the late lord Selkirk. This colony is said to be thriving. In my next letter I shall give you a full account of it…" (From a letter written by Alexander Ross, 1825)
Ross House itself, apart from being one of the oldest extant houses in Winnipeg, is also one of few remaining examples of a house built in a simplified Georgian style using the sturdy Red River frame method. The Red River frames, descended from the piece-sur-piece frame of the 17th century French buildings in Quebec, are identified by their characteristic construction of horizontal squared logs with tongues set into vertical squared logs with grooves. Ross House, in particular, exhibits Georgian architectural influences in its hipped roof and symmetrical design, making it a stylistically elevated example of the Red River frame.
Pre-1869 map of Winnipeg showing lots east of the river.
Alexander Ross' claim is in centre, with the Logan claim above and Andrew McDermot's land below.
Source: Point Douglas Historic Guide

"We have at present a population of 5974 souls, divided into three distinct religious denominations…There are twenty windmills and eight watermills scattered through the settlement. The H.B. Co.'s depot is about the centre of the settlement, and is called "Fort Garry"…Since writing to you last one of my sisters, Henrietta, has married to our beloved pastor, rev. John Black, and had a beloved son about five months ago."(from a letter to Helen Hopwood from William Ross, 1855)
In 1855, William Ross surpassed his formidable father Alexander as the first Postmaster for the District of Assiniboia, and ran the post office out of his house. Ross House has the distinction of being the first post office in Western Canada, when mail was postmarked "Red River, B.N.A." by the postmaster's hand and transported by cart. After William Ross died in 1856, his brother James became postmaster, and his widow remarried to William Coldwell. William and Jemima Coldwell lived in Ross House (which they charmingly called Brookbank) for the rest of their years, until 1907. Parts and parcels of the original Ross land grant were eventually sold off to the City of Winnipeg for the construction of the railway, Market Square (where the Public Safety Building now stands), and City Hall.
After William and Jemima died, for the next forty years, Ross House languished in its location on Market Avenue. In the mid-1940's, the property that Ross House occupied became more and more desirable for development given its key downtown location, and threatening it with demolition. The outcry of dedicated citizens resulted in the City of Winnipeg purchasing Ross House and forming an agreement with the Manitoba Historical Society to operate it as a museum.
"These are busy and anxious days, with many calls on our time and our money, but it will soon be too late to secure for coming generations these precious relics of our past" (From a letter written by Miss I. E. Henderson, published in the Winnipeg Free Press on March 24, 1945)
In 1949, Ross House was moved from its original location on Market Avenue to Higgins Avenue, and opened for one week as part of Winnipeg's 75th anniversary celebrations. Moving the historic Ross House was no small undertaking – relocating a historic building is a very costly process, in more ways than one. During relocation, the building can either be jacked up and moved wholesale from one location to another, or it must be completely disassembled, every piece categorized, then put back together at the new location. One of the most important things to consider is the loss of the context in which the building was constructed, that is, loss of the original location. The place in which buildings stand is often historically significant – in the case of Ross House, the original land grant was given to Alexander Ross in the early 19th century and very little of that land remains undeveloped today. Secondly, moving buildings comes with an inherent risk of the building or some parts of it being lost or damaged. However, in 1949 there was no heritage designation bylaw, and the choice was either to move the building or have it demolished to make way for new development. The building was moved to Higgins Avenue and formally opened as the Ross House Museum in 1953.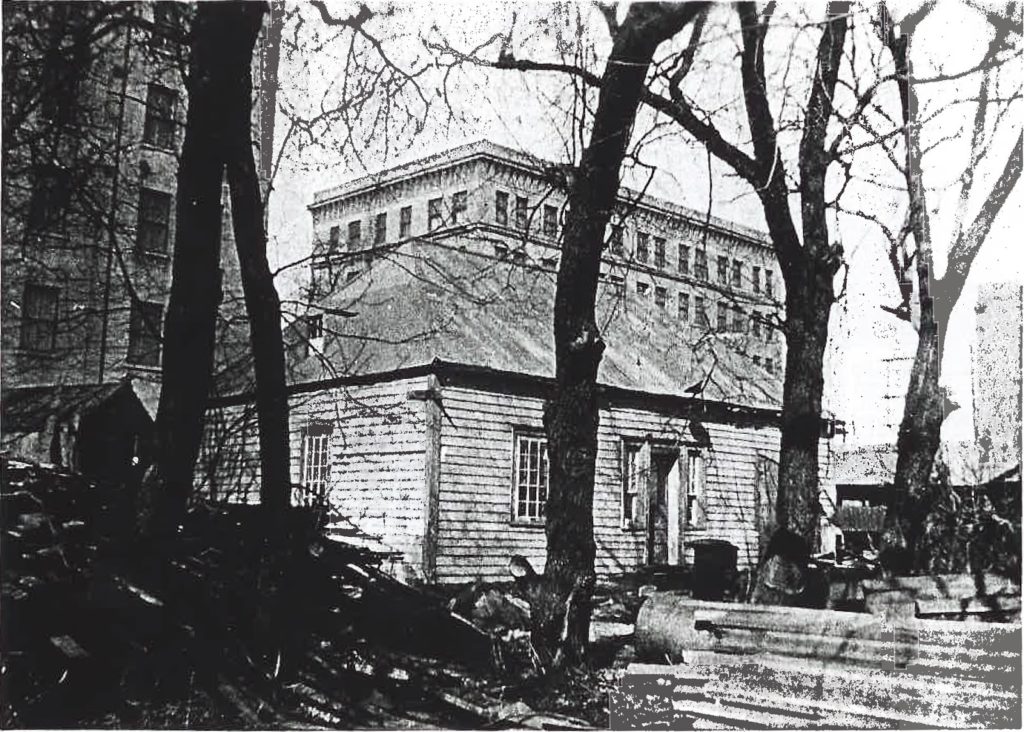 Ross House at its original location on Lombard Street.
The wood siding put on to cover the framework can be seen in this photo.
Source: Heritage Winnipeg Resource Centre
Ross House officially received municipal heritage building designation on August 11, 1980, two years after the first heritage building bylaw came into effect in 1978. Unfortunately, by the time it was designated, Ross House was in need of serious conservation efforts. In 1983, the mostly-wood Red River frame structure had an infestation of termites. The Manitoba Historical Society (MHS) undertook a thorough restoration of the structure, and a relocation to its present location in Joe Zuken Heritage Park which was finished by 1985. Ross House was operated by the MHS until early 2018, when they unexpectedly announced to the City of Winnipeg that they would no longer operating the museum.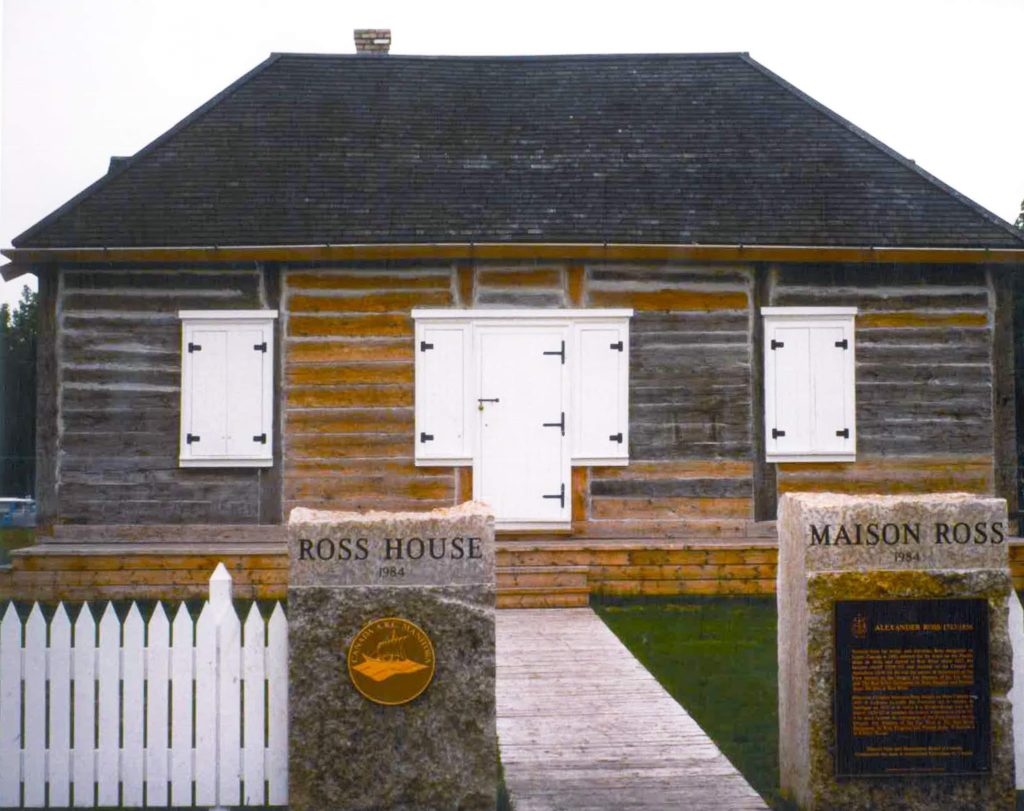 Newly restored Ross House Museum in 1985, in Joe Zuken Heritage Park.
The wood siding has been removed to expose the Red River frame construction
Source: Heritage Winnipeg Resource Centre
Upon hearing of the MHS' departure from Ross House, Eric Napier Strong, Curator/Manager of Seven Oaks House Museum, the Board members of the Seven Oaks House Museum, and Heritage Winnipeg, were immediately concerned. Unwilling to allow the community to lose this priceless relic as part of Point Douglas heritage, Seven Oaks House Museum, along with Heritage Winnipeg and City Councillors Mike Pagtakhan and Ross Eadie, worked passionately to find an agreement with the city that would allow Ross House to open again from May to September 2018. Although the announcement from MHS was unexpected, Seven Oaks House Museum were able to secure funding to hire students from the Manitoba Metis Federation to keep Ross House open for 2018.
Ross House is extremely important to the surrounding neighbourhood of North Point Douglas. Although media coverage paints the area in an unfavourable light, Sel Burrows of the North Point Douglas Residents' Committee says that "the area is home to a very positive and healthy community". Ross House is not only part of our heritage and culture, but also serves as a tangible source of Metis history – both in the house itself and in the various exhibits displayed inside. In an area that suffers from negative stereotypes, getting people into the community via visiting Ross House is a chance to show that it is a great area to live. Having a significant cultural and historical museum like Ross House in North Point Douglas not only benefits the community, but the sustainability of the museum as well. Residents around Ross House watch vigilantly for anyone who might vandalize the property – due to this community pride surrounding Ross House, incidents involving property damage have steadily decreased over the last ten years.
There is a certain kind of harmony about having these two historic houses, Ross House and Seven Oaks House, paired up. Both were home to prominent early Metis families – both are some of the oldest buildings in Winnipeg at over 150 years old – and both are rare remaining examples of the ingenious Red River frame. However, the future of the Ross House Museum is still uncertain after this year. The current agreement will end in December, and a new agreement with the City and Seven Oaks House Museum will have to be negotiated, forming a stronger partnership for the future.
Ross House Museum is not only important to the community, but is also one of our city's most historic houses and a significant museum. The support of the broader heritage community CAN make a difference in whether this museum continues to thrive as a community gem!


Here's what you can do:
Visit Ross House Museum (a popular Doors Open Winnipeg venue) and learn about its history!
Make a charitable donation to Ross House Museum (it's a registered charity!)
Share – write editorials for the newspaper, share this blog, share personal stories and photos that you may have about Ross House. Get the word out!
Show your support for Ross House by getting in contact with your City Councillor. Let them know that you believe that Ross House is a historically and culturally significant part of our history and must be preserved.
Written by Natassja Brien for Heritage Winnipeg
Sources:


Heritage Winnipeg Resource Centre & Files


MHS: Ross House
MHS: Red River Frame


MHS: William Ross


MHS: Alexander Ross


MHS: Ross House Article


MHS: Ross Family Letters


Seven Oaks House: Ross House Museum