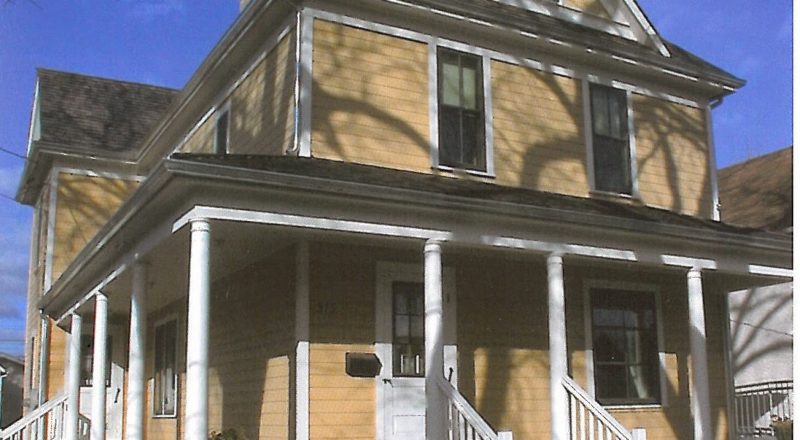 / Blog

March 25, 2015
La Maison Gabrielle-Roy House at 375 Rue Deschambault
Written by Laura McKay, on behalf of Heritage Winnipeg Corp.
To follow up on this or any other article on the blog, contact Heritage Winnipeg's Executive Director.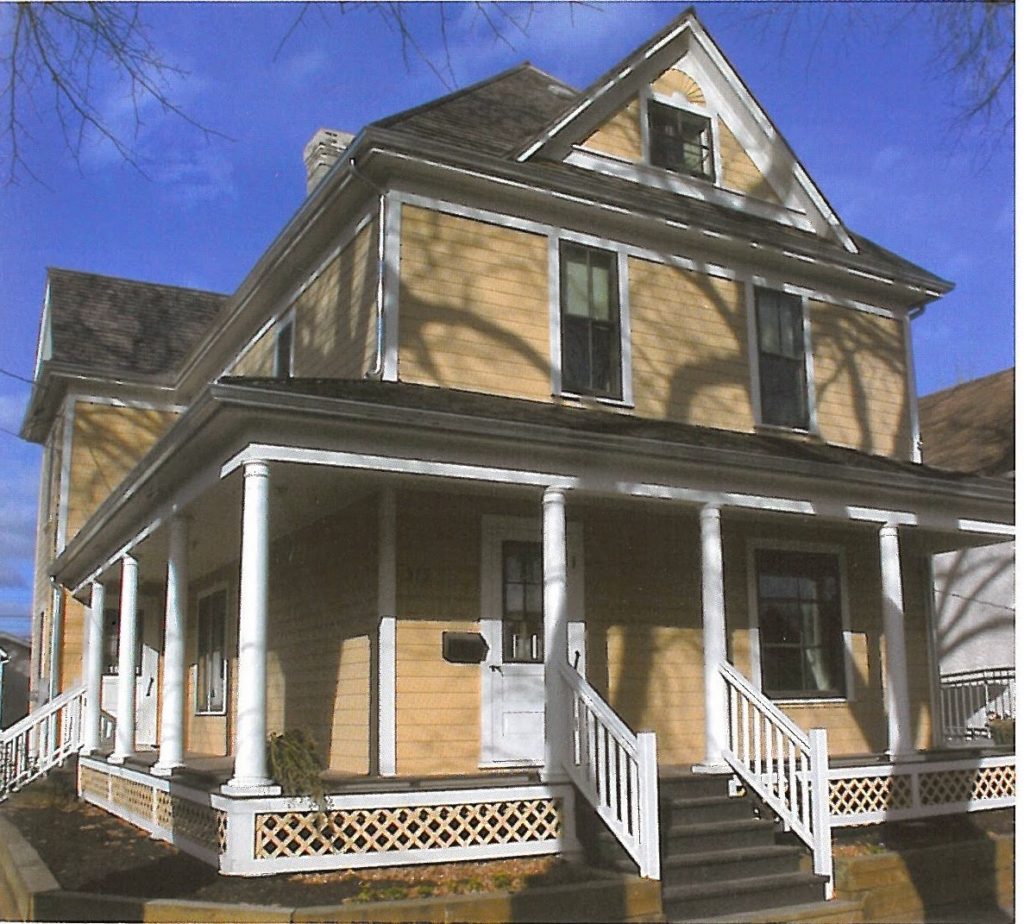 Photo from a brochure for the historic home.

"This historical museum allows one to enter Gabrielle Roy's childhood home and get a glimpse at life at the beginning of the twentieth century. Exhibitions pertinent to the famed author's life and works allow visitors to learn more about one of Canada's greatest literary voice. We invite you to visit the home of the writer who has made Western Canada known to millions of readers worldwide."
~ text from brochure
Brief Timeline
March 22, 1909 – Gabrielle Roy is born in St. Boniface, Manitoba, the youngest of Leon and Melina Roy's eleven children.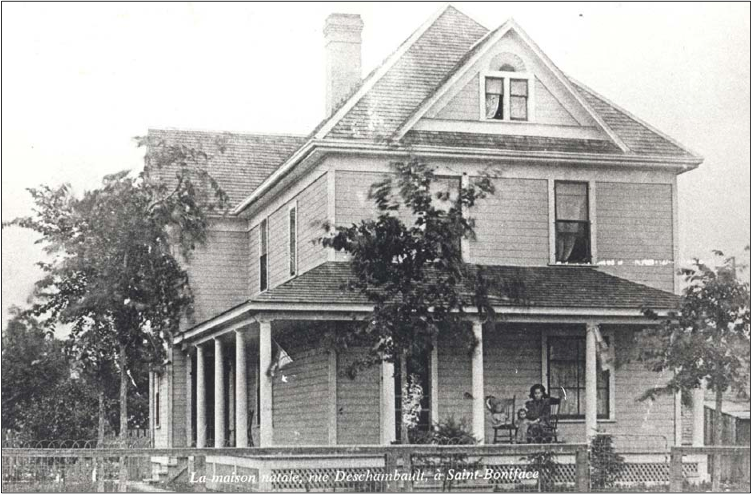 1910 photo of the Roy home – the child on the front veranda is likely one of Gabrielle's sisters, as she would've been much younger at the time. Photo courtesy of the City of Winnipeg Historical Report
1913 – Six months before he was to retire and receive his pension, Leon Roy is laid off from his job resettling immigrants in Western Canada. The family decides to take in boarders as a source of income and continues to have financial difficulties for much of Gabrielle's childhood.
1915-1928 – Gabrielle is a student at St. Joseph's Academy in St. Boniface before attending the Winnipeg Normal School.
1929 – Gabrielle's father, Leon Roy, passes away the same year she finishes her education and begins teaching near the home of an uncle, with whom she was able to board.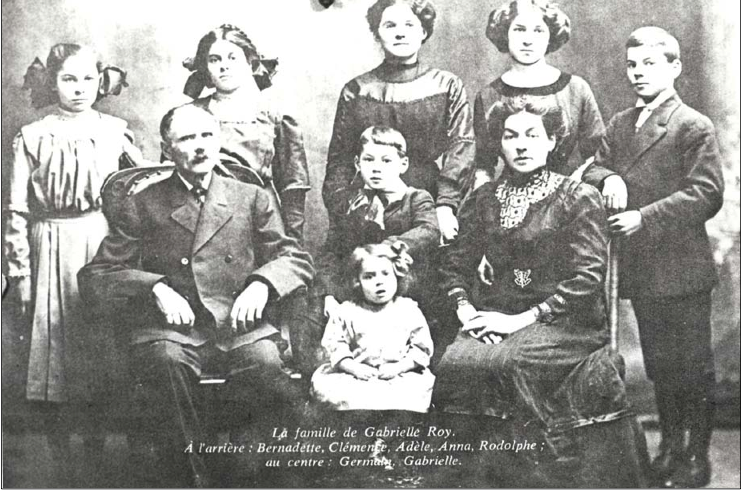 1911 photo of the Roy family. Photo courtesy of the City of Winnipeg Historical Report.
1930-37 – Gabrielle is a first grade teacher at the Provencher School in St. Boniface, as well as being very active with Le Cercle Molière, a French theatre group with historic roots.
1937 – She decides to go to England to pursue her interest in acting and theatre. She quickly tires of the theatre but travels France, occasionally writing for a well-known Parisian weekly.

1939 – With the impending war, Gabrielle returns to Canada and decides to take up writing.


1943 – Melina Roy passes away, two years before the publication of Gabrielle's first novel.


1945 – Gabrielle's first novel, Bonheur d'occasion (The Tin Flute), is published and Gabrielle marries Dr. Marcel Carbotte after only three months of courtship. They move back to Europe so Marcel can finish his medical studies.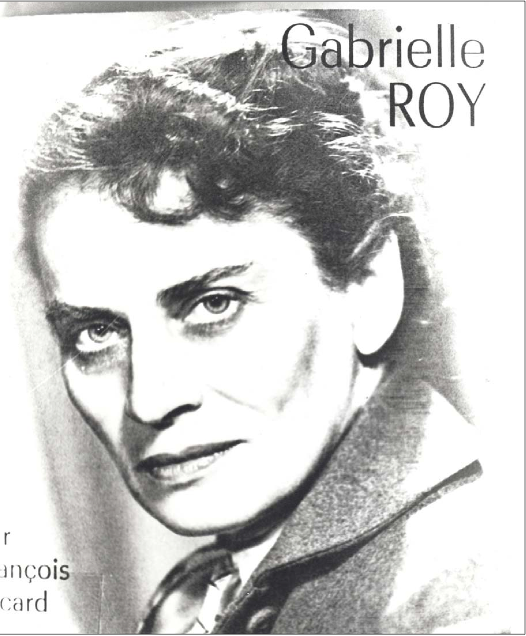 Undated photo of the author, courtesy of the City of Winnipeg Historical Report.
1947 – Gabrielle Roy is the first woman to become a fellow of the Royal Society of Canada.
1967 – Gabrielle Roy is awarded the Companion of the Order of Canada.
1978 – Roy wins her third and final Governor General's award for her book Ces enfants de ma vie (Children of My Heart).
June 7, 1982 – La Maison Gabrielle-Roy receives historical designation from the City of Winnipeg.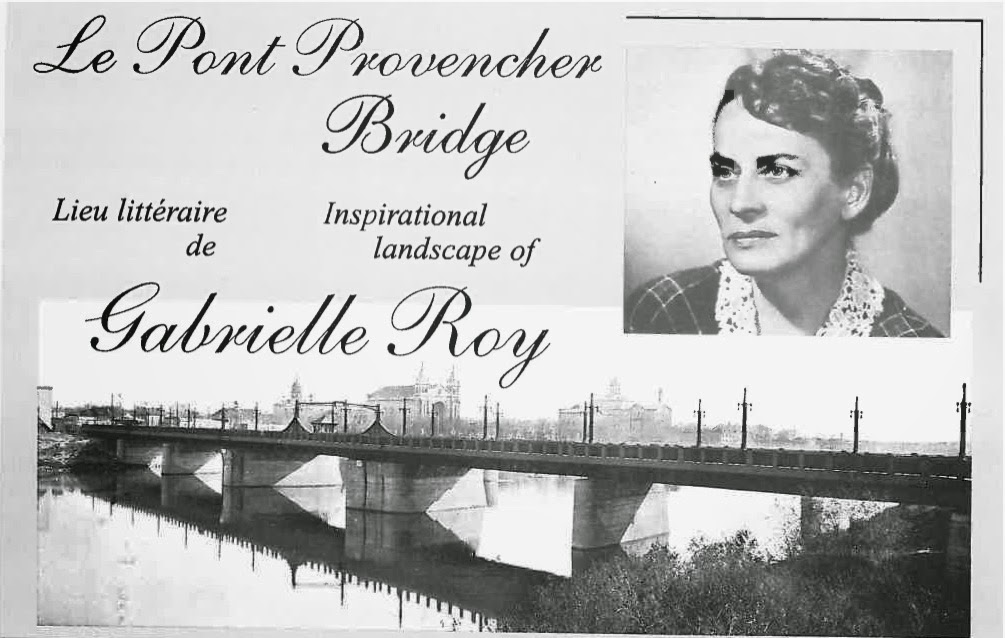 Another postcard featuring a later photo of the author.
July 13, 1983 – Gabrielle Roy dies of heart failure at the Hôtel-Dieu Hospital in Quebec.


1984 – Her autobiography, La Détresse et l'Enchantement, is published.





2003 – Heritage Winnipeg awards an Annual Preservation Award to La Maison Gabrielle-Roy for their work in conserving the home.
2005 – Gabrielle Roy is inducted into the Winnipeg Citizens Hall of Fame.
For a complete bibliography of Gabrielly Roy's work, much of which was republished multiple times, click here to go to the website of La Maison Gabrielle-Roy (don't worry – there's an English version as well as French!).
From Adréanne Caux, Directrice of La Maison Gabrielle-Roy, Inc.
Image from brochure for the historic home.
The preservation of the original home where Gabrielle Roy spent her childhood and youth is not Maison Gabrielle-Roy's only project. A number of activities are held throughout the year at the Maison that do double-duty: making the life and work of Gabrielle Roy known (exhibitions, conferences, movie screenings, etc.) as well as promoting French writing in Manitoba (writing workshops, contests, etc.).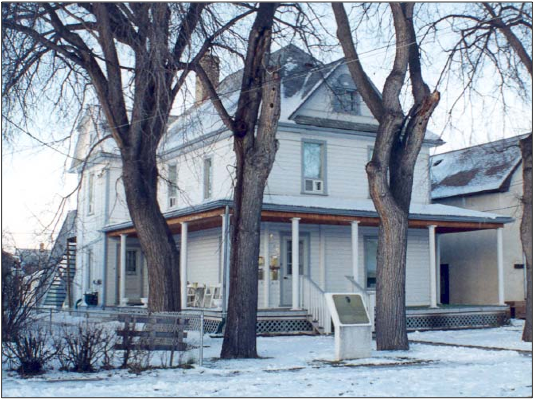 Winter photo of the home, courtesy of the City of Winnipeg Historical Report.
Over the past few years, Maison Gabrielle-Roy has also hosted a writer-in-residence. The current incumbent, Bertrand Nayet, leads a group of haiku poets (the Kukaï Rouge) and a workshop on how to write a tale. In April 2015, he will be co-hosting a series of four workshops on self-publishing. He is also active in the selection and delivery of the programming.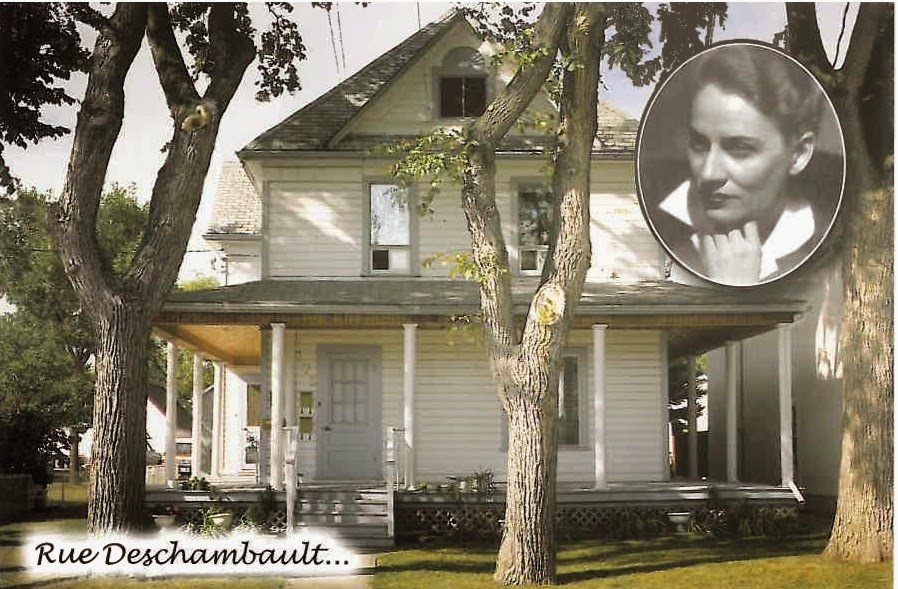 Postcard with an earlier photo of the author.
Maison Gabrielle-Roy plays an important role in ensuring the vitality of the Francophone identity within Manitoba's cultural landscape. In order to accomplish its ambitious mission, it relies on the commitment of a handful of volunteers, some of whom have been on hand since the museum opened in 2003! The renewal and reinforcement of the team of volunteers is presently one of our biggest challenges.
Sources & Links
Canadian Encyclopedia Article on Gabrielle Roy
City of Winnipeg Historical Report – Long
City of Winnipeg Historical Report – Short
La Maison Gabrielle-Roy Website
Manitoba Historical Society Article on Gabrielle Roy
Manitoba Historical Society Article on La Maison Gabrielle Roy
To receive email updates from the blog,
Spread the word – Don't forget to like and share using the icons below!