/ Blog

July 17, 2019
A Walk Through Winnipeg's Wondrous Warehouse District
In the heart of downtown Winnipeg sits the Exchange District, frozen in time, forever paying homage to the golden era of a young prairie city. Shaped by the railway that once shipped grain from Canada to the world, the Exchange is filled with early 20th century warehouses that were strategically located around spur lines, which are now only a memory. After a long period of decline, what was once known as the Warehouse District was reimagined and reborn as the Exchange District, an architectural gem rich with historic significance. Designated as a national historic site of Canada in 1997, the Exchange is now a beautiful neighborhood filled with countless heritage buildings, amazing examples of adaptive reuse and a vibrant arts community.
This summer, Heritage Winnipeg's 2019 Young Canada Works summer students, Riva and Adam, had the opportunity to go on walking tours in the Exchange courtesy of the Exchange District BIZ. Walking tours are an excellent way to not only learn about the history of the area but see it up close and in person. The Exchange District BIZ offers a variety of tours in the area that are sure to peak your interest, covering everything from architecture to anarchists. Riva went on the Winnipeg's Wonder Women tour while Adam went on the Art & Architecture tour, both returning flush with a new appreciation for the area. Even if you live and work in the Exchange, you too would be surprised by what history is hidden behind its massive brick and stone walls!
Winnipeg's Wonder Women
Last week, I had the pleasure of embarking on the Winnipeg's Wonder Woman tour and learning about some incredibly interesting women that helped shape our city. Sabrina (the tour guide and all-around-brilliant person) began the tour in Old Market Square.
Facing the Artspace Building, I first learned how the warehouses in the Exchange provided employment opportunities for women, with most of them working in the garment trade. There was a significant lack of fireproofing, insulation, and air conditioning in most buildings. These harsh conditions led to dissatisfaction among the workers.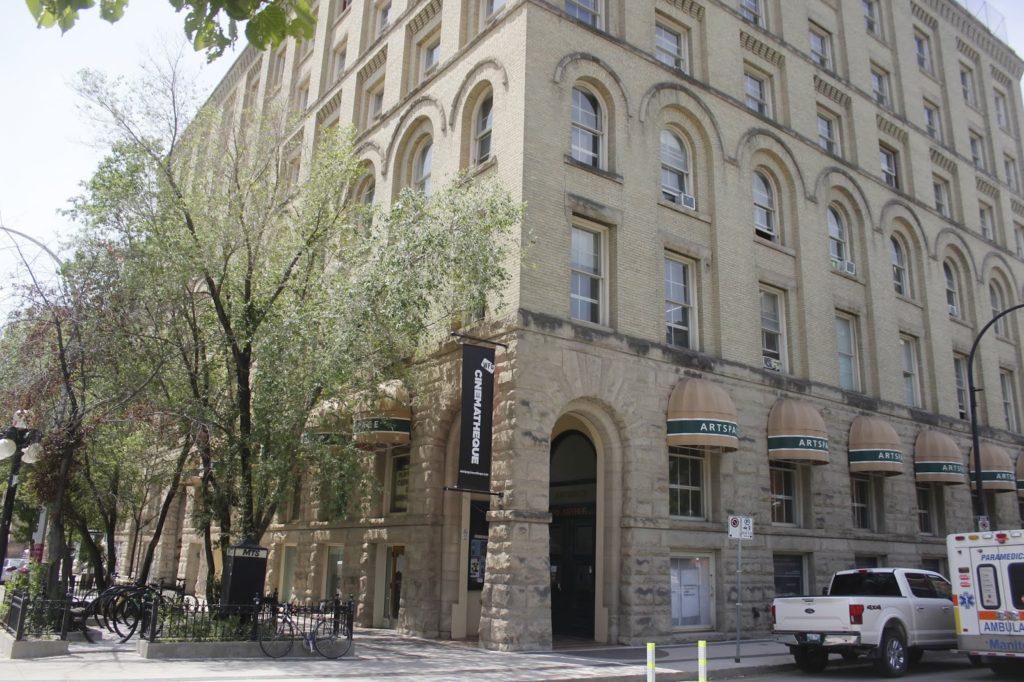 The Artspace Building at 100 Arthur Street in 2019. It used to be a dry goods warehouse.
Source: Riva Billows.
Many women also worked in department stores like Eaton's or Woolsworth – but only if they could pass as English. Most were on their feet for 12 hours a day, all while maintaining the required slim figure, which lead to some women starving themselves and ultimately passing out on the job. The Woolsworth Girls ended up striking in 1917, leading to a wage increase and also playing a part in developing the Minimum Wage Act for women and children.
Next, we walked over to McDermot Avenue and Albert Street to talk about Ella Cora Hind, who was Western Canada's first female journalist. Ella was hired onto the Manitoba Free Press in 1901 and worked as the agricultural correspondent; predicting crop years with incredible accuracy. Mackenzie King called her "one of the greatest of Canadian women."
We then crossed Main Street and stopped in front of the Kelly Building, where I heard about one of Manitoba's most famous women: Nellie McClung. Without spoiling too much, Sabrina told me the incredible story of how Nellie and other activists put on a play in support of the women's suffrage movement. I was shocked I had never heard such an interesting piece of Winnipeg history!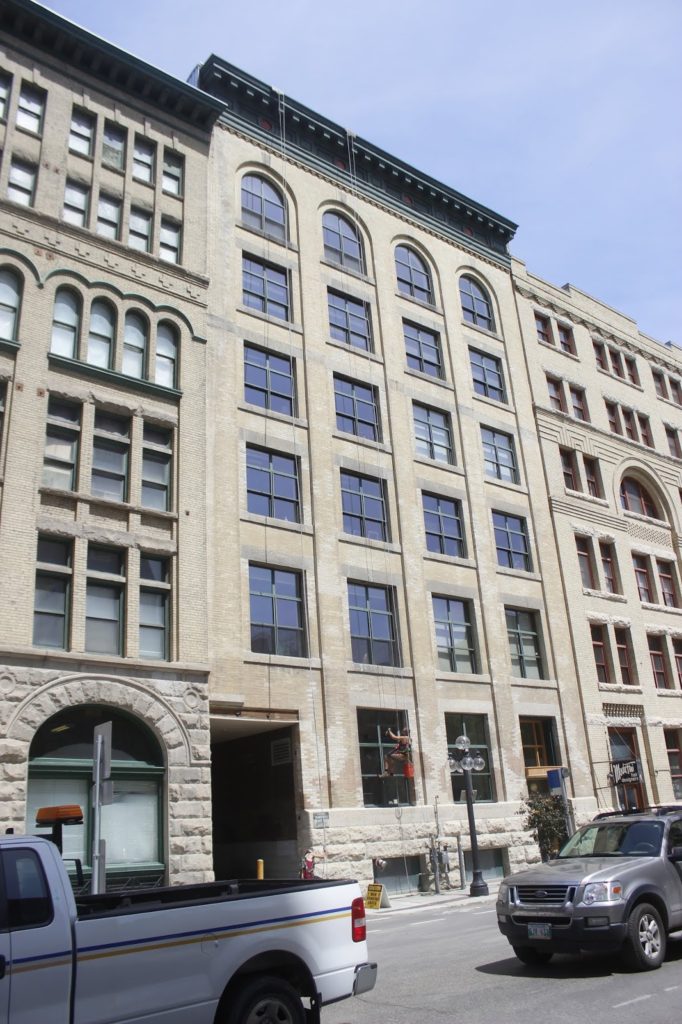 The Kelly Building located at 181 Bannatyne Avenue in 2019.
Source: Riva Billows.
We walked to Rorie Street and Bannatyne Avenue where we stopped at the corner to talk about Annie Bannatyne (nee McDermot) – the Metis daughter of Andrew McDermot and Sarah McNabb. Annie was a respected community member who was also involved in the development of the Winnipeg General Hospital. My favourite story from the entire tour involved Annie letting local journalist Charles Mair know exactly how she felt about the slurs he had published about Metis women. For the full details, you will need to take the tour!
Next, we walked to the Royal Manitoba Theatre Centre and Sabrina told me about the life of Harriet Walker, an actress from New York who greatly contributed to Winnipeg's theatre and arts community. Harriet was also one of the city's most iconic theatre reviewers. She wrote dozens of critiques under the pen name "Rosa Subs."
In front of the 1919 Marquee, I learned about Helen Armstrong and her efforts to feed the hungry during the Winnipeg General Strike. A block away, at the Centennial Concert Hall, Sabrina told me about Gwennyth Lloyd and Betty Farraly, who were the founders of the Royal Winnipeg Ballet.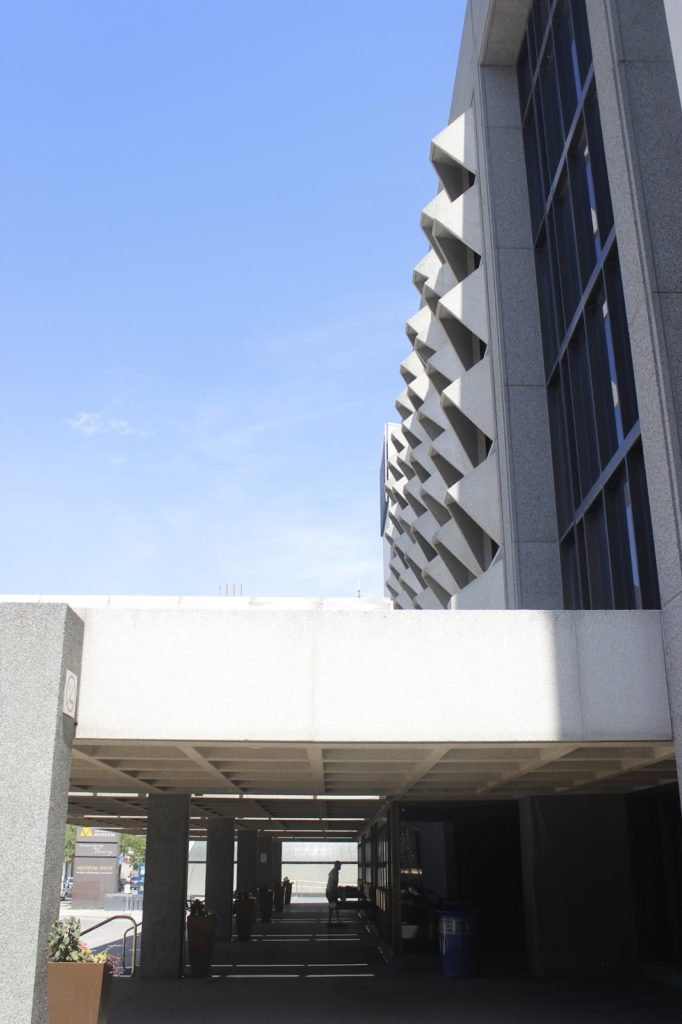 The Centennial Concert Hall at 555 Main Street in 2019.
Source: Riva Billows.
The last stop of the tour was in front of City Hall, where I heard the stories of Minnie Woods, a prominent madam, and Jessie Kirk, Winnipeg's first councilwoman.
It was fascinating to learn the stories of these women who, besides Nellie McClung, I had never heard of. Knowing the names of these women and seeing the impact they've had on our community reminds me how important it is to know our history.
Art & Architecture
Warehouse, Romanesque, and load-bearing are three terms you will hear a lot on your tour of Art & Architecture in the west of the Exchange District. That is because Romanesque, specifically Richardsonian Romanesque, style warehouses upheld by load-bearing stones heavily populate the Exchange District. In the late nineteenth and early twentieth centuries, commercial goods by the train load came in and out of the city. Those goods had to held somewhere, so warehouses were built to accommodate.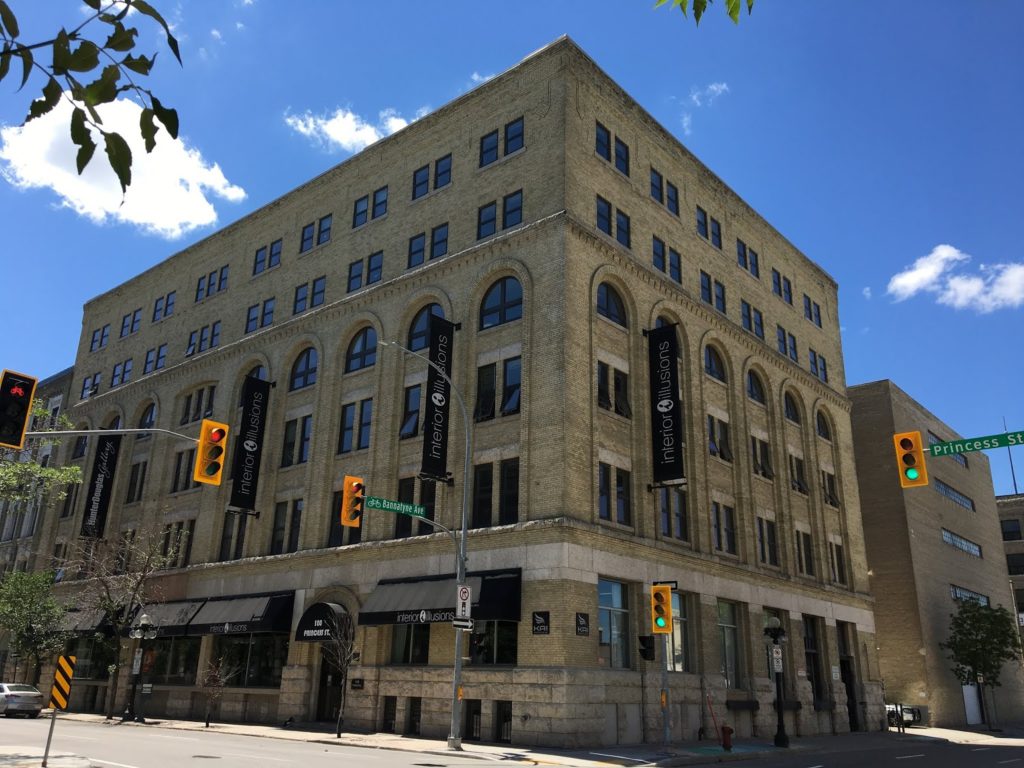 The Penthouse (located on 100 Princess Street) is one of the Richardsonian Romanesque
Warehouses you will see on your tour in the exchange.
Source: Heritage Winnipeg Files
With warehouses came Romanesque architecture. Henry H. Richardson, an American architect, revitalized this late Roman, and early medieval architectural style in the nineteenth century. Richardson wanted to create a style of architecture that projected the strength of Roman arches and columns, without the other ornaments typically associated with classical architecture. His version of Romanesque was frequently paired with warehouses. It was a good choice – the style projected the strength and security of a medieval Roman building (qualities you would expect from a building storing commercial goods) without the overindulgent sculptures, cornices, parapets, and pediments that adorned beaux-arts style buildings. Another classically inspired design more suited to display the majesty of government, like the Manitoba Legislative Building, or the prestige of banks like the former Bank of Commerce at 389 Main Street.
These warehouses predated steel construction, so something had to hold up these buildings. That is were the load-bearing stones come in. It turns out that the stones lining the building's bottom are not just there to look pretty – though they do that well enough anyway. They bear the weight from the upper floors, and without them the buildings would tumble.
Seeing warehouse after warehouse in Romanesque style may sound repetitive, but remember, this is Winnipeg. We live in a diverse city, and our buildings reflect that diversity. You will see warehouses like the Artspace Building, which closely follows the strong and elegant Richardson style of Romanesque, but then you will see the Miller, Morse & Co Warehouse, a warehouse that deviates from the Richardsonian standard. Omitting simplicity, patterns adorn its columns and cornice, and geometric shapes crown each window of the first two floors (Richardson would not have approved!). You will also see the King-Bannatyne Building. It almost looks like a small-scale warehouse, but it hides a secret that separates it from its neighbours. What secret? Its "load-bearing" stones are a hint.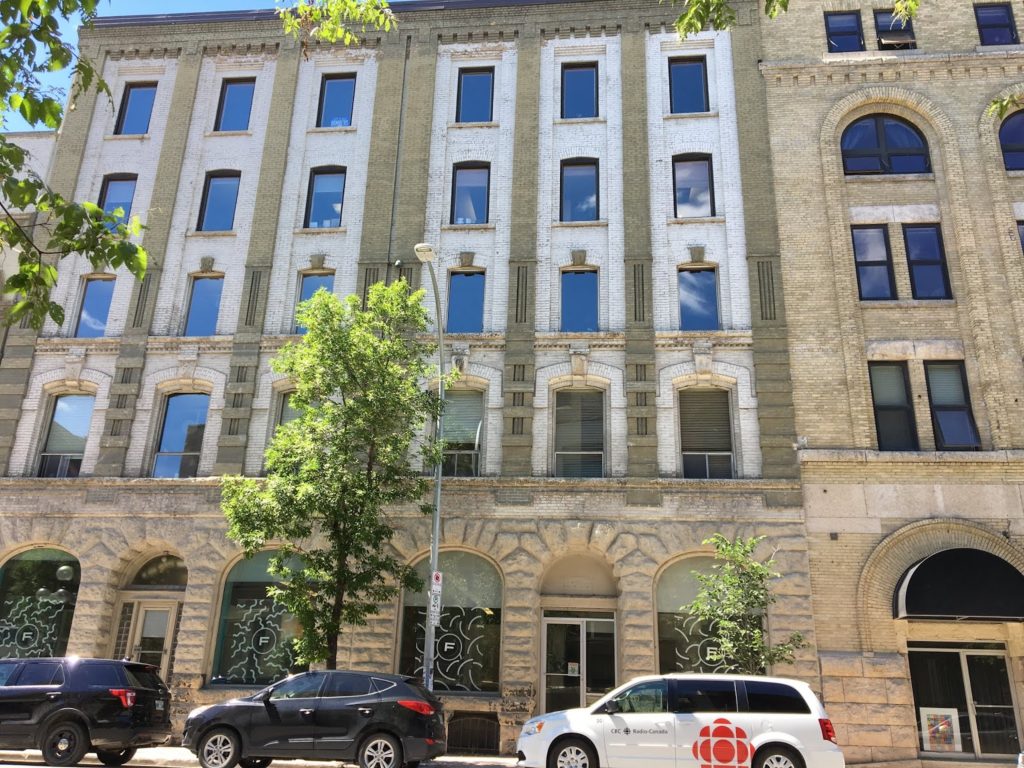 The Miller, Morse & Co. (86 – 88 Princess Street) Warehouse is a Richardsonian Romanesque style warehouse
but it is unlikely that H. H. Richardson would have approved of its design.
Source: Heritage Winnipeg Files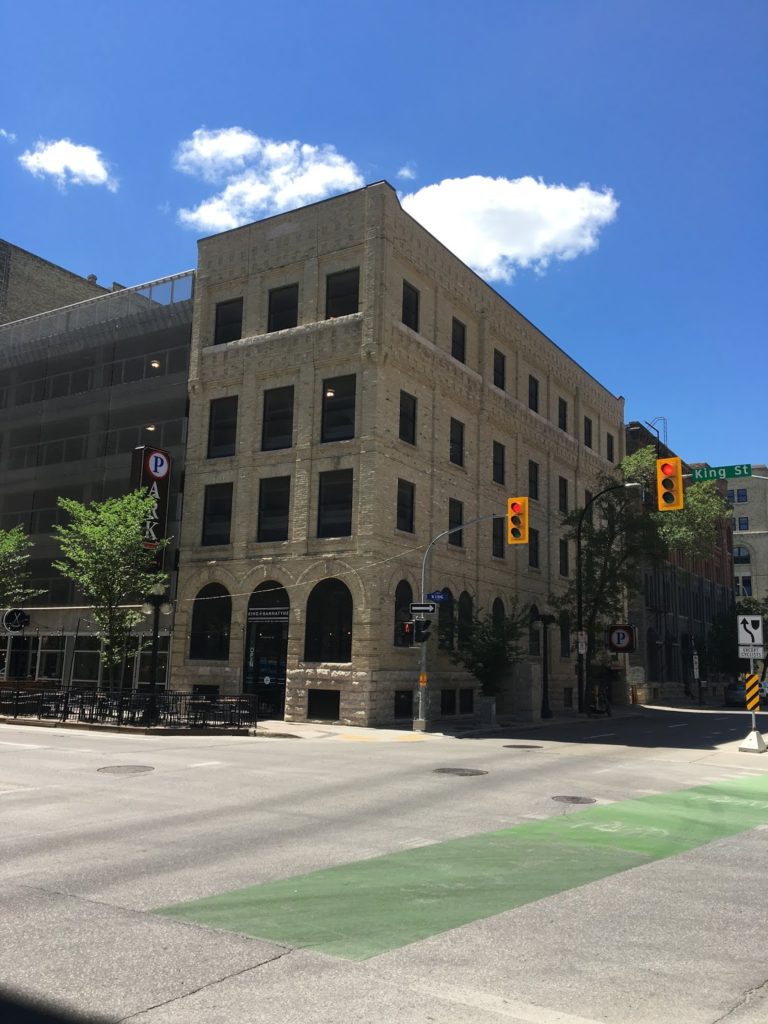 The King-Bannatyne (100 King) building may look like a heritage building,
but it hides a secret. Ask your guide about it
Source: Heritage Winnipeg Files
Although warehouses make up most of the Exchange, it is not all you will see, again, Winnipeg's a diverse city. Peppered throughout the Exchange are buildings built in a variety of styles. Each has its own unique history to go with its unique architecture. There's the St. Charles Hotel, a beaux-arts style hotel that was the centre of Punk Rock in Winnipeg, but it has seen better days! It's been closed since 2008 and it's now almost literally an empty shell. Two examples of Chicago style are close by standing in sharp contrast to the beaux-arts hotel. Just a glance away is the Electric Railway Building, a tall tower with an impressive bright, white facade, with lions standing watch above the top windows in place of gargoyles. The building is close to and connected with the biggest robbery in Winnipeg's history (ask your tour guide if they know). Not far away is the Lindsay Building. It is another example of the Chicago style, but its most interesting features are its terracotta moldings that make the facade, and its triangular layout. Why the bizarre shape? The answer is connected to how properties were bought and developed in Winnipeg. And these are a only a few examples of the buildings you will see. There's plenty to be found in the Exchange District!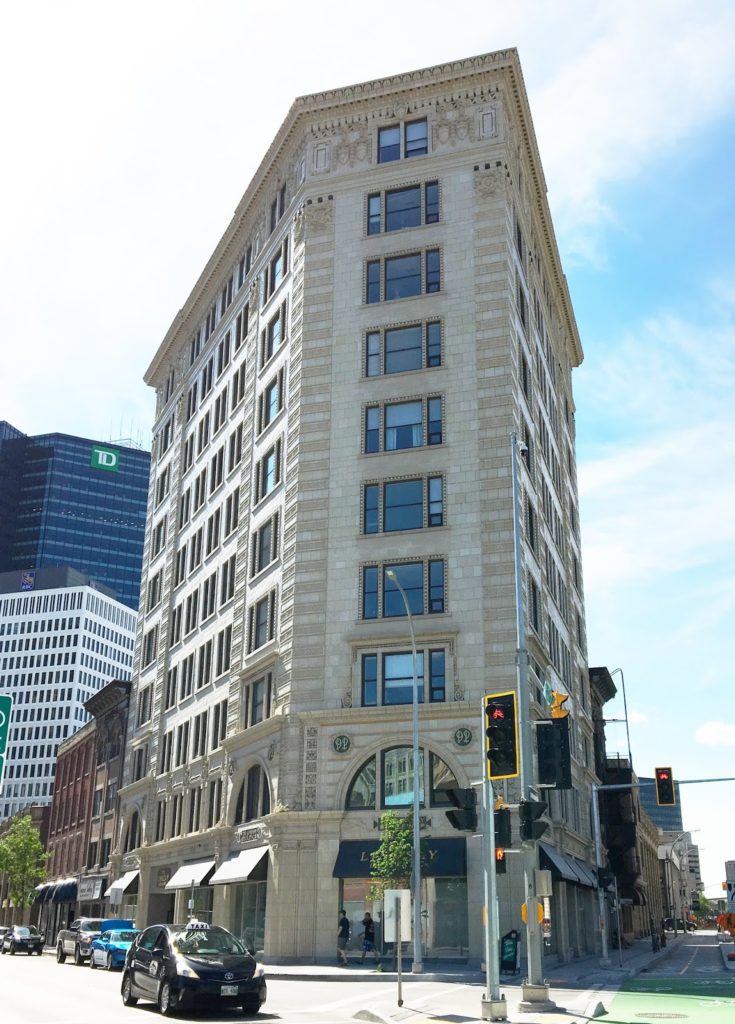 The Lindsay Buildings (228 Notre Dame) odd shape has to do with how
properties where initially bought and developed in Winnipeg
Source: Heritage Winnipeg Files
The tour ends at City Hall, but depending on when you take the tour, one building might be absent. Across the street from City Hall, the Public Safety Building gives a glimpse into what the Exchange might have become. Both buildings are examples of brutalist architecture, a sub-category of modernist architecture. This style captured the attention of Stephen Juba, the longest serving Mayor of Winnipeg. Juba wanted to revitalize Winnipeg's downtown from the Exchange to Waterfront Drive by building a modern city with modern buildings. He did not get his wish however, and only five buildings display the former mayor's dream for Winnipeg: The Council Building, the Susan A. Thompson Building, the Centennial Concert Hall, the Manitoba Museum, and the Public Safety Building – and soon five will become four. The Public Safety Building is set to be demolished this summer. It not only is an outstanding example of brutalist architecture, but it is a perfectly structurally-sound building, prime for adaptive reuse. It is a shame that the city does not see its value as a sustainable building that still has many years of use left.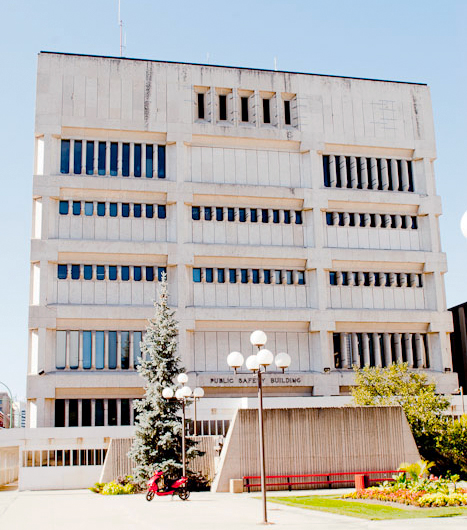 The Public Safety Building. (151 Princess Street)
Source: Winnipeg Architecture Foundation.
The Public Safety Building is coming down soon, so come to the Exchange District to have one final look. If you take the tour, which I highly recommend, you'll learn about its history along with so many other buildings in the exchange. You'll learn about all the different buildings in the Exchange District, from Romanesque warehouses to beaux-arts banks, and see the great built heritage that Winnipeg's Exchange has to offer.
Riva and Adam here – whichever tour you take, we hope you enjoy yourself. It's the historic Exchange, so how can you go wrong! Finally, we thank our fantastic guides at the Exchange District BIZ for giving us the opportunity to learn even more about this magical area!
Interested in learning more about the Exchange District?
Consider taking a walking tour with the Exchange District BIZ!
For more information, visit their website
Edited by Cheryl Mann on behalf of Heritage Winnipeg
THANK YOU TO THE SPONSOR OF THIS BLOG
POST

:

2 Responses to "A Walk Through Winnipeg's Wondrous Warehouse District"